Why Curaleaf, Sundial Growers, Hexo, and Green Thumb Industries Stocks Dropped Friday
What happened
Some market days see Canadian cannabis companies move in tandem, and others affect U.S.-based marijuana companies. Today, both are dropping. As of 3:30 p.m. ET, American cannabis names like Curaleaf Holdings (OTC: CURLF) and Green Thumb Industries (OTC: GTBIF) were down 4.8% and 4.9%, respectively. At the same time, Canadian pot companies Sundial Growers (NASDAQ: SNDL) and Hexo (NASDAQ: HEXO) were 7.7% and 7.1% lower, respectively.
So what
There's no major news affecting the marijuana industry today. However, yesterday marked the passing of the one-year mark since President Biden took office, which highlighted the lack of progress on federal marijuana legalization to industry followers. More likely to explain the slide in pot stocks today is the general downtrend in the Nasdaq Composite index, which has entered correction territory with a 13% drop from recent January highs.
Now what
Massachusetts-based Curaleaf and Chicago-based Green Thumb are riding the growing wave of U.S. states legalizing recreational and medical marijuana. Green Thumb operates in 15 states with more than 70 retail locations nationwide, while Curaleaf has more than 125 dispensaries across the U.S.
Both would benefit greatly from federal legalization, but perhaps not as much as their Canadian counterparts. Sundial, Hexo, and other Canadian cannabis growers can't expand their operations into the U.S. unless legalization occurs on the federal level. Both Sundial and Hexo have recently seen business improvements with sequential quarter-over-quarter net sales growth of 57% and 29%, respectively. But entry into the U.S. would provide a huge new market opportunity for both.
Backing from the Biden administration to drive legalization hasn't materialized as hoped by those in the industry. Without that catalyst, the stocks are caught in the ongoing correction in many technology and growth stocks.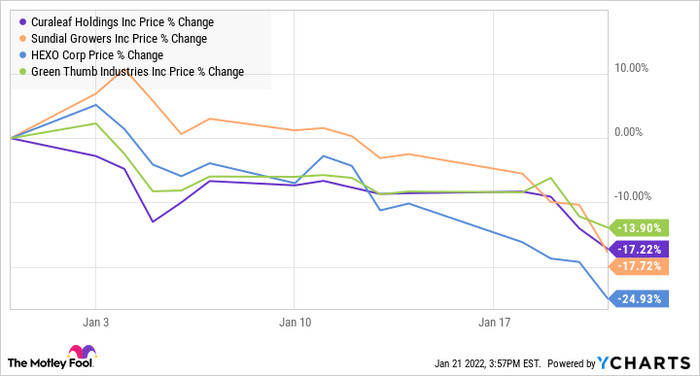 Data by YCharts
2022 hasn't so far been kind to stocks in the Nasdaq. And these cannabis names look like they could continue the downward momentum unless or until a catalyst like momentum toward legalization in the U.S. takes hold.
Here's The Marijuana Stock You've Been Waiting For
A little-known Canadian company just unlocked what some experts think could be the key to profiting off the coming marijuana boom.

And make no mistake – it is coming.
Cannabis legalization is sweeping over North America – 15 states plus Washington, D.C., have all legalized recreational marijuana over the last few years, and full legalization came to Canada in October 2018.
And one under-the-radar Canadian company is poised to explode from this coming marijuana revolution.
Because a game-changing deal just went down between the Ontario government and this powerhouse company...and you need to hear this story today if you have even considered investing in pot stocks.
Simply click here to get the full story now.
Howard Smith has no position in any of the stocks mentioned. The Motley Fool owns and recommends Green Thumb Industries. The Motley Fool recommends HEXO Corp. The Motley Fool has a disclosure policy.
Source