Why Nikola Stock Is Trading Lower Today
What happened
Shares of electric-truck start-up Nikola (NASDAQ: NKLA) are trading lower today, down 6.2% as of 12:15 p.m. EDT, after Bloomberg reported that the U.S. Securities and Exchange Commission (SEC) is investigating Nikola to assess the merits of a short-seller's allegations that the company deceived investors.
The stock has fallen roughly 21% since the short-seller's allegations were made public on Thursday morning.
So what
Bloomberg reported late on Monday that the SEC is examining the claims made against Nikola by short-selling firm Hindenburg Research last week. Hindenburg alleged in a Sep. 10 report that Nikola is an "intricate fraud built on dozens of lies" and said that it had evidence to back its claims.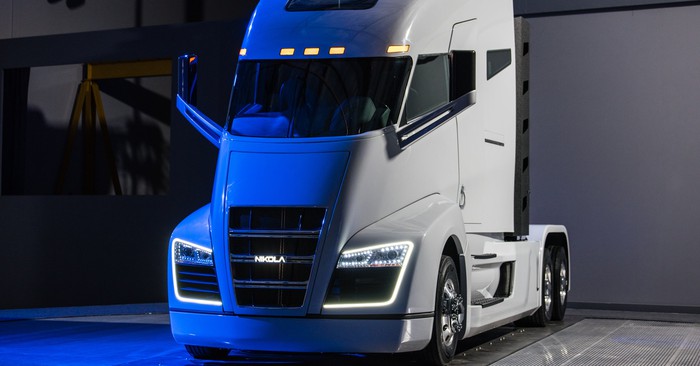 Nikola admitted on Monday that its original prototype, the Nikola One, wasn't drivable. But it insisted that more recent iterations are fully functional. Image source: Nikola.
Those lies, Hindenburg said, included overstating the capabilities of its early prototype trucks and exaggerating the extent and success of its hydrogen production efforts. The ability to make hydrogen gas inexpensively has been a pillar of the investment case for Nikola's stock.
While the Bloomberg report noted that the SEC's review is preliminary and may not lead to any allegations of wrongdoing against Nikola or its executives, the news appears to have been enough to push the company's shares lower today.
Now what
Nikola's stock had recovered somewhat from last week's sell-off on Monday, after the company responded to the allegations in a sharply worded statement. In a nutshell, it said that while there may have been some smoke and mirrors in its early days, Nikola is currently a sound business with the right partnerships to execute its business plan.
For what it's worth, Wall Street hasn't yet given up on Nikola. Notably, JPMorgan analyst Paul Coster argued in a Monday note that none of Hindenburg's allegations undermined what he sees as the compelling reasons to own the stock.
For what it's worth, I tend to agree with Coster. But auto investors holding Nikola's shares -- or eyeing them -- should probably be prepared for more volatility as this story continues to unfold.
10 stocks we like better than Nikola Corporation
When investing geniuses David and Tom Gardner have a stock tip, it can pay to listen. After all, the newsletter they have run for over a decade, Motley Fool Stock Advisor, has tripled the market.*
David and Tom just revealed what they believe are the ten best stocks for investors to buy right now... and Nikola Corporation wasn't one of them! That's right -- they think these 10 stocks are even better buys.
*Stock Advisor returns as of August 1, 2020
John Rosevear has no position in any of the stocks mentioned. The Motley Fool has no position in any of the stocks mentioned. The Motley Fool has a disclosure policy.
Source