Why Digital Turbine Stock Jumped 25.2% in October
What happened
Shares of Digital Turbine (NASDAQ: APPS) gained 25.2% in October, according to data from S&P Global Market Intelligence. There wasn't any major business-specific news behind the stock's climb last month, but the advertising company appears to have benefited from market momentum.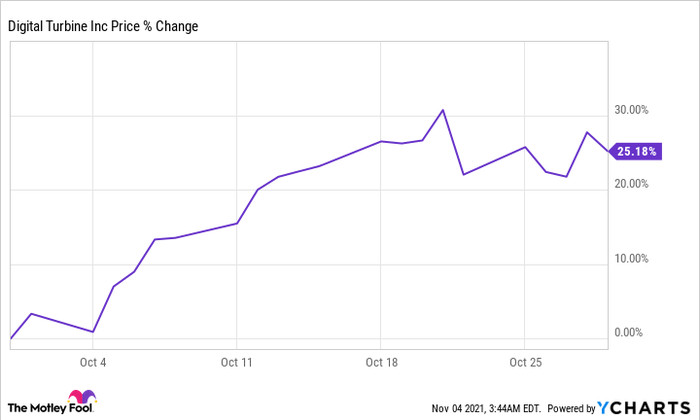 After a month of volatile trading in September, many growth-dependent technology stocks had a much better go of things in October. The tech-heavy Nasdaq Composite index closed out the month up roughly 7.3%, and Digital Turbine benefited from broader investor sentiment turning increasingly bullish.
So what
Digital Turbine provides software for mobile advertising and has been posting strong growth thanks to some successful acquisitions and internal development initiatives. With investors pouring back into growth stocks last month, it's not surprising that the stock managed to clock some big gains. However, the market apparently wasn't thrilled with the company's recently published third-quarter results, and the company's valuation has taken a hit.
Now what
Digital Turbine stock has given up some ground following the company's third-quarter release. The company's share price is now down roughly 14% across November's trading.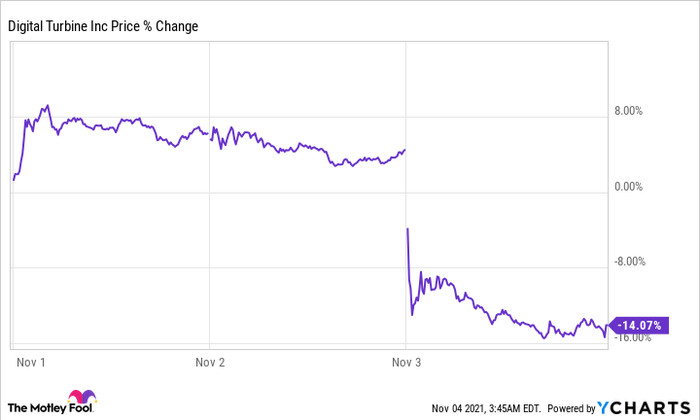 The company published its Q3 results on Nov. 2 and delivered better-than-expected sales and earnings results. Digital Turbine posted adjusted earnings per share of $0.44 on revenue of $310.2 million, while the average analyst estimate had guided for adjusted per-share earnings of $0.39 on revenue of $306.5 million.
Sales were up roughly 337.6% year over year in the period, and 63% after backing out the company's acquisitions of AdColony Holdings and Fyber. However, even with strong forward guidance, the performance wasn't enough to stop a post-earnings sell-off.
For the third quarter, management is targeting adjusted earnings per share between $0.41 and 0.44 on revenue between $350 million and $355 million. The average analyst estimate had previously targeted revenue of $340.65 million and earnings per share of $0.43.
Digital Turbine now has a market capitalization of roughly $7 billion and is valued at approximately 46 times this year's expected earnings and 5.8 times expected sales.
10 stocks we like better than Digital Turbine
When our award-winning analyst team has a stock tip, it can pay to listen. After all, the newsletter they have run for over a decade, Motley Fool Stock Advisor, has tripled the market.*
They just revealed what they believe are the ten best stocks for investors to buy right now... and Digital Turbine wasn't one of them! That's right -- they think these 10 stocks are even better buys.
*Stock Advisor returns as of October 20, 2021
Keith Noonan has no position in any of the stocks mentioned. The Motley Fool has no position in any of the stocks mentioned. The Motley Fool has a disclosure policy.
Source