These Were the 10 Best Industrial Stocks of 2019
It's almost the end of 2019 and time to look back and reflect on the strongest-performing industrial stocks of the year. The interesting thing about the top 10 is how diverse they are. Outside of aerospace -- TransDigm, HEICO, and General Electric have heavy exposure -- the recurring theme is that stock selection was key in 2019. It was a year where industrial production growth slowed more than expected, and investors were forced to find niche markets or individual stock stories in order to outperform. Let's take a look at how and why these stocks did so well in 2019.
The top ten industrial stocks of 2019
It's been another strong year for the aerospace industry and particularly for the aftermarket. While it's true that commercial airline passenger growth slowed to 4.2% from 7.4% in 2018, a combination of the Boeing 737 MAX grounding (meaning older planes would have been run more than expected) and an aging worldwide fleet meant that aftermarket revenue remained strong for GE, Heico, and TransDigm.
Looking ahead, there is a slight concern that the return to service of the 737 MAX and the International Air Transport Association's forecast for passenger growth to slow to 4.1% will mean that commercial aviation aftermarket revenue growth could slow a bit. This is a concern when you consider that HEICO and TransDigm trade on 43 times and 23 times next year's earnings respectively.
GE's rise is partly down to aerospace, but it's also a consequence of the company beating the low expectations set by CEO Larry Culp when he took over last year. In addition, the market for gas turbines appears to be stabilizing and GE's restructuring cost expectations have been lowered. All told, it's been a year of positive, if slow, progress at GE and shareholders have been rewarded for seeing value opportunity.
| Company | Activity | Market Cap | Increase |
| --- | --- | --- | --- |
| Crown Holdings (NYSE: CCK) | Packaging, primarily beverage cans | $10 billion | 74.9% |
| Leidos Holdings (NYSE: LDOS) | Scientific engineering and system integration | $12.8 billion | 70% |
| TransDigm (NYSE: TDG) | Commercial and military aerospace components and systems | $30.5 billion | 67.4% |
| Teledyne Technologies (NYSE: TDY) | Digital imaging, scientific instrumentation, and electronics | $12.7 billion | 66.6% |
| Zebra Technologies (NASDAQ: ZBRA) | Barcode scanners, printers, and mobile computers | $13.9 billion | 61.3% |
| HEICO (NYSE: HEI) | Aerospace and electronics components | $17.2 billion | 60.6% |
| Dover Corp (NYSE: DOV) | Multi-industry industrial | $16.4 billion | 59.1% |
| Allegion (NYSE: ALLE) | Security locks and doors | $11.4 billion | 55.7% |
| Cintas (NASDAQ: CTAS) | Corporate apparel | $26.5 billion | 52.3% |
| General Electric (NYSE: GE) | Power, aerospace, healthcare, wind energy | $96.9 billion | 45.4% |
Data source: Author's analysis. Ycharts data.
Teledyne and Leidos
Two decades ago Teledyne generated nearly two-thirds of its revenue from aerospace and defense, but a string of acquisitions and divestitures has left the company generating just 22% from aerospace and defense, with around a third of revenue coming from digital imaging and instrumentation respectively. The strategy has led to significant increases in margin and free cash flow generation over the years, and Teledyne's strong performance continues.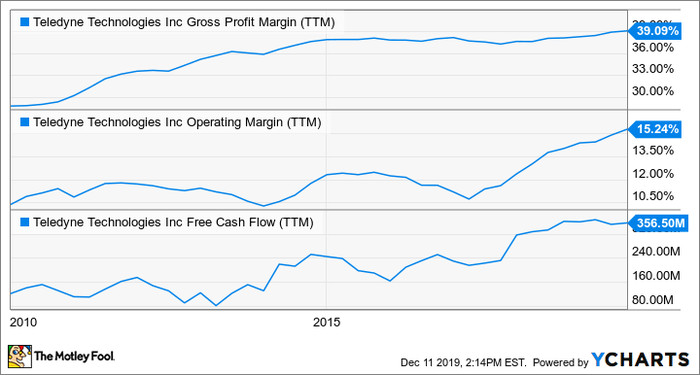 TDY Gross Profit Margin (TTM) data by YCharts
Leidos also has aerospace exposure through its work integrating systems at Air Navigation Service Providers (such as the Federal Aviation Authority, or FAA) and airport operators across the globe, but since nearly half its revenue is generated from defense work it's arguably a play on government spending, particularly on defense. On less than 17 times forward earnings, Leidos doesn't look expensive, but it's always going to be a stock subject to political uncertainty.
Zebra Technologies and Cintas
Barcode scanners, printers, and mobile computers may not seem like a strong growth market, but if companies are increasingly automating manufacturing and warehousing -- notably in e-fulfillment -- they will need to capture and analyze data. Similarly, retail and healthcare companies are increasingly seeking to gather data on stock/people in order to improve outcomes.
This is where Zebra's scanners and computers come in. As such, the company is a key beneficiary of the increasing use of analytics to improve the performance of physical assets.
Cintas's core uniform and businesses services business is always a useful bellwether of the economy. The good news is that ongoing economic growth coupled with low unemployment continued to help the company in 2019. In addition, the company continues to add complementary services -- such as first aid kits and fire and safety solutions -- with which it can sell to its existing client base.
Dover, Allegion, and Crown
Dover Corp's rise is largely down to the self-help initiatives that its management has put in place to cut costs and improve operating margin -- salutary proof that companies don't necessarily need help from end markets or the economy to generate earnings growth.
As you can see below, Dover's operating margin expansion came down to a drop in sales and general and administrative costs, rather than any increase in gross margin. Dover is attractive for dividend-seeking investors even if its stock looks close to fair value.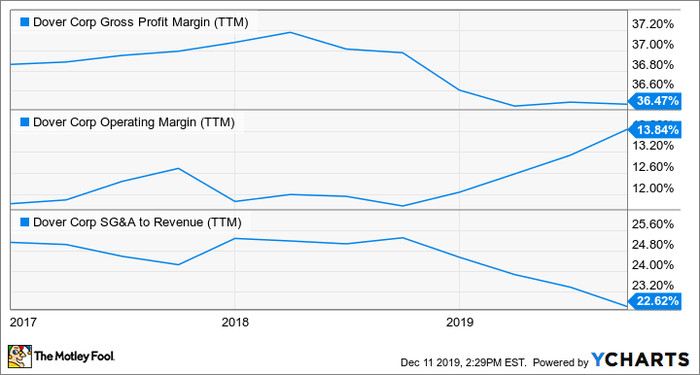 DOV Gross Profit Margin (TTM) data by YCharts
Allegion's security doors and locks are a play on the convergence of mechanical and electronic technologies. Meanwhile, the embedding of web-enabled devices is allowing its customers to create a wealth of data and information with which to monitor and control the movement of people for security reasons. It remains a compelling long-term growth story.
It's been a great year for the beverage can and packaging companies such as Crown Holdings. The market has warmed to the fact that these companies have relatively stable revenue growth with customers tied up on long-term contracts. Moreover, there's a sense that aluminum is gaining in popularity compared to plastic for environmental reasons -- aluminum is easily recycled -- and the beverage can companies might also be recession-resistant because aluminum prices tend to fall when the economy does, while people still keep consuming beverages.
Looking ahead
It's unlikely that all these stocks will repeat their performance next year, but the long-term prospects for companies like Crown, Zebra, Allegion, and even GE -- provided the gas turbine market improves -- provide a solid foundation for their stock for the long term. They are all worth a look for investors in 2020.
10 stocks we like better than General Electric
When investing geniuses David and Tom Gardner have a stock tip, it can pay to listen. After all, the newsletter they have run for over a decade, Motley Fool Stock Advisor, has tripled the market.*
David and Tom just revealed what they believe are the ten best stocks for investors to buy right now... and General Electric wasn't one of them! That's right -- they think these 10 stocks are even better buys.
*Stock Advisor returns as of December 1, 2019
Lee Samaha has no position in any of the stocks mentioned. The Motley Fool owns shares of and recommends TransDigm Group. The Motley Fool recommends Cintas, Heico, and Zebra Technologies. The Motley Fool has a disclosure policy.
Source