3 Reasons Why Netflix Stock Is a Buy Now
Streaming company Netflix (NASDAQ: NFLX) has had a tumultuous year; the stock has fallen 65% over the past 12 months.
The company's begun losing subscribers, a troubling sign for a business that relies on membership subscriptions for revenue.
However, while you can acknowledge these challenges, there is still time for Netflix to pivot and overcome these hurdles over the long term. Here are three signs that the company is doing just that and why the stock could be a smart buy today.
Tightening the belt
Netflix has enjoyed a stellar decade of growth that saw revenue grow by an average of 25% annually. Its spending swelled during that time, as it produced more original content. Netflix is profitable on the bottom line because of the accounting rules around its content expenses, but as you can see below, the company hasn't produced very much cash profits over the past 10 years.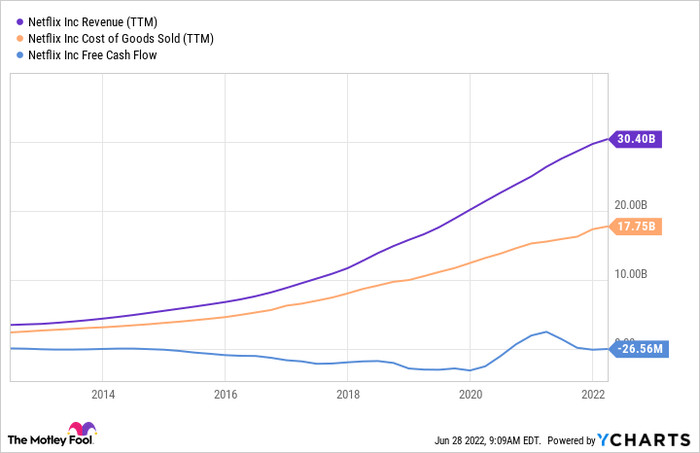 NFLX Revenue (TTM) data by YCharts
Netflix has instead relied on borrowing money to fund content creation, a formula that doesn't work well when revenue growth slows. Management's subscriber forecast for the second quarter of 2022 signals 5% year-over-year growth, but another drop from the prior quarter.
That's why it's encouraging to see the company making moves to pull back spending; it laid off 150 employees in May and another 300 in June. The company directly acknowledged its slowing revenue growth as a driver behind its actions.
This isn't ideal, but it's much better to see Netflix adapt than to see it limp ahead recklessly into a deeper financial hole. Also, the company reported 11,300 full-time employees at the end of 2021. Letting go of a few hundred names is a fairly modest move in that context.
Borrowing is leveling off
Netflix's balance sheet is visual proof of its closer attention to the financials. You can see below how debt exploded over three years, from 2017 to 2020. However, the borrowing has leveled off since 2020, hovering around $14.5 billion in total debt.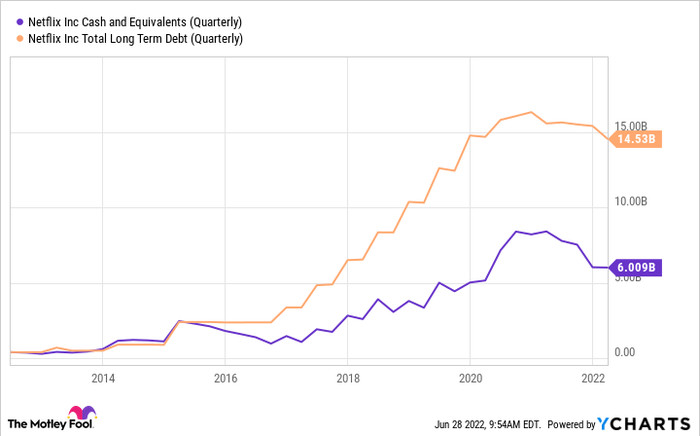 NFLX Cash and Equivalents (Quarterly) data by YCharts
Meanwhile, Netflix has roughly $6 billion in cash, enough to give the company both financial security and flexibility in the short term as it continues spending on content.
Ad-tier could lift growth
Investors could argue that Netflix's existing business model isn't guaranteed to generate free cash flow. As the business is now, Netflix would have to raise prices if it's unable to grow subscribers, and it's already among the most expensive streaming services.
The answer to that quandary could be an ad-supported version of the streaming service, something that Netflix has begun to embrace openly.
CEO Reed Hastings said on the company's first-quarter 2022 earnings call:
"...allowing consumers who would like to have a lower price and are advertising-tolerant get what they want makes a lot of sense. So that's something we're looking at now."
Co-CEO Ted Sarandos recently confirmed that Netflix was talking with various ad-tech companies about supporting its service.
Consumers have steadily shifted toward ad-supported streaming. According to comScore, ad-supported streaming is now seeing a faster adoption rate than subscription-based ones, a trend that Netflix needs to gain exposure to as one of the leading players in the industry.
An ad-supported service could lift revenue growth and potentially help the business generate free cash flow, something it's been unable to do consistently to date.
Netflix was a Wall Street darling for years before turning into a pumpkin in 2022. However, a successful pivot would show investors that Netflix can learn new tricks. With the stock now trading at a price-to-earnings ratio (P/E) of just 17, its lowest valuation in a decade, the reward for investors could be sizable.
10 stocks we like better than Netflix
When our award-winning analyst team has a stock tip, it can pay to listen. After all, the newsletter they have run for over a decade, Motley Fool Stock Advisor, has tripled the market.*
They just revealed what they believe are the ten best stocks for investors to buy right now... and Netflix wasn't one of them! That's right -- they think these 10 stocks are even better buys.
*Stock Advisor returns as of June 2, 2022
Justin Pope has no position in any of the stocks mentioned. The Motley Fool has positions in and recommends Netflix. The Motley Fool has a disclosure policy.
Source