Here's Why PayPal Stock Fell 18% in June
What happened
Shares of PayPal Holdings (NASDAQ: PYPL) fell 18% in June, according to data provided by S&P Global Market Intelligence. The stock's movements completely correlated with the moves of other financial-technology (fintech) stocks during the month, showing that investors aren't interested in stocks like PayPal right now. The things that the company announced didn't matter, even though they should.
So what
Investors can look to exchange-traded funds (ETFs) to get an idea about how the market feels for an entire sector. For the fintech sector, you could look at The Global X FinTech ETF (NASDAQ: FINX), in which PayPal stock has a nearly 6% allocation. As the chart shows, PayPal stock completely mirrored the movements of The Global X FinTech ETF, showing investors' disdain for all things fintech in June.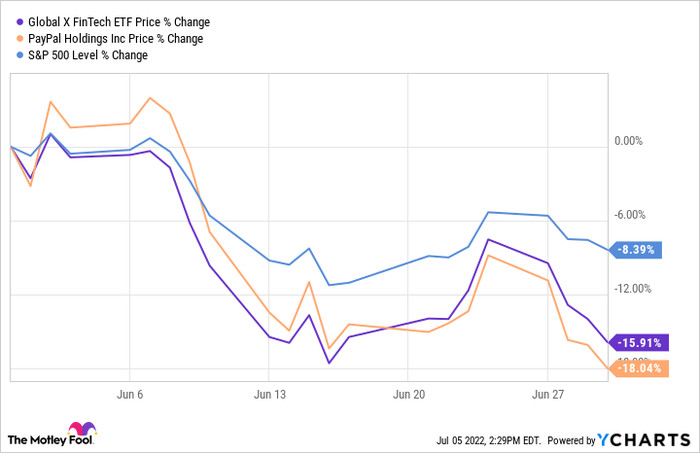 Regarding the fintech sector as a whole, many companies that offer buy now, pay later services took a hit in June after Apple announced its entrance into the space. And valuations are even down in the private sector. For example, Klarna is reportedly trying to raise funds at a $6.5 billion valuation after it was valued at over $45 billion last year.
However, I like how PayPal has handled this particular segment of the financial sector. Rather than acquire a buy now, pay later company, the company has slowly been building out its own services. In this way, it avoided potentially overpaying for a company like Klarna. And it's still a small-enough part of PayPal's business to not be adversely effected by Apple.
On June 15, PayPal expanded its buy now, pay later services. Monthly payments can be made over longer periods of time. But here's the bigger news: PayPal merchants can offer this to customers at no cost and without assuming the risk. In short, for merchants, this could boost sales without any downside.
PayPal's two-sided marketplace -- consumer and merchant -- is an often overlooked aspect of the business. But it's something that Wedbush analyst Moshe Katri has noticed. On June 6, Katri maintained their price target for PayPal stock of $110 per share, noting how early the company is in monetizing its two-sided marketplace, according to The Fly.
Now what
In June, PayPal stock fell to its lowest price-to-sales (P/S) valuation ever of 3.2 times trailing sales. This cheap valuation is why the stock was added to the Russell 1000 Value Index during its annual rebalancing last month.
PayPal stock is definitely cheap, but is it a good buy? That will depend on its ability to grow the business from here.
The company is smartly offering new services like buy now, pay later and even cash-back credit cards for small businesses (announced June 28) that keep building out the ecosystem. It already has 429 million active accounts. As long as management smartly expands into new areas, the company can keep growing and provide positive shareholder returns.
10 stocks we like better than PayPal Holdings
When our award-winning analyst team has a stock tip, it can pay to listen. After all, the newsletter they have run for over a decade, Motley Fool Stock Advisor, has tripled the market.*
They just revealed what they believe are the ten best stocks for investors to buy right now... and PayPal Holdings wasn't one of them! That's right -- they think these 10 stocks are even better buys.
*Stock Advisor returns as of June 2, 2022
Jon Quast has positions in PayPal Holdings. The Motley Fool has positions in and recommends Apple and PayPal Holdings. The Motley Fool recommends the following options: long March 2023 $120 calls on Apple and short March 2023 $130 calls on Apple. The Motley Fool has a disclosure policy.
Source