Why Clear Channel Outdoor Stock Just Popped 24%
What happened
The stock of Clear Channel Outdoor Holdings (NYSE: CCO) was enjoying a 23.9% renaissance as of 11:45 a.m. EDT today. This morning, Clear Channel announced a deal to sell its 50.91% majority interest in Hong Kong company Clear Media to Cayman Islands-based Ever Harmonic Global.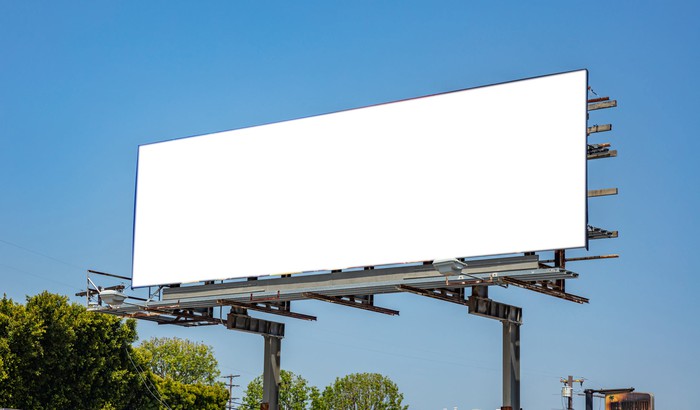 What does Clear Channel's financial outlook look like? Your guess is as good as theirs. Image source: Getty Images.
So what
This a big deal because of the price. With the coronavirus rampant around the globe, consumer demand in the toilet, and demand for advertisements right there with it, shares of Clear Channel have lost about 80% of their value since the start of this year, and the company now sits just above $300 million in market capitalization. But Clear Channel is about to make back nearly all its current market cap in a single deal, selling Clear Media to Ever Harmonic for $253 million.
Now what
Clear Channel stock isn't up even more for two reasons. First, market cap isn't the only thing you need to think about when weighing an investment in Clear Channel. You also need to consider the company's net debt load, which is about $6.7 billion after backing out cash on hand. Between the market cap and the net debt, Clear Channel has an enterprise value of $7 billion and looks substantially overleveraged today, even assuming it is able to use the cash from this deal to chip away at its debt load.
And second, way down at the bottom of its press release announcing the Clear Media deal, Clear Channel dropped the bombshell: "Given the quickly evolving economic environment, continuing downward pressure we are currently seeing in Europe and beginning to see in the U.S., and the uncertainty around how long the economic downturn and its impact on our business will last, the Company is withdrawing its guidance for 2020, previously provided on February 27, 2020."
Way to bury the lede, Clear Channel.
10 stocks we like better than Clear Channel Outdoor Holdings
When investing geniuses David and Tom Gardner have a stock tip, it can pay to listen. After all, the newsletter they have run for over a decade, Motley Fool Stock Advisor, has tripled the market.*
David and Tom just revealed what they believe are the ten best stocks for investors to buy right now... and Clear Channel Outdoor Holdings wasn't one of them! That's right -- they think these 10 stocks are even better buys.
*Stock Advisor returns as of March 18, 2020
Rich Smith has no position in any of the stocks mentioned. The Motley Fool has no position in any of the stocks mentioned. The Motley Fool has a disclosure policy.
Source