Why Cloudflare Tanked by More Than 13% Today
What happened
Shares of Cloudflare (NYSE: NET) fell 13.2% on Thursday, dropping the edge computing company's market cap to half of what it was at its all-time high in November. The stock has now completed a six-month round trip that began last summer -- over that stretch, it doubled in value, and now, it has collapsed back to its starting level. Cloudflare is, however, still up by 27% over the last 12 months.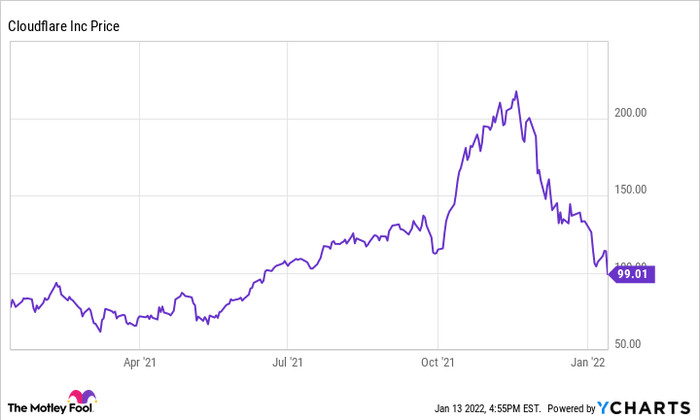 Data by YCharts.
So what
Even after tumbling all the way back to where it was last summer, Cloudflare is still trading at a premium price, even for a technology outfit. Its current valuation is a whopping 48 times expected 2021 sales. (It will deliver its fourth-quarter report on Feb. 10, finalizing that revenue figure.) The company has been averaging better than 50% year-over-year revenue growth throughout the pandemic -- but the secret is out, and investors have bid up this next-gen security, networking, and internet development company.
As for the tumble in recent months, Cloudflare is being beaten up along with other high-growth but richly valued stocks because the market is anticipating that interest rates will rise from their current rock-bottom levels this year. As a reminder, higher interest rates lower the value of future cash flows, which lowers the present value of a stock. Given that Cloudflare intentionally operates at close to breakeven on the bottom line, and intends to do so for the foreseeable future, its stock is especially susceptible to sharp swings in response to interest rate changes.
Now what
Stock price and ludicrous valuation aside, it's not hard to see why Cloudflare has attracted so much investor attention. The company is finding no shortage of places to invest spare cash as it guns for Amazon's (NASDAQ: AMZN) AWS segment and other lucrative cloud computing infrastructure services. Edge computing -- in which data, services, and software housed in centralized data centers get relocated out to servers that are closer to end-users -- is the future, and Cloudflare is in pole position in the space, building out the basic infrastructure needed to make it possible.
If you decide to start nibbling at this stock after its steep drop, do so in a patient and measured manner. Cloudflare's share price volatility isn't going away anytime soon, so buy in small amounts and build toward a larger position in this promising tech company over time.
10 stocks we like better than Cloudflare, Inc.
When our award-winning analyst team has a stock tip, it can pay to listen. After all, the newsletter they have run for over a decade, Motley Fool Stock Advisor, has tripled the market.*
They just revealed what they believe are the ten best stocks for investors to buy right now... and Cloudflare, Inc. wasn't one of them! That's right -- they think these 10 stocks are even better buys.
*Stock Advisor returns as of January 10, 2022
John Mackey, CEO of Whole Foods Market, an Amazon subsidiary, is a member of The Motley Fool's board of directors. Nicholas Rossolillo and his clients own Cloudflare, Inc. The Motley Fool owns and recommends Amazon and Cloudflare, Inc. The Motley Fool recommends the following options: long January 2022 $1,920 calls on Amazon and short January 2022 $1,940 calls on Amazon. The Motley Fool has a disclosure policy.
Source