Should Investors Avoid Intuit Stock Despite an Earnings Beat?
Following a Monday afternoon earnings release, Intuit (NASDAQ: INTU) stock held steady on Tuesday amid a massive sell-off in the overall market. For the second quarter, Intuit beat expectations on both earnings and revenue. Though it fell modestly, the stock outperformed the S&P 500, which lost about 3% on the day.
Like other financial tech stocks, Intuit has benefited from healthy revenue and earnings growth. The stock has tripled in value over the last five years. However, that has led to elevated valuations, and moves by competitors could threaten its core businesses. Such challenges lead to questions about whether or not investors have priced in the uncertainty surrounding the future of Intuit stock.
Intuit beats estimates, buys Credit Karma
The company reported earnings of $1.16 per share, beating consensus estimates by $0.14 per share. Intuit earned $1.00 per share in the same quarter last year. Revenue came in at $1.7 billion, exceeding estimates by $20 million. That represents a 13.3% increase from the year-ago number of $1.5 billion.
However, the big news of the day came when Intuit announced it would buy personal finance company Credit Karma for $7.1 billion. Credit Karma will likely integrate with Mint, Intuit's personal finance app. Mint connects multiple personal finance accounts under one interface. Now, with Credit Karma helping to choose financial products based on suitability and savings, Mint could become a more valuable tool for its users.
The deal should also help bolster revenue and earnings growth. Company guidance and analyst estimates point to double-digit growth in both. The company revealed that it expects revenue growth to come in between 10% and 11%. Management also predicts an increase in non-GAAP diluted earnings per share of between 11% and 13%, a range of between $7.50 per share and $7.60 per share.
Valuations have likely moved ahead of growth
Unfortunately for long-term investors, the stock appears to price in all of these benefits. Consequently, Intuit's forward P/E ratio now stands at close to 35. This comes in significantly ahead of the S&P 500 average P/E multiple of 24.3. That also brings the company's five-year price-to-earnings-to-growth (PEG) ratio to almost 3.6. Considering that analysts generally classify PEG ratios above one as "high," this stock appears quite pricey.
Also, the company might not see as much growth as analysts assume. With taxes due on April 15, much of the focus switches to the company's tax software, TurboTax. TurboTax continues to sell more software licenses despite increased competition. However, consumers have numerous choices in tax software; most cost less than TurboTax and have more extensive free versions.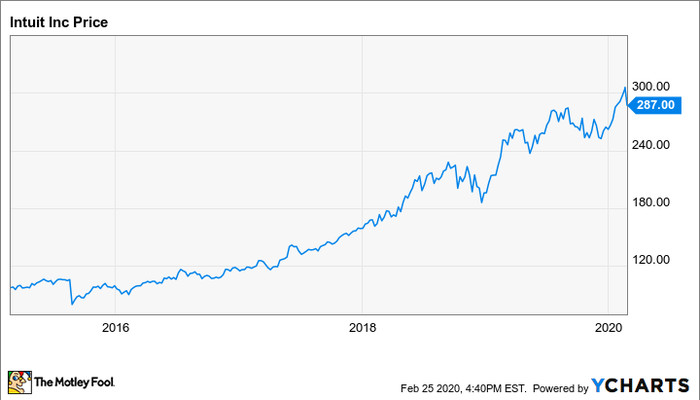 QuickBooks, its other primary software offering, faces a similar situation. A study by Datanyze gave QuickBooks products more than a 70% market share. QuickBooks remains a popular choice among businesses for accounting software. However, consumers also have numerous lower-cost alternatives.
In both cases, one has to think about how Microsoft fared when companies such as Alphabet began offering free alternatives to Microsoft Office. It's too soon to predict the demise of either TurboTax or QuickBooks, but intensifying competition means Intuit will have to struggle harder to maintain double-digit revenue growth.
The competitive moat could weaken
The biggest threat to both TurboTax and QuickBooks may come from other fintech ecosystems. Admittedly, the purchase of Credit Karma should expand Intuit's ecosystem. It allows the company to integrate its existing financial products with that company's personal finance solutions. Intuit faces increasing pressure from other fintech companies as PayPal and Square (NYSE: SQ) seek to enlarge their product portfolios.
In this case, Square could present a particular threat to the dominance of QuickBooks. Yes, QuickBooks can link with over 650 business apps. Included in those integrations are Shopify, PayPal, and Square. However, Square already integrates point-of-sale, e-commerce, capital, payroll, marketing, and other tasks under one umbrella. If Square directly entered the accounting software business, Intuit could find itself at a disadvantage. Consequently, that weaker market position could lead investors to question the position of TurboTax and QuickBooks and, by extension, Intuit's valuation.
Intuit owns compelling revenue drivers in both TurboTax and QuickBooks. The Credit Karma acquisition should help the company better utilize Mint and expand its ecosystem. However, with the elevated PEG ratio and possible competitive threats, Intuit's path to continued long-term growth appears uncertain.
10 stocks we like better than Intuit
When investing geniuses David and Tom Gardner have a stock tip, it can pay to listen. After all, the newsletter they have run for over a decade, Motley Fool Stock Advisor, has tripled the market.*
David and Tom just revealed what they believe are the ten best stocks for investors to buy right now... and Intuit wasn't one of them! That's right -- they think these 10 stocks are even better buys.
*Stock Advisor returns as of December 1, 2019
Suzanne Frey, an executive at Alphabet, is a member of The Motley Fool's board of directors. Teresa Kersten, an employee of LinkedIn, a Microsoft subsidiary, is a member of The Motley Fool's board of directors. Will Healy owns shares of Square. The Motley Fool owns shares of and recommends Alphabet (A shares), Alphabet (C shares), Intuit, Microsoft, PayPal Holdings, Shopify, and Square and recommends the following options: long January 2021 $85 calls on Microsoft, short January 2021 $115 calls on Microsoft, and short March 2020 $70 puts on Square. The Motley Fool has a disclosure policy.
Source