3 Top Dividend Stocks With Yields Over 5%
The S&P 500 index yields a paltry 1.5% today, so investors looking for big yields have their work cut out for them. However, that doesn't mean income-focused investors can't find great stocks paying generous dividends. You just need to be selective. Here are three names with yields over 5% (more than three times the broader market) that are worth a deep dive.
1. Mixing things up
The first name is real estate investment trust (REIT) W. P. Carey (NYSE: WPC). You know that diversification is good for your portfolio, but this landlord proves it is also good for REITs. In 2020, when some of its peers were having trouble collecting rents because of the coronavirus pandemic, W. P. Carey's rent collection rate never dipped below 96%. A big part of that was the diversification in its portfolio, which is spread across the industrial (25% of rents), office (23%), warehouse (22%), retail (15%), and self storage (5%) sectors ("other" makes up the rest). In addition, it generates nearly 40% of its rents from outside of the United States.
Notably, the REIT also has an incredible history of returning value to investors via dividend hikes, with an increase in each year since its 1998 IPO. That includes four increases in 2020, a year in which many REITs were forced to cut their distributions. In fairness, W. P. Carey tends to work with financially riskier tenants, but it looks to control this risk by focusing on originating leases with companies that it believes will see improving finances in the future. Moreover, it uses the net lease structure, which leaves tenants responsible for most of the costs of the assets they occupy. Net lease is generally considered a relatively low-risk approach in the real estate sector. All in, the REIT's 5.9% dividend yield looks well supported by the business and attractive even for more conservative investors.
2. In the middle
The next name, Enbridge (NYSE: ENB), falls into the midstream energy sector, but its business is more diverse than just owning pipelines. Indeed, while oil (54% of EBITDA) and natural gas (29%) pipelines make up the bulk of its portfolio, the Canadian energy giant also owns a natural gas utility (14%) and is investing in renewable power assets (3%). Its pipelines, meanwhile, are a vital link in the energy supply chain and can't be easily replaced. In other words, so long as the world is using oil and natural gas, Enbridge is likely to have customers for its largely fee-based assets.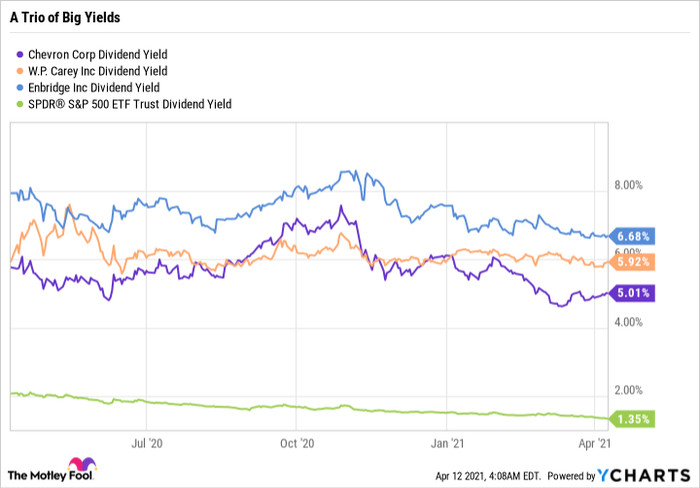 CVX Dividend Yield data by YCharts
Meanwhile, the material exposure to natural gas is purposeful, as it positions Enbridge well in a sector management believes will help transition the world toward a cleaner future. So it isn't ignoring the global warming issue, it's trying to help advance the process of dealing with the problem. That includes its renewable power business, which is set to expand thanks to a series of offshore wind projects in Europe. All in, Enbridge believes its portfolio of assets can support $3 billion to $4 billion of growth spending for the foreseeable future, which should lead to distributable cash flow growth of 5% to 7% a year. Dividends should track along with that, extending its existing 26-year annual increase streak. Now add in a current dividend yield of 7.1% and there's a lot to like here for dividend investors.
3. A focused bet
So far this list has included diversified companies, but now it's time for a little more focus. Integrated energy giant Chevron (NYSE: CVX) is sitting at roughly the 5% yield level today. The company is one of the largest oil and natural gas producers in the world. And while it has exposure across the energy space, from the upstream (drilling) to the downstream (chemicals and refining), it has made the decision to stick close to its core and not expand aggressively, like some of its peers, into the renewable power sector. That's not to suggest Chevron's management is ignoring the clean energy zeitgeist, but it just isn't ready to make wholesale changes just yet.
Times are not easy today for energy-focused names like Chevron, which had a terrible year in 2020. But it muddled through and managed to extend its annual dividend increase streak, which is over three decades long at this point. That's a pretty impressive statement, noting that some of its peers ended up cutting their dividends. An important distinction for Chevron is the strength of its balance sheet, which is one of the cleanest in the industry with a debt-to-equity ratio of about 0.33 times (a reasonable number for any company, actually). If you believe that oil and natural gas will remain vital to the world's energy needs, then Chevron could be for you. That said, the highly variable nature of energy prices means you'll need to be able to shoulder some short-term uncertainty if you decide to buy it.
Good income options
There's no such thing as a perfect stock, so each of the names here come with some issues that need to be considered before buying. For W. P. Carey that includes a willingness to work with weaker credits and for Enbridge and Chevron the big issue is carbon. However, history shows that all three have rewarded investors well via growing dividends and their high yields provide notable compensation for the risks. If you are a dividend investor looking to maximize your current income, this trio should all be on your short list today.
10 stocks we like better than Chevron
When investing geniuses David and Tom Gardner have a stock tip, it can pay to listen. After all, the newsletter they have run for over a decade, Motley Fool Stock Advisor, has tripled the market.*
David and Tom just revealed what they believe are the ten best stocks for investors to buy right now... and Chevron wasn't one of them! That's right -- they think these 10 stocks are even better buys.
*Stock Advisor returns as of February 24, 2021
Reuben Gregg Brewer owns shares of Enbridge and W. P. Carey. The Motley Fool owns shares of and recommends Enbridge. The Motley Fool has a disclosure policy.
Source