Why Restaurant Stocks Jumped on Monday
What happened
Shares of restaurant stocks jumped again on Monday after another round of good news about a coronavirus vaccine. Shares of Ruth's Hospitality Group (NASDAQ: RUTH) rose as much as 11.6%, Bloomin' Brands' (NASDAQ: BLMN) stock was up 10%, and Denny's (NASDAQ: DENN) was up 10.5% at its high. The shares closed the day up 8.7%, 5.1%, and 6.3%, respectively.
For the second week in a row, investors are bidding up shares of food and entertainment stocks on the back of positive vaccine news, this time from Moderna. The company released data today that showed its vaccine is nearly 95% effective against COVID-19, which follows positive news from Pfizer last week.
So what
Consumer discretionary stocks have been crushed by COVID-19, and no industry has been more devastated than restaurants. Indoor dining has been restricted in most parts of the country, and consumers simply aren't going out to eat even if it's allowed. So a vaccine would be good news long term.
You can see below that restaurants have been hit on multiple levels. First, revenue and earnings have gotten crushed by the pandemic.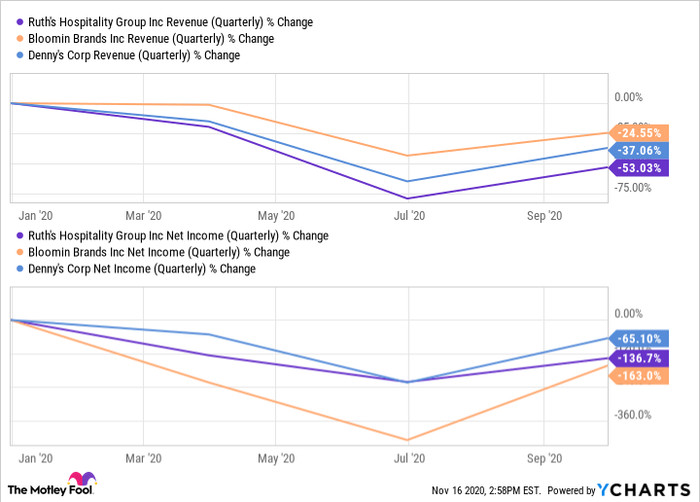 RUTH revenue (quarterly) data by YCharts.
Second, shares have plummeted, and even as the market has recovered, these stocks have lagged.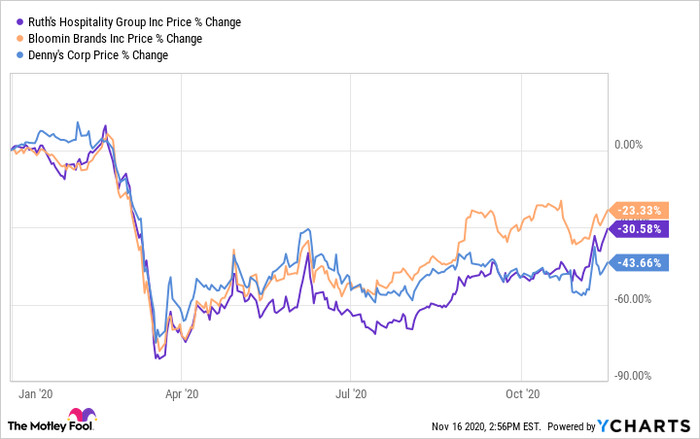 The vaccine news should be good for restaurants long term, but we still don't know the timing of widespread vaccine delivery. It's not until COVID-19 is only affecting a small number of people that the pandemic will be over, and that could still be many months away.
Now what
The stock market is forward-looking, so the operational hardship of the next few months isn't the focus of investors today. Instead, those buying restaurant stocks are betting that operations will get back to some level of normal sometime in 2021, which should bring with it higher revenue and better profitability.
What could help these publicly traded companies is that they've had access to capital markets and the scale of a large company, which hasn't been available to hundreds of small restaurants that have closed across the country. In 2021, there will simply be less supply in the restaurant business, so those that can stay open in the meantime could see a windfall of business next summer.
Investors should be cautious thinking that the worst is behind restaurants just because a vaccine or two are on the way. The industry still has months of weak demand to get through, which will be difficult in the normally lucrative holiday time frame. But it looks like right now, there's a light at the end of the tunnel for the industry.
10 stocks we like better than Bloomin' Brands
When investing geniuses David and Tom Gardner have a stock tip, it can pay to listen. After all, the newsletter they have run for over a decade, Motley Fool Stock Advisor, has tripled the market.*
David and Tom just revealed what they believe are the ten best stocks for investors to buy right now... and Bloomin' Brands wasn't one of them! That's right -- they think these 10 stocks are even better buys.
*Stock Advisor returns as of October 20, 2020
Travis Hoium has no position in any of the stocks mentioned. The Motley Fool has no position in any of the stocks mentioned. The Motley Fool has a disclosure policy.
Source