Starbucks Stock Is a Buy, According to This Investment Bank
It's once again time to buy Starbucks' (NASDAQ: SBUX) stock. So says a respected analyst team at J.P. Morgan, which upgraded the coffee giant's shares on Thursday from "neutral" to "overweight" and raised its target price from $90 per share to $94.
The upgrade comes after J.P. Morgan analysts John Ivankoe and Patrice Chen met with members of Starbucks' management team, including CEO Kevin Johnson and CFO Pat Grismer. Johnson and Grismer came away with the feeling that the company's expansion initiatives were progressing nicely. "Overall, we sensed a high degree of confidence that the 'growth at scale' agenda is working in the near and medium term, meeting if not exceeding set sales and margin objectives," Ivankoe said.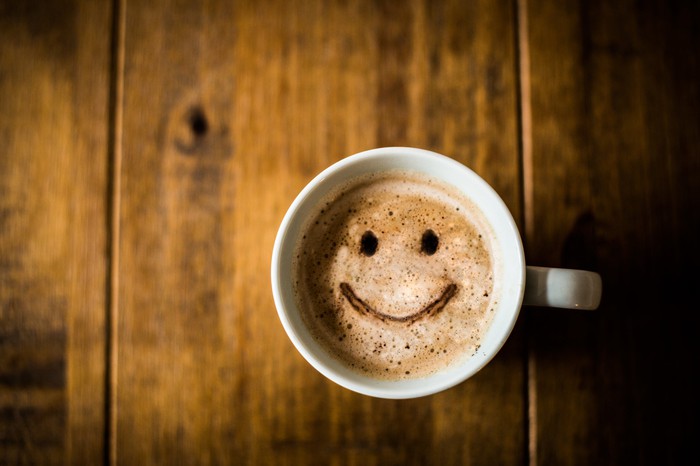 Analysts at J.P. Morgan are convinced that Starbucks' stock has plenty of caffeine-fueled gains still to come. Image source: Getty Images.
J.P. Morgan previously downgraded Starbucks' shares in July. At the time, the investment bank felt that the stock had come too far too fast after a greater than 90% rise over the prior year. It was the first time J.P. Morgan didn't have an overweight rating on Starbucks' shares in more than 15 years.
That call proved prescient. Starbucks' shares peaked near $100 toward the end of July and pulled back to the low $80-LEVEL in subsequent months.
But now, J.P. Morgan's analysts are once again bullish on the coffee king. After speaking with Starbucks' leadership team, Ivankoe expects Starbucks' same-store sales to rise by more than 5% in the U.S. and at least 1% to 3% in China.
J.P. Morgan's team lauded Starbucks' ability to create popular new beverages, as well as its industry-leading rewards program. Ivankoe predicts that the company's efforts in these areas will help boost sales in the coming quarters. "We expect much of this sales momentum to continue, and expect our/street numbers to trend up through the year," he said.
Long runways for growth still ahead
Although Starbucks' cafes are ubiquitous in the U.S., the coffee shop chain has plenty of room for continued expansion in international markets. China, in particular, is a massive growth opportunity.
"New store development continues to be our number one driver of growth in China, and I'm pleased to say that our pace of development in Q4 set a new record as we opened 201 net new stores, growing store count by 17% versus the prior year," Grismer said during Starbucks fourth-quarter earnings conference call. "Importantly, our new stores continued to deliver exceptionally high returns even as we extended our presence to new cities while infilling established cities."
Starbucks plans to open approximately 600 net new stores in China in fiscal 2020, and a total of around 2,000 locations worldwide. The company anticipates that this store count expansion combined with 3%-4% comp growth will help to drive its revenue higher by as much as 8% in 2020. Margin expansion initiatives, meanwhile, could drive operating income higher by as much as 10%.
"Our strong performance throughout fiscal 2019 gives us confidence in a robust operating outlook for fiscal 2020," Johnson said in Starbucks' fourth-quarter earnings release.
10 stocks we like better than Starbucks
When investing geniuses David and Tom Gardner have a stock tip, it can pay to listen. After all, the newsletter they have run for over a decade, Motley Fool Stock Advisor, has tripled the market.*
David and Tom just revealed what they believe are the 10 best stocks for investors to buy right now... and Starbucks wasn't one of them! That's right -- they think these 10 stocks are even better buys.
*Stock Advisor returns as of December 1, 2019
Joe Tenebruso has no position in any of the stocks mentioned. The Motley Fool owns shares of and recommends Starbucks. The Motley Fool has a disclosure policy.
Source