The 5 REITs With the Longest Dividend Histories
With at least 25 years worth of dividend hikes under each of their belts, Federal Realty Investment Trust (NYSE: FRT), Universal Health Realty Income Trust (NYSE: UHT), National Retail Properties (NYSE: NNN), Realty Income (NYSE: O), and Essex Property Trust (NYSE: ESS) are names that income investors should get to know.
Indeed, each has proven, without a doubt, that investors come first. Given the diversity in the mix, all of them could find a home in your portfolio. Here's a quick look at each to get you started on this incredibly elite quintet.
1. Federal Realty: The king
Federal Realty has increased its dividend annually for 54 consecutive years, which it claims (and there's no reason to doubt it) is the longest streak of any publicly traded real estate investment trust (REIT). That also makes it a leader among Dividend Aristocrat, those Standard & Poor's 500 Index companies that have raised their payouts for 25 years straight or more.
The company is highly focused on just 106 shopping center properties and mixed-use developments. That's a pretty small portfolio compared to other mall REITs, but what Federal Realty lacks in size, it makes up for in quality, with a laser-like approach that highlights wealthy neighborhoods with sizable populations. Management looks to add value via redevelopment and will sell centers once it believes it has maximized the potential of the assets -- and can get a good price for them.
The yield here is usually on the low side, given the strong dividend history and peer-leading property level performance, but investors looking for a reliable dividend stock should at least put this one on the wish list. The yield today is about 3.4%.
2. Universal Health Realty Income Trust: A big change of view
Universal Health Realty Income Trust's dividend yield is almost 5% right now, which is fairly generous relative to the broader market. However, the really interesting thing is that the yield was just a touch over 2% at the start of 2020, suggesting that investor perceptions here have materially changed, despite 36 consecutive years worth of dividend increases.
To be fair, there are some issues here. For starters, the health-care REIT is externally managed by one of its largest tenants, Universal Health Services. Also, dividend growth has been pretty anemic over the years, with a 10-year annualized growth rate of just 1.5% or so, a figure that is about half of the 3% historical average for inflation. And there are a couple of property-level issues going on (including a property swap with Universal Health Services) that likely have investors worried.
Although this might be an acquired taste, conservative investors should probably take a deep dive just to get to know the name.
3. National Retail Properties: Net lease king No. 1
When it comes to dividends, the clear leader in the net-lease segment is National Retail Properties and its 33 consecutive annual dividend increases.
Net-lease REITs own single-tenant properties, but tenants are responsible for most of the operating costs for the buildings they occupy. Across a large-enough portfolio (the REIT owns nearly 3,200 properties), this is a pretty low-risk investment approach.
National Retail, as its name implies, is focused 100% on retail assets, preferring to own fairly generic buildings in strong locations that would be easy to release in a worst-case scenario. Notably, management prefers to partner with its tenants, with about 70% of its acquisitions since 2007 involving existing occupants.
The REIT is a slow and steady tortoise, but over the long term, dividend growth has kept up with the historical rate of inflation growth. For conservative types, the yield of almost 4.9% is worth a close look.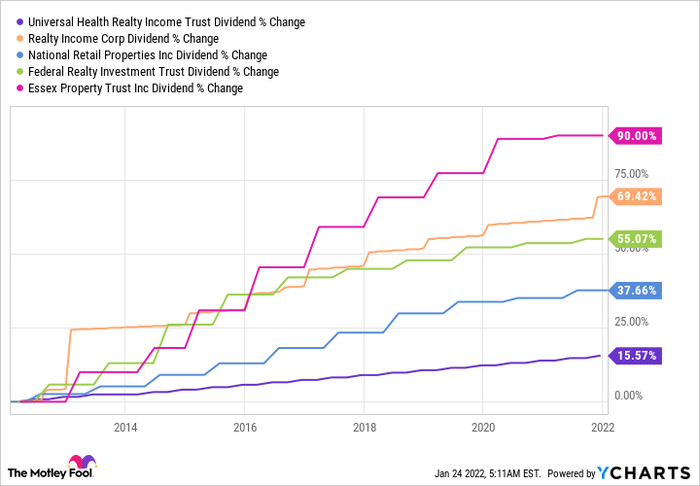 UHT Dividend data by YCharts
4. Realty Income: Net-lease king No. 2
While National Retail Properties has had more annual dividend increases than Realty Income, it is hard to deny that Realty Income is the industry bellwether, with more than 10,000 properties in its portfolio.
And while the dividend streak is "only" 28 years and counting, it's hard to complain too much about that. (It's also a Dividend Aristocrat). Roughly 80% of the REIT's portfolio is dedicated to retail properties, with the rest largely split between industrial and warehouse. It's also been working to expand its reach in Europe, a relatively new market for the company, but one that offers material growth potential.
All told, if you are looking for a net-lease REIT with more diversification than National Retail Properties, Realty Income is a good choice. The yield is about 4.3% and, like its smaller peer, it is something of a tortoise. But for a conservative investor, that might be just fine. Notably, Realty Income's dividend is paid monthly.
5. Essex Property Trust: The West is the best?
The last name on the list is Essex Property Trust, which owns properties in just two states, California and Washington. It's focused on apartments in eight submarkets, so it is a concentrated play. However, the areas in which it operates have long benefited from the robust growth of the technology sector, making this a long-term success story, marked by the REIT's 27 consecutive annual dividend increases.
This Dividend Aristocrat might be an acquired taste today, given the risks related to the coronavirus pandemic, but over the long term its net operating income growth has trounced its more diversified apartment REIT peers. So long as the West Coast remains a hotbed of technology innovation, Essex Property Trust should have a solid business to support its dividend. Even if you prefer a bit more diversification, it's probably worth a deep dive into this REIT and its 2.5% yield.
A little bit of everything
Achieving Dividend Aristocrat status takes years of hard work and a clear emphasis on putting investor dividends at the top of the to-do list. All of the REITs here have their unique traits. Even the two net-lease REITs aren't interchangeable and are worth a look. You might find that one or two end up in your portfolio today or that you simply add some names to your wish list.
Either way, you can learn something about what to look for in your investments by researching industry leaders like these, even if you never buy a single one of them.
10 stocks we like better than Federal Realty Investment Trust
When our award-winning analyst team has a stock tip, it can pay to listen. After all, the newsletter they have run for over a decade, Motley Fool Stock Advisor, has tripled the market.*
They just revealed what they believe are the ten best stocks for investors to buy right now… and Federal Realty Investment Trust wasn't one of them! That's right -- they think these 10 stocks are even better buys.
*Stock Advisor returns as of January 10, 2022
Reuben Gregg Brewer owns Realty Income. The Motley Fool has no position in any of the stocks mentioned. The Motley Fool has a disclosure policy.
Source