Adding $100 to These 7 Stocks Could Be a Genius Move Right Now
With the S&P 500 Index in bear market territory, it can be scary to be an investor these days. But it's important to maintain a buy-and-hold attitude. In fact, some investors may even view this moment as an opportunity for bargain buying. Thanks to fractional share buying, it's easier than ever to grow your position in a promising stock with only a $100, regardless of the company's full share price.
So, let's look at seven stocks which are suffering from declining share prices despite having stable underlying businesses. Adding $100 to your position in each could prove to be a potentially genius move over the next several years.
1. Nvidia
Helping to power 355 of the top 500 supercomputers, Nvidia (NASDAQ: NVDA) and its accelerated computing platform dominate the gaming and data center industries. With a customer list that is a who's who in cloud computing hyperscalers and over 200 million gamers on its GeForce gaming platform, Nvidia's nearly 5,000% run-up in share price over the last decade comes as no surprise.
In the first quarter of fiscal year 2023 (ended May 1), Nvidia grew revenue by 46% year over year, raking in $8.29 billion and outperforming its expected $8.1 billion benchmark. The chipmaker's gaming and data center segments saw record revenue in the first fiscal quarter: The latter unit brought in $3.62 billion and the former $3.75 billion, up 36% and 83%, respectively, from the year ago.
On top of this promising growth in its core markets, Nvidia grew its pipeline of automotive design wins to over $11 billion over fiscal year 2022 (ended Jan. 30), underlining its incredible growth optionality. Timing the market is virtually impossible, but adding to Nvidia while it is down over 40% year to date could be a favorable move for investors with a long-term focus.
2. Alphabet
While Google's dominance in search is still the primary driving force behind Alphabet's (NASDAQ: GOOG) (NASDAQ: GOOGL) stock price, the company is far from a one-trick pony. While Google Search contributed to 58% of Alphabet's total revenue in the first quarter of 2022, YouTube ads and Google Cloud brought in 10% and 8.6%, respectively. The Google Network (AdSense, AdMob, and Ad Manager), Google Play, YouTube subscription offerings, and its vast "other bets" segment, account for the remaining revenue.
The company grew revenue by 23% in the first quarter compared to the prior-year period, while earnings yield has risen to nearly 5%, a level not seen in almost a decade. Since earnings yield is the inverse of its price-to-earnings (P/E) ratio, Alphabet's P/E of around 20 is lower than its 23% revenue growth rate -- a sign that its ongoing expansion (and 122 million daily YouTube viewers) could be attractively priced.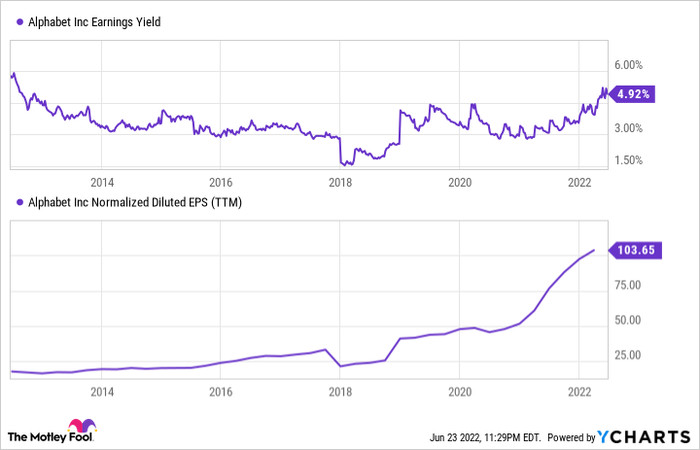 GOOGL earnings yield. Data by YCharts. TTM = trailing 12 months.
3. Adobe
Blending the crucial worlds of imagination and digital experiences, Adobe (NASDAQ: ADBE) revolutionizes the tech-heavy world with its creative, document, and experience clouds.
Even after achieving a record $4.39 billion in revenue during the second quarter of 2022, amounting to 14% year-over-year growth, Adobe's price to free cash flow (P/FCF) has dropped to 26, a level it hasn't seen for more than five years. Notably, Adobe's document cloud surpassed 50 million monthly active users in the second quarter of 2022, more than doubling year over year and demonstrating that the company's PDF modification abilities remain substantial.
Down over 30% this year, the company's share price looks disconnected from its robust underlying operations, making it a worthy place for investors to invest $100 in today.
4. Lowe's
While most people know Lowe's (NYSE: LOW) as one-half of the home improvement duopoly here in the U.S., shrewd investors recognize it as a master of returning cash to shareholders. Over the last decade, the company has cut its shares outstanding almost in half while quintupling its dividend payments at the same time. With 58 consecutive years of dividend increases and a payout ratio of only 26%, investors should expect more of the same.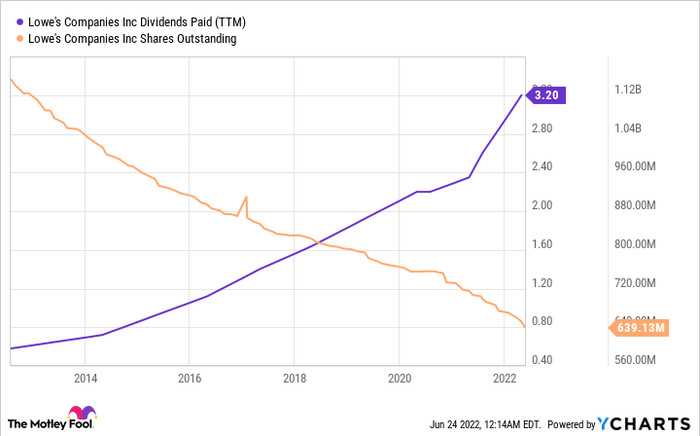 LOW dividends paid (TTM). Data by YCharts.
Best of all, an investment in Lowe's today comes with an earnings yield of nearly 7%, the highest the company has seen in over a decade.
5. The Trade Desk
While The Trade Desk (NASDAQ: TTD) has risen over 700% in the last five years, it has posted a stunning 50% drop in 2022. Despite growing revenue by 43% in the first quarter, the company has seen its stock sell off harshly as net income turned slightly negative.
But with The Trade Desk's digital advertising platform beautifully positioned to thrive as advertisers move to connected-TV marketing, its five-year annualized sales growth of 42% could extend far into the future.
6. Pinterest
Sales growth for Pinterest (NYSE: PINS), the social media platform, have slowed significantly in the past year, dropping from an impressive 78% in the first quarter of 2021 to a mere 18% a year later. But, there's a bright spot: the company's global average revenue per user (ARPU) grew by 28% over the same time.
Most importantly, the company closed its acquisition of The Yes, an artificial-intelligence powered fashion shopping platform. This acquisition is a key move for Pinterest, as it looks to blur the line between inspiration and shopping, offering instant purchasing for personalized interests.
Pinterest's stock has dropped nearly 50% year to date. Thanks to its low P/FCF ratio of 19.98, Pinterest is near value territory and could offer immense potential over the long term if it can continue to grow international ARPU.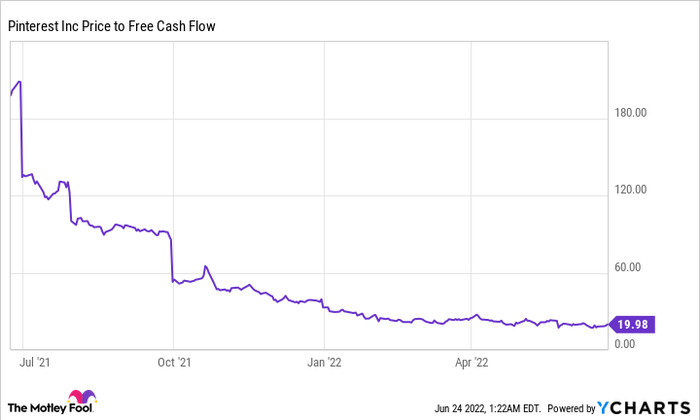 PINS P/FCF. Data by YCharts.
7. Veeva Systems
Veeva Systems (NYSE: VEEV), which offers cloud solutions for the life sciences industry, dominates its niche market and boasts consistent double-digit compounding thanks to its subscription-heavy business.
Veeva's cloud serves over 1,000 customers across the biotech and pharmaceutical industries, with various commercial and research and development solutions. While subscription growth has slightly decelerated from 26% year over year in the first quarter of 2022 to 18% in the first quarter of 2023, the company's 40% FCF margin and steady growth make it a compelling investment proposition.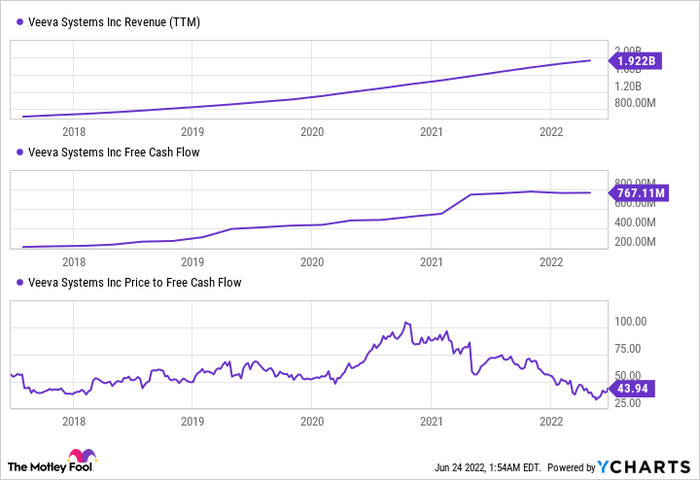 VEEV revenue (TTM). Data by YCharts.
Now trading at 44 times FCF, Veeva is still relatively expensive yet looks like a classic example of a premium business trading at a premium price. Adding $100 to this company today could pay off handsomely in the long term.
10 stocks we like better than Nvidia
When our award-winning analyst team has a stock tip, it can pay to listen. After all, the newsletter they have run for over a decade, Motley Fool Stock Advisor, has tripled the market.*
They just revealed what they believe are the ten best stocks for investors to buy right now... and Nvidia wasn't one of them! That's right -- they think these 10 stocks are even better buys.
*Stock Advisor returns as of June 2, 2022
Suzanne Frey, an executive at Alphabet, is a member of The Motley Fool's board of directors. Josh Kohn-Lindquist has positions in Adobe Inc., Alphabet (A shares), Lowe's, Nvidia, Pinterest, The Trade Desk, and Veeva Systems. The Motley Fool has positions in and recommends Adobe Inc., Alphabet (A shares), Alphabet (C shares), Netflix, Nvidia, Pinterest, The Trade Desk, and Veeva Systems. The Motley Fool recommends Lowe's and recommends the following options: long January 2024 $420 calls on Adobe Inc. and short January 2024 $430 calls on Adobe Inc. The Motley Fool has a disclosure policy.
Source