Is It Time to Buy Kroger After the Dip?
Kroger (NYSE: KR) stock has trounced the market over the past year, putting it ahead of retailing peers like Walmart and Target. That outperformance has been supported by good news on the operating front as sales and earnings growth remained strong through the first half of 2022.
Yet the stock fell in the wake of Kroger's latest earnings update, which arrived during an unusually bad week for the broader market. Let's look at a few reasons why investors might want to take that slump as an opportunity to own shares of a stable business with a brightening sales and earnings outlook.
Sales trends
Revenue rose 4% in the selling period that ended in late May, the company said on June 16. That boost reflected continued market-share gains in key parts of the grocery retailing niche. Rivals Walmart and Target, in contrast, each announced a 3% comparable-store sales increase in their latest reports .
Kroger is getting help in the market-share fight by a revamped fresh-food section and a deeper push into popular store brands like Simple Truth. The store-brand segment grew 6.3% in the first quarter, and fresh-food sales were up 5.2%. "We successfully executed on our strategy," CEO Rodney McMullen said in a press release .
Beating back inflation
Kroger also outperformed peers on the bottom line. Adjusted gross-profit margin held steady and adjusted operating profit expanded to $1.5 billion, or 3.4% of sales, compared to $805 million, or 2% of sales a year ago.
It helped that Kroger operates a vertically integrated business in many niches, including by running its own transportation fleet along with a network of dairy farms. Control over the entire supply chain helped management avoid many of the surprise cost spikes that harmed other retailers through the first half of 2022.
Kroger is also finding ways to cut expenses so it can keep prices low. "Our team is doing an outstanding job managing costs in an inflationary environment," McMullen said.
Looking ahead
That improving earnings performance convinced executives to raise their 2022 outlook, creating another welcome contrast with rivals in the space. Rather than reduce its profit-margin forecast, as Target did, Kroger now sees operating profit landing slightly higher than originally forecast. Annual earnings should reach $4.4 billion, management said, up from $3.5 billion last year and $2.8 billion in 2020.
Kroger also sees a better sales year ahead. Comparable-store sales are predicted to rise by 2.5% to 3.5%, executives said last week, versus the prior forecast of 2% to 3%. This outlook implies steady growth despite wild swings in consumer spending over the last few years. Comps were up 14% in fiscal 2022, improved by less than 1% last year, and are expected to rise nearly 3% in 2022.
Stock valuation
Despite all the good news, Kroger's stock fell 10% in the week surrounding its earnings report. Sure, shares are still beating the market in 2022, up roughly 2% compared to a 20%-plus swoon in the S&P 500.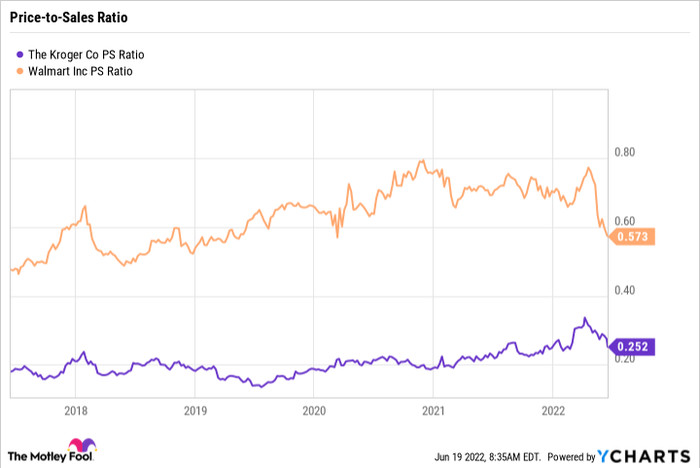 KR PS Ratio data by YCharts.
But Kroger has become more attractive from a valuation standpoint. The shares are now trading for about 16 times annual earnings compared with 26 for Walmart. Kroger pays a dividend yield that's roughly equal to Walmart's 1.9%, too.
Those factors should have investors taking a closer look at the shares right now. While Kroger may never again report growth approaching the 14% spike it saw in 2022, it offers a good balance between growth, stability, and dividend income in a turbulent market.
10 stocks we like better than Kroger
When our award-winning analyst team has a stock tip, it can pay to listen. After all, the newsletter they have run for over a decade, Motley Fool Stock Advisor, has tripled the market.*
They just revealed what they believe are the ten best stocks for investors to buy right now... and Kroger wasn't one of them! That's right -- they think these 10 stocks are even better buys.
*Stock Advisor returns as of June 2, 2022
Demitri Kalogeropoulos has no position in any of the stocks mentioned. The Motley Fool has positions in and recommends Target. The Motley Fool has a disclosure policy.
Source