Is Garmin Stock a Buy?
The recent market plunge initiated by the effects from the ongoing COVID-19 pandemic brought many stocks to levels not seen in years. Fear of the unknown will do that to stocks. The market in general has rallied since the recent March 2020 levels, as investors try to figure out how different businesses are being affected, as well as what the post-pandemic world will look like.
Garmin (NASDAQ: GRMN) is a business with no debt that should weather an economic downturn well, and it has a successful product lineup that might even get a boost as people adapt to new lifestyles. It is also a stock that hasn't rebounded much from the initial drop, making now a good time to buy.
Pristine balance sheet
In today's world full of health and economic uncertainty, a solid balance sheet is going to look more and more valuable to investors. Garmin's should make other companies envious. It doesn't carry any debt, and it has $2.6 billion in cash and marketable securities.
The company has long held a strong balance sheet, and on its first-quarter 2020 earnings call, CEO Cliff Pemble explained that it is something that shows investors a "commitment to an attractive dividend," and gives Garmin the opportunity to invest and grow when other businesses may be tightening belts. He summarized: "Our balance sheet is the cornerstone of our ability to face a crisis such as this."
Not the old Garmin
Some people may still think of Garmin as a leading provider of personal navigation devices that were popular before smartphones became so widespread. But the company has transitioned its business to where its automotive segment is now less than 15% of total sales.
| Segment (as % of revenue) | Fiscal 2019 | Fiscal 2013 | Fiscal 2007 |
| --- | --- | --- | --- |
| Outdoor | 24.4% | 15.6% | 5.4%* |
| Fitness | 27.9% | 13.5% | 5.4%* |
| Marine | 13.5% | 8.5% | 6.4% |
| Automotive/mobile | 14.6% | 49.5% | 73.6% |
| Aviation | 19.6% | 12.9% | 9.3% |
DATA SOURCE: GARMIN FINANCIAL FILINGS. TABLE BY AUTHOR. *DATA SHOWN AS EVEN SPLIT BETWEEN OUTDOOR AND FITNESS SEGMENTS, WHICH WERE PREVIOUSLY REPORTED AS A SINGLE UNIT.
Though automotive has been a slowing part of the business, the growth in the other segments has been excellent. Overall sales grew 12% in the first quarter versus the prior year, after also increasing 12% for the full year 2019 compared to 2018, due to the strength in the segments that have been strong for several years.
| Segment | Q1 Fiscal 2020 Growth (YOY) | Fiscal 2017 to 2019 CAGR |
| --- | --- | --- |
| Outdoor | 13.7% | 14.6% |
| Fitness | 24% | 17.2% |
| Marine | 21.7% | 16.6% |
| Auto | (16.7%) | (14.6%) |
| Aviation | 10.4% | 21.1% |
DATA SOURCE: GARMIN FINANCIAL FILINGS. TABLE BY AUTHOR. CAGR = COMPOUND ANNUAL GROWTH RATE. YOY = YEAR OVER YEAR.
Good value at the current price
Today's valuation takes us back about two years. Several different valuation metrics support this, looking at a three-year chart.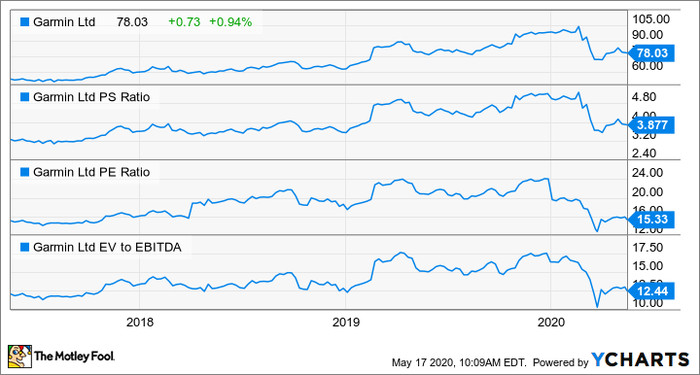 The business itself has seen solid growth in that time, and the continuation of an increasing contribution from the growing segments. There's every reason to think this will continue. The company increases spending on research and development by 10% to 15% routinely, which should continue to translate into new product offerings and upgrades.
Looking ahead
While Garmin, like most companies, will see a large drop in sales in the current quarter, the post-pandemic world may even be one that will contribute accelerating interest in its products. Outdoor recreation of all kinds has gained popularity during the lockdowns, and boating is a safe way to recreate with family. Garmin's 2019 acquisition of private indoor cycling company Tacx adds a new element to its fitness portfolio, and travelers for business or pleasure may look more into private aviation.
Garmin's dividend currently yields 2.9%, and management expects its recommendation of a 7% dividend increase to be approved at the annual shareholder meeting on June 5, 2020. Buying today, investors in Garmin get a good value for a company with strong product growth and a balance sheet to not just make it through an economic slump, but also pay shareholders handsomely along the way.
10 stocks we like better than Garmin
When investing geniuses David and Tom Gardner have a stock tip, it can pay to listen. After all, the newsletter they have run for over a decade, Motley Fool Stock Advisor, has tripled the market.*
David and Tom just revealed what they believe are the ten best stocks for investors to buy right now... and Garmin wasn't one of them! That's right -- they think these 10 stocks are even better buys.
*Stock Advisor returns as of April 16, 2020
Howard Smith owns shares of Garmin. The Motley Fool has no position in any of the stocks mentioned. The Motley Fool has a disclosure policy.
Source