Why Arista Networks Stock Fell 10% in June
What happened
Shares of Arista Networks (NYSE: ANET) were down 10% in June, according to data provided by S&P Global Market Intelligence. This trailed the market's 2% gain. And investors might be scratching their heads; the company barely had any news during the month, and certainly nothing explaining a 10% loss.
Perhaps this lack of news explains it. The company hasn't reported much of anything lately, yet the stock rose in May. Zooming out to two-month stock returns, Arista Networks is up only 3% -- about what you'd expect from a quiet company.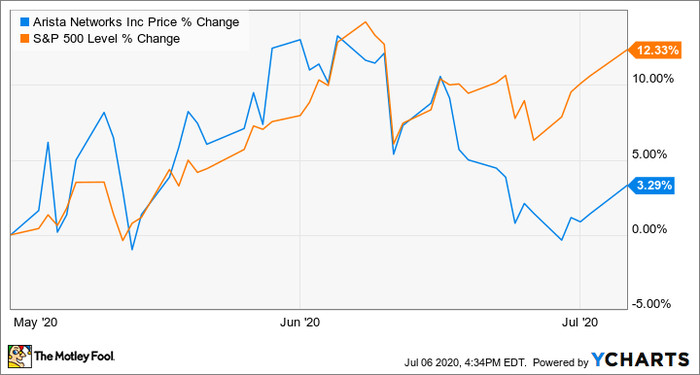 So what
On June 9, COO Anshul Sadana answered questions at the William Blair Growth Stock Conference. The thirty-minute video conference talked a lot about the company's technology and total addressable market. But if I could summarize the session, Sadana basically said the COVID-19 pandemic hasn't changed anything with the business, other than by potentially delaying some customer spending. The company's long-term outlook is unchanged.
That's good, but it doesn't really move Arista Networks stock. The company didn't announce new customers, accelerating trends, or increased adoption of its cloud solutions -- even though other cloud technology companies have.
There weren't even any notable analyst price targets placed on Arista Networks stock in June. It's almost as if Wall Street altogether forgot about this company.
Now what
Arista Networks is a leader in data-center networking, an industry with upside. The company isn't growing as fast as it did in times past, but then again growth could reaccelerate with a new data center hardware upgrade cycle. And its being a top player in a growing space poised for an upgrade cycle is a reason to like Arista Networks over the next few years.
In that regard, a sleepy June with unchanged long-term prospects is a good thing for Arista Networks shareholders.
Find out why Arista Networks is one of the 10 best stocks to buy now
Motley Fool co-founders Tom and David Gardner have spent more than a decade beating the market. After all, the newsletter they have run for over a decade, Motley Fool Stock Advisor, has tripled the market.*
Tom and David just revealed their ten top stock picks for investors to buy right now. Arista Networks is on the list -- but there are nine others you may be overlooking.
Click here to get access to the full list!
*Stock Advisor returns as of June 2, 2020
Jon Quast has no position in any of the stocks mentioned. The Motley Fool owns shares of and recommends Arista Networks. The Motley Fool has a disclosure policy.
Source