3 Healthcare Stocks With High Dividends
So far 2022 has been brutal for growth stocks. A good place to hide might be the healthcare sector. It's a great defensive play, as healthcare is as basic as food. And these stocks all pay a nice dividend. Here's why these three Motley Fool contributors like Amgen (NASDAQ: AMGN), Takeda Pharmaceutical (NYSE: TAK), and PetMed Express (NASDAQ: PETS).
Look for a comeback from this biotech pioneer
Taylor Carmichael (Amgen): Amgen has been a sub-par stock for a while. It dropped 9% over the last year. And that underperformance made the stock a loser to the S&P 500 index over the last 10 years as well.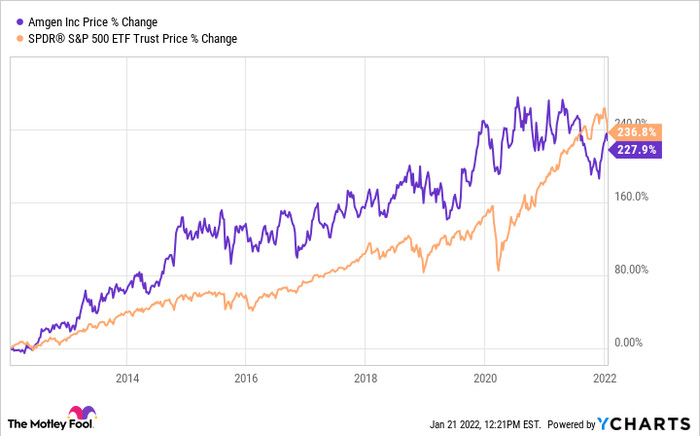 See that little spike up at the end of Amgen's chart? That's big money rolling into the biotech pioneer in December of last year. The stock has been up 13% since Dec. 1, 2021. So right now, Amgen's a nice happy place if your growth stocks have been bleeding out lately.
Value investors are flocking to Amgen because the biotech is both safe and cheap. Amgen pulled in $26 billion in revenue last year. The biotech has 10 blockbuster drugs on the market, each one bringing in $1 billion or more last year.
| Drug | Q3 Revenue | Growth Rate (YOY) |
| --- | --- | --- |
| Enbrel | $1.2 billion | (3%) |
| Prolia | $803 million | 15% |
| Otezla | $609 million | 13% |
| Xgeva | $517 million | 7% |
| Neulasta | $415 million | (25%) |
| Aranesp | $396 million | 3% |
| Kyprolis | $293 million | 13% |
| Mvasi | $274 million | 19% |
| Nplate | $273 million | 29% |
| Repatha | $272 million | 33% |
Data from Amgen's Q3 investor presentation. YOY = year over year.
The stock's underperformance has made shares cheap, trading at 11 times forward earnings. Amgen is paying a dividend with a 3% yield. Growth drivers going forward include the cancer drugs Lumakras and Blincyto as well as Amgen's biosimilar program. Next year, the company expects to launch Amgevita in the U.S. This is a biosimilar to Humira, the top-selling drug in the world.
Amgen's a safe place to park your money in these turbulent times. I expect these shares to outperform the market in 2022 and beyond.
An underappreciated Japanese pharma
George Budwell (Takeda Pharmaceutical): Shares of Takeda Pharmaceutical have been on a downward spiral since the start of 2018. Investors have backed away from this healthcare stock due to three key overhangs. First and foremost, the Japanese pharma giant's $62 billion acquisition of the orphan drug specialist Shire in 2019 straddled it with a ton of debt. Second, Takeda is staring down the patent expiration of the top-selling ADHD medication Vyvanse in 2023. Third, the company's hereditary angioedema drug known as Takhzyro appears to be losing market share to BioCryst Pharmaceuticals' newly approved oral medication, Orladeyo. The net result is that Takeda's shares have dropped by over 49% since Jan. 1, 2018.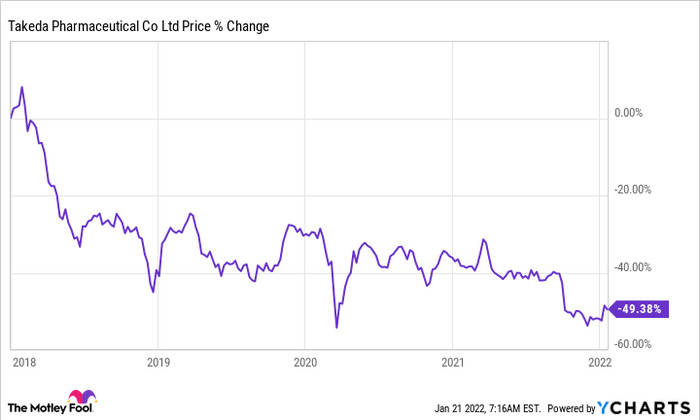 Value and income investors, though, may want to take advantage of this prolonged weakness in the pharma titan's shares for a couple of good reasons. On the dividend front, Takeda's shares sport an eye-catching 5.6% annualized dividend yield, which is among the highest in the large-cap healthcare stock space. Takeda's shares are also dirt cheap at current levels. Specifically, the drugmaker's stock is presently trading at under nine times forward-looking earnings. That's one of the lowest valuations within the big pharma industry right now. Lastly, the drugmaker's pipeline is also being woefully underestimated by this moody market at the moment. Takeda's research and development platform, after all, has over 40 assets in clinical studies, several of which have blockbuster sales potential.
All told, Takeda's stock offers an attractive mix of above-average levels of passive income, a bargain-basement valuation, and a ton of deep value.
The cure for a dogged portfolio
Patrick Bafuma (PetMed Express): The healthcare market isn't just about humans; Fido and Fluffy occasionally need some medical attention, too. And with $8 billion in the prescription pet medication market and $2 billion in the over-the-counter pet medication market in the U.S. alone, there's room for PetMed Express to flourish. Not to mention pet ownership increased during the pandemic, with 7 out of 10 U.S. households now owning a pet. This market growth should provide some safety for the company's 5% dividend yield.
PetMed is clearly a beloved and well-trusted brand. It fetches a healthy net promoter score (NPS) of 82. That number approaches the 86 NPS Chewy reported when it first went public. With 2.2 million unique customers in the last two years and an increase in average order size from $87 in the third quarter of 2020 to $92 in Q3 2021, this pet-centric company seems to be a slow and steady grower, too.
I believe the 5% dividend yield for this $500 million market cap is safe for the foreseeable future. PetMed has no debt with over $100 million in cash and is cash flow positive. Historically, its return on equity has been over 30%. Since launching its AutoShip & Save program in July 2021, the company is looking to continue building higher lifetime value and recurring relationships with its customers -- and keeping its payouts safe.
10 stocks we like better than Amgen
When our award-winning analyst team has a stock tip, it can pay to listen. After all, the newsletter they have run for over a decade, Motley Fool Stock Advisor, has tripled the market.*
They just revealed what they believe are the ten best stocks for investors to buy right now... and Amgen wasn't one of them! That's right -- they think these 10 stocks are even better buys.
*Stock Advisor returns as of January 10, 2022
Patrick Bafuma has no position in any of the stocks mentioned. George Budwell has no position in any of the stocks mentioned. Taylor Carmichael has no position in any of the stocks mentioned. The Motley Fool owns and recommends Chewy, Inc. The Motley Fool recommends Amgen. The Motley Fool has a disclosure policy.
Source