Why Shares of Starbucks Are Up Today
What happened
Shares of Starbucks (NASDAQ: SBUX) were moving up on Thursday, after the U.S. Senate approved a massive $2 trillion economic rescue package that could help speed the economy's post-coronavirus recovery.
As of 11:30 a.m. EDT, Starbucks' shares were up about 6.3% from Wednesday's closing price.
So what
Starbucks' shares have had a bumpy ride in 2020 as the coronavirus pandemic caused the company's sales to drop first in China, and now in the U.S. and Europe.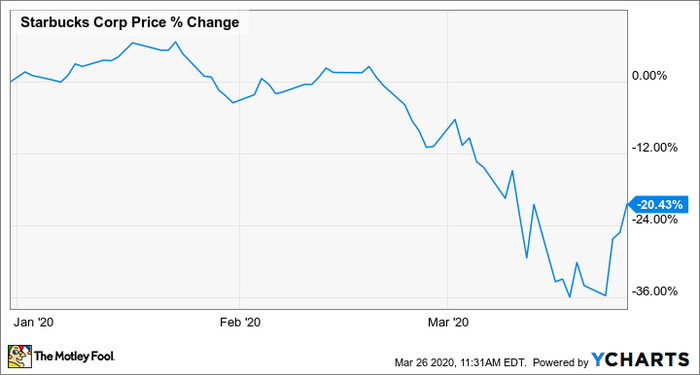 Shares have recovered somewhat in recent days, after CEO Kevin Johnson reassured investors by noting that Starbucks has a strong balance sheet and is applying lessons learned in China to its businesses in the U.S. and Europe. Shares also got a boost from the overall market, which has moved up as the $2 trillion economic-rescue package appeared to be nearing approval in Congress.
Now what
The question for Starbucks -- and just about everyone else -- is what happens after the pandemic fades. Will the economy (in the U.S., Europe, and elsewhere) bounce back to pre-crisis levels fairly quickly, or will we face a prolonged, deep recession?
Johnson and his team have so far made good moves to weather the near-term storm. The economic rescue bill could help improve the chances of a post-crisis bounce, which would of course be bullish for Starbucks' shares.
But the truth is, there's still a lot of uncertainty ahead. Investors buying at this point are betting on Johnson's ability to steer the ship through rough waters. It's probably a good bet, but we won't know for sure for at least a few more months.
10 stocks we like better than Starbucks
When investing geniuses David and Tom Gardner have a stock tip, it can pay to listen. After all, the newsletter they have run for over a decade, Motley Fool Stock Advisor, has tripled the market.*
David and Tom just revealed what they believe are the ten best stocks for investors to buy right now... and Starbucks wasn't one of them! That's right -- they think these 10 stocks are even better buys.
*Stock Advisor returns as of March 18, 2020
John Rosevear owns shares of Starbucks. The Motley Fool owns shares of and recommends Starbucks. The Motley Fool has a disclosure policy.
Source