Why TuSimple Stock Is Surging Today
What happened
Shares of driverless-truck start-up TuSimple Holdings (NASDAQ: TSP) were trading sharply higher on Thursday in a dramatic rebound following a sell-off that may have been triggered by a short-seller's report.
As of 11:45 a.m. EDT, TuSimple's shares were up about 15.6% from Wednesday's closing price.
So what
TuSimple, founded in 2015, is a San Diego-based developer of autonomous-driving systems for heavy trucks. The company has an impressive list of partners and investors, including big-rig maker Navistar International, United Parcel Service, Nvidia, and the heavy-truck unit of global auto giant Volkswagen.
TuSimple drew another prominent investor shortly after its initial public offering in April: ARK Invest CEO Cathie Wood, who began adding shares right after the IPO and has added over a million more shares since the beginning of August. One of Wood's big buys (almost 295,000 shares) came on Aug. 12, a day after short-seller Grizzly Research released a report calling TuSimple "all smoke and mirrors."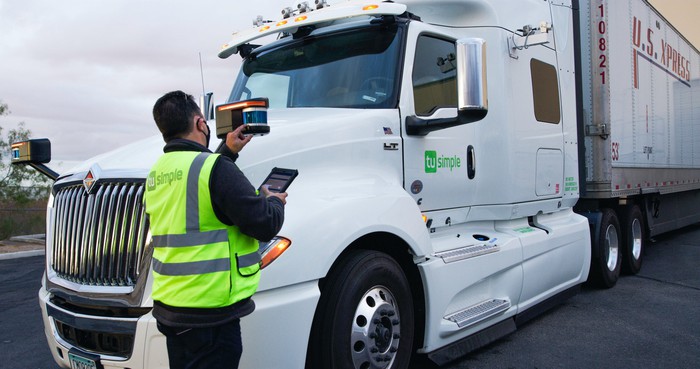 Navistar, maker of this International semi, is a key partner of and investor in TuSimple. Image source: TuSimple.
I think Thursday's big gain was simply a rebound in investor interest, perhaps sparked by Wood's buying.
Now what
What about that short-seller's report? To my eyes, Grizzly's report on TuSimple is pretty thin, nothing like the in-depth reports that led to abrupt CEO departures at Nikola and Lordstown Motors.
Among the "allegations," such as they are: An investor in TuSimple is also a key investor in Nikola, TuSimple's founders had an earlier start-up that didn't succeed, and TuSimple has "China origins" and is therefore (somehow) exposed to the country's recent crackdown on consumer-facing online businesses.
Long story short: If you liked TuSimple a month ago, I'm not seeing any reason for you to change your mind now.
10 stocks we like better than TuSimple Holdings Inc.
When our award-winning analyst team has a stock tip, it can pay to listen. After all, the newsletter they have run for over a decade, Motley Fool Stock Advisor, has tripled the market.*
They just revealed what they believe are the ten best stocks for investors to buy right now... and TuSimple Holdings Inc. wasn't one of them! That's right -- they think these 10 stocks are even better buys.
*Stock Advisor returns as of August 9, 2021
John Rosevear has no position in any of the stocks mentioned. The Motley Fool owns shares of and recommends Nvidia and Volkswagen AG. The Motley Fool has a disclosure policy.
Source