Why NIO, Li Auto, and Xpeng Stocks Are Down Today
What happened
The U.S.-listed shares of several Chinese electric-vehicle makers were trading down on Wednesday after the Chinese government imposed restrictions on ride-hailing giant DiDi Global (NYSE: DIDI) following its initial public offering in New York.
Here's where things stood for these three companies' American depositary shares as of 1 p.m. EDT, relative to their closing prices on Tuesday.
Li Auto

(NASDAQ: LI)

was down about 4.6%.
NIO

(NYSE: NIO)

was down about 6.9%.
Xpeng

(NYSE: XPEV)

was down about 5.9%.
So what
China's government said earlier this week that it has launched cybersecurity reviews on DiDi and several other Chinese companies that have listed on U.S. markets in 2021, including Full Truck Alliance (NYSE: YMM) and Kanshun Limited (NASDAQ: BZ). The government's concern is apparently that the audits and oversight required of U.S.-listed companies could compromise the security of Chinese consumers' information.
The near-term consequences aren't trivial: For the moment, DiDi isn't allowed to register new users -- a restriction that will sharply limit its growth potential until (and unless) the company works things out with regulators.
It's not yet clear what that means for Li Auto, NIO, and Xpeng, all of which listed in the U.S. before 2021. My thinking right now is that the companies themselves aren't likely to be hit with significant fines or penalties. But if they're no longer able to offer new shares in the United States, an important avenue of funding will be closed off.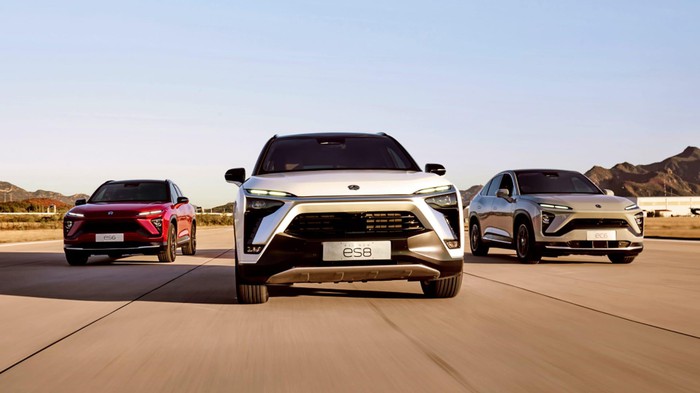 NIO's plans to ramp up production could be slowed if the company's ability to raise money in the U.S. is restricted. Image source: NIO, Inc.
As any auto investor knows, auto manufacturing requires big capital commitments up front -- capital commitments that have to be sustained through economic cycles. While all three of these companies took advantage of last year's bull market to bolster their balance sheets and cash reserves via offerings to U.S. investors, they might not be able to do so again in the future.
That's one concern here, and if you own any of these three stocks, it's something to watch.
Now what
We might have to wait until these companies report second-quarter earnings to get a clearer understanding of how China's enforcement actions might (or might not) affect their businesses. None of the three have yet announced dates for their earnings reports, but I expect all three sometime in mid-August.
10 stocks we like better than NIO Inc.
When our award-winning analyst team has a stock tip, it can pay to listen. After all, the newsletter they have run for over a decade, Motley Fool Stock Advisor, has tripled the market.*
They just revealed what they believe are the ten best stocks for investors to buy right now... and NIO Inc. wasn't one of them! That's right -- they think these 10 stocks are even better buys.
*Stock Advisor returns as of June 7, 2021
John Rosevear has no position in any of the stocks mentioned. The Motley Fool owns shares of and recommends NIO Inc. The Motley Fool has a disclosure policy.
Source