Why Shake Shack Shares Tanked Despite Improving Sales
Long-term Shake Shack (NYSE: SHAK) investors are no strangers to high peaks and deep valleys. Since the better-burger chain came public in early 2015, it's been a roller-coaster ride as the stock has risen on impossibly steep expectations, only to retreat when those expectations don't transpire.
This year has been no different. After more than doubling and reclaiming all-time highs, shares have been in double-digit retreat -- especially after the company provided third-quarter 2019 results. The wild share price action is actually masking a rock-solid business, though. It's one that has managed to deliver strong growth as Shake Shack expands around the U.S. and abroad in spite of stiff competition in the restaurant industry.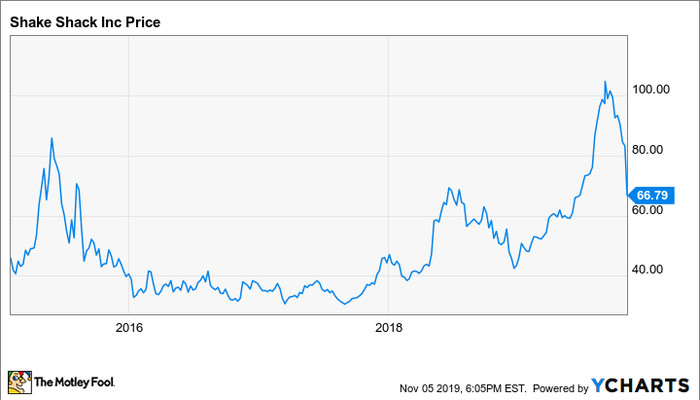 Data by YCharts.
What the fuss is all about
When the bar is set too high, even a high-growth stock like Shake Shack can stumble. Total revenue in Q3 increased 32% to $158 million, and "same-Shack" sales (a combination of foot traffic and average guest ticket size at stores open for at least two years) grew 2%. That's nothing to complain about. Management even raised its outlook for franchised location net new openings for 2019 to 24 to 28 (from 18 to 20 previously).
All of that equated to another full-year revenue outlook increase, this time to $592 million to $597 million, up from the previous outlook for $585 to $590 million. So what's eating investors? For one thing, guidance for full-year same-Shack sales decreased from 2% to 1.5%. That's an important profitability metric as higher traffic and sales indicate that each location is more efficient. Operating expenses also rose more than revenue in the quarter, growing 36% to $150 million. Management blamed higher food and commodity costs (including the cost to introduce Chick'n Bites earlier this year) and higher wages.
It all added up to a decrease in Shack-level operating profit margin (restaurant sales less restaurant-level expenses) to 23.1% from 25.8% a year ago. Year to date, no one is going to accuse Shake Shack of executing poorly on its expansion efforts, but a more than doubling of share price through the summer months was a little much for some investors.
| Metric | 9 Months Ending Sept. 25, 2019 | 9 Months Ending Sept. 26, 2018 | YOY Change |
| --- | --- | --- | --- |
| Revenue | $443 million | $335 million | 32% |
| Total expenses | $418 million | $306 million | 37% |
| Earnings per share | $0.70 | $0.56 | 25% |
| Adjusted EBITDA profit margin | 15.1% | 17.7% | (2.6 pp) |
Data source: Shake Shack. YOY = year over year. EBITDA = earnings before interest, tax, depreciation, and amortization. Pp = percentage point.
Don't get hasty with a purchase just yet
Another contributing factor to the decline in average location profitability is that, as Shake Shack grows beyond its home market in the northeastern U.S., its newer locations do far less business. To wit, average weekly sales at company-operated stores were $80,000 in Q3 compared with $86,000 last year. Still, that's an annualized per-store revenue rate of $4.16 million, one of the best in the restaurant industry.
Plus, there was this positive news: Management's preliminary outlook for 2020 is calling for 40 to 42 new company-operated store openings and another 20 to 25 franchised. That's another big bump from the more than 250 Shacks currently in operation. However, things could get uglier in the short-term as investors once again digest the last report card and what to expect going forward -- especially with the downgrade to same-Shack sales, which would imply some weakness at existing restaurants during the fourth quarter. Restaurants, especially those specializing in burgers, are plentiful. Shake Shack could be running into some industry headwinds as it expands. Nevertheless, this better-burger chain remains one of the fastest-growing restaurant stocks around and is still worth keeping an eye on.
10 stocks we like better than Shake Shack
When investing geniuses David and Tom Gardner have a stock tip, it can pay to listen. After all, the newsletter they have run for over a decade, Motley Fool Stock Advisor, has quadrupled the market.*
David and Tom just revealed what they believe are the ten best stocks for investors to buy right now... and Shake Shack wasn't one of them! That's right -- they think these 10 stocks are even better buys.
*Stock Advisor returns as of June 1, 2019
Nicholas Rossolillo and his clients have no position in any of the stocks mentioned. The Motley Fool has no position in any of the stocks mentioned. The Motley Fool has a disclosure policy.
Source