Why Global Payments Stock Fell 11.2% Last Month
What happened
Shares of Global Payments (NYSE: GPN) slipped 11.2% in October, according to data from S&P Global Market Intelligence. The fintech stock lost ground in conjunction with sell-offs that rocked the broader market in the second half of the month.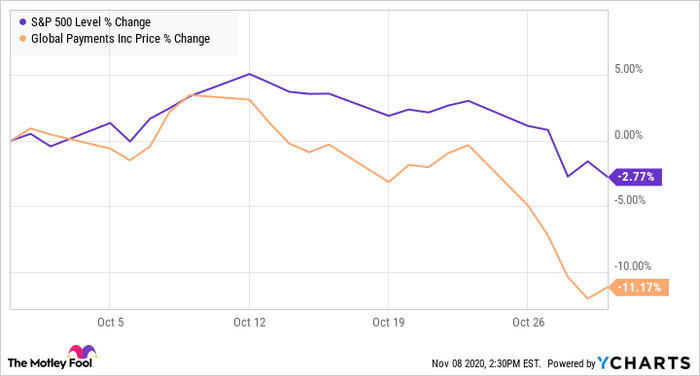 Global Payments published better-than-expected sales and earnings when it reported third-quarter results on Oct. 29. However, the earnings release coincided with a steep pullback for the broader market, and the company's share price ended the month down double digits.
So what
Global Payments posted non-GAAP (adjusted) earnings per share of $1.71 on adjusted revenue of roughly $1.746 billion. Adjusted sales were down about 4% in the quarter, but the company's adjusted operating margin rose 250 basis points to 41.1%, and the overall results were still better than the market anticipated. The average analyst estimate had called for earnings per share of $1.66 on sales of $1.725 billion.
Now what
Global Payments stock has posted gains in conjunction with the market's recovery early in November's trading. The fintech stock is up 8.4% in the month so far.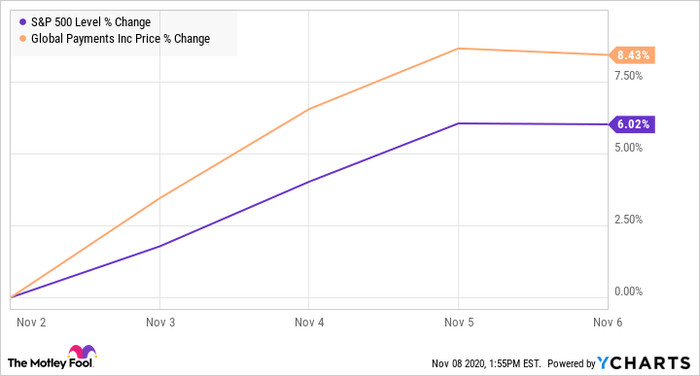 Global Payments hasn't given detailed near-term guidance, but management has said that it expects margin expansion and earnings-per-share growth in the fourth quarter. The team is also guiding for adjusted earnings per share of $8 next year, provided global recovery from conditions related to the coronavirus pandemic continues.
Global Payments has a market capitalization of $52 billion and trades at roughly 27 times this year's expected earnings.
10 stocks we like better than Global Payments
When investing geniuses David and Tom Gardner have a stock tip, it can pay to listen. After all, the newsletter they have run for over a decade, Motley Fool Stock Advisor, has tripled the market.*
David and Tom just revealed what they believe are the ten best stocks for investors to buy right now... and Global Payments wasn't one of them! That's right -- they think these 10 stocks are even better buys.
*Stock Advisor returns as of October 20, 2020
Keith Noonan has no position in any of the stocks mentioned. The Motley Fool has no position in any of the stocks mentioned. The Motley Fool has a disclosure policy.
Source