Why Texas Capital Bancshares Jumped Today
What happened
Texas Capital Bancshares' (NASDAQ: TCBI) stock popped nearly 10% on Monday after news broke of its multibillion-dollar merger with Independent Bank Group (NASDAQ: IBTX).
So what
Texas Capital will merge with Independent Bank in an all-stock $5.5 billion deal. The combined company will oversee approximately $48 billion in assets and $39 billion in deposits. The companies say the greater scale of the merged bank will allow it to make larger investments in technology and better manage risk.
Under terms of the deal, Texas Capital shareholders will receive 1.0311 shares of Independent Bank Group for each share of Texas Capital they possess.
"Independent Bank Group is an outstanding complement to Texas Capital with its enviable commercial branch network, small business market leadership and solid deposit funding model in combination with our strong corporate banking practice and powerful technology and compliance infrastructure," Texas Capital CEO C. Keith Cargill said in a press release.
The combination is expected to produce approximately $100 million in annual cost savings, thereby allowing the merged business to generate higher profitability and return-on-investment metrics than either company could alone.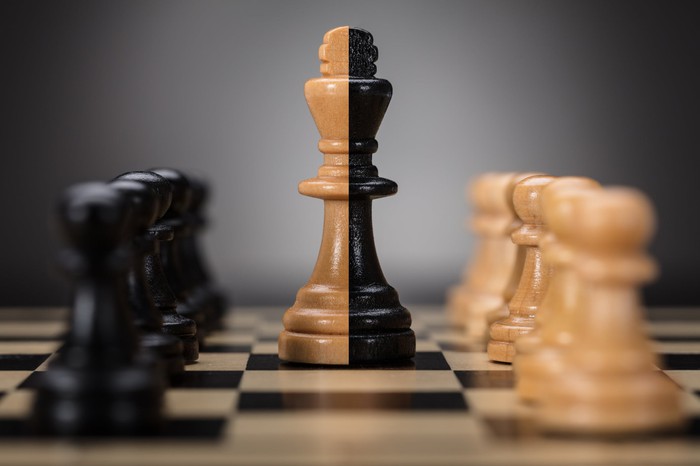 Texas Capital Bancshares and Independent Bank Group are merging to form a more powerful bank. Image source: Getty Images.
Now what
The merger is expected to close in mid-2020, subject to regulatory and shareholder approval. Upon closing, the combined company intends to pay an annual dividend of $1 per share, subject to approval by its board of directors.
Independent Bank Group Chairman and CEO David Brooks will lead the merged business, with Cargill serving as his special advisor.
"This combination with Texas Capital is a singular opportunity to significantly diversify our customer base, business lines, and loan concentrations, enabling us to accelerate our growth and enhance our financial flexibility for continued strategic investments," Brooks said.
10 stocks we like better than Texas Capital Bancshares
When investing geniuses David and Tom Gardner have a stock tip, it can pay to listen. After all, the newsletter they have run for over a decade, Motley Fool Stock Advisor, has tripled the market.*
David and Tom just revealed what they believe are the ten best stocks for investors to buy right now... and Texas Capital Bancshares wasn't one of them! That's right -- they think these 10 stocks are even better buys.
*Stock Advisor returns as of December 1, 2019
Joe Tenebruso has no position in any of the stocks mentioned. The Motley Fool has no position in any of the stocks mentioned. The Motley Fool has a disclosure policy.
Source