Here's Why Lucid, Fisker, and ABB Are 3 Top EV Stocks for 2022
From software to cryptocurrency to e-commerce, seemingly every growth market is experiencing tumbling equity valuations. The electric vehicle (EV) industry is no different. It's an industry chock-full of both potentially disrupting newcomers and legacy automakers looking to move away from the internal combustion engine and toward the electric motor. But it's also an industry that depends on growth, fueled by debt that is becoming more expensive due to rising interest rates.
Lucid Group (NASDAQ: LCID), Fisker (NYSE: FSR), and ABB (NYSE: ABB) are three EV stocks worth considering for 2022. Here's why they stand out as the best investment options in their industry.
Trust is everything
Daniel Foelber (Lucid Group): Lucid and Rivian Automotive (NASDAQ: RIVN) are two high-profile EV stocks that went public in 2021. They are often lumped together in the same conversation due to their high valuations. Both companies are worth over $55 billion despite delivering their first vehicles in the fourth quarter of 2021. Lucid and Rivian have each received a great deal of praise for their technology, with Lucid winning the MotorTrend 2022 Car of the Year award and Rivian taking home MotorTrend's 2022 Truck of the Year award.
Yet Lucid continues to break away from Rivian not just as a company, but as a stock too. The market has completely reevaluated Rivian compared to its competitors, as its share price tanked 38% in the first three weeks of 2022 while Lucid stock fell less than 1%: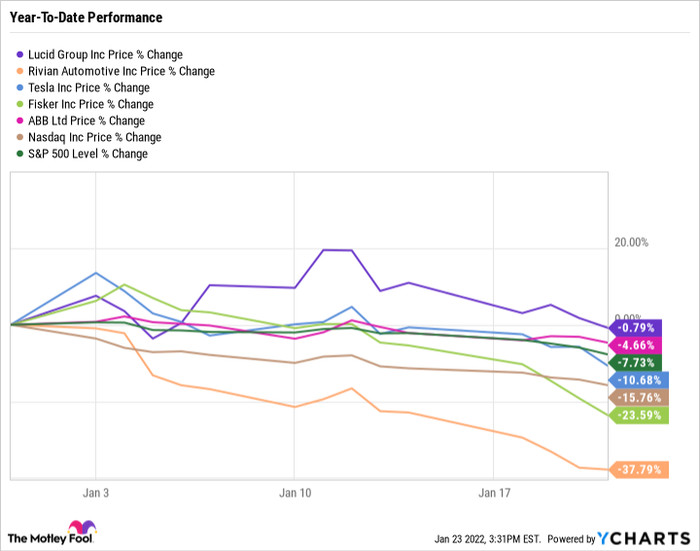 Rivian's fall from grace is a poignant reminder of the importance of delivering on promises, especially when an investment thesis is grounded in trust and hopes of what a company can grow into, not in what it is today. Despite having less manufacturing capacity and fewer reservations, Lucid has done a better job hitting its targets -- which goes a long way in setting expectations that it will underpromise and overdeliver. Lucid was once worth over $30 billion less than Rivian. As of Friday, it's now worth $5 billion more.
Despite its potential, Lucid is a speculative option -- high-risk, high-reward. And for that reason, it's best combined with a basket of EV stocks, like those picked by Scott and Lee in this article.
Hitch a ride with this EV maker
Scott Levine (Fisker): Looking to invest in a leading coffee company with fierce brand loyalty among its customers? That's simple: The choices are limited, and you're essentially left with Starbucks. If you're interested in powering your portfolio with an EV stock, however, the choices are considerably more varied. It wouldn't be shocking to learn that some people start investigating EV stocks, grow overwhelmed, and decide to forgo the sector altogether. Despite the many opportunities, though, those interested in plugging into an EV stock would be wise to hop aboard with Fisker.
The coming year will be a big one for the start-up EV maker; for example, it expects to start production of its first vehicle, Ocean, in November. Consumer interest in the Fisker Ocean has risen steadily in anticipation of the vehicle starting to roll off the assembly line. Earlier this month, Fisker reported that it currently has more than 23,500 reservations for the various editions of the Ocean, representing growth of about 118% from the 10,800 reservations it had at the end of 2020. Furthermore, Fisker estimates that based on a survey it conducted of reservation holders, the average selling price for its vehicles will be about $56,000; that would bring in $1.3 billion in revenue.
One of the most interesting aspects of the road that Fisker's taking toward growing revenue is its innovative approach to leasing. Whereas legacy automakers offer customers leases with fixed terms, Fisker is offering drivers the chance to lease its vehicles for no set fixed term -- and with a 30,000-mile annual mileage allowance. Many drivers may be anxious about getting behind the wheel of a fully electric car because they're unsure about the ease and practicality of charging their batteries. But if they choose to hop on board with a Fisker lease, drivers may be more willing to take a chance with an EV -- since if they find the recharging aspect too challenging, they can return the car with no penalty.
As with any pre-revenue company -- EV-related or otherwise -- there are obvious risks. But I've had my eye on Fisker for some time, and I find its investment opportunity compelling. In fact, I plan on starting a position myself in the coming weeks as my first EV investment.
ABB will list its e-mobility business in 2022
Lee Samaha (ABB): The industrial giant is a lot more than its e-mobility business (charging stations, hardware, and services). In fact, e-mobility only represents around 2% of its expected sales in 2021.
However, what ABB's management is doing with e-mobility is symptomatic of its efforts to improve the performance of a company with a huge amount of potential. In a nutshell, ABB plans to take its e-mobility business public while retaining a majority stake in the business. According to a Reuters article, the listing could value the business at around $3 billion; that's a big price for a business set to generate just $479 million in revenue in 2021. It would be a good deal for ABB, and the cash raised through the partial listing could be used to reinvest in ABB's businesses.
That would be good news because ABB has a portfolio of exciting businesses, notably in automation, robotics, electrification, and industrial software that places it right at the heart of the fourth industrial revolution -- the increasing use of iterative interaction between physical and digital assets. Interestingly, one of the growth drivers for its robotics and automation businesses is their assisting in the manufacturing of batteries and electric motors.
In addition to the e-mobility listing, ABB is also planning to divest or spin off its turbocharging and power conversion businesses in 2022 as part of an ongoing portfolio restructuring.
All this points to a company that's finally set to extract maximum full value from its collection of assets. And that includes the majority stake it will retain in the e-mobility business.
10 stocks we like better than Lucid Group, Inc.
When our award-winning analyst team has a stock tip, it can pay to listen. After all, the newsletter they have run for over a decade, Motley Fool Stock Advisor, has tripled the market.*
They just revealed what they believe are the ten best stocks for investors to buy right now... and Lucid Group, Inc. wasn't one of them! That's right -- they think these 10 stocks are even better buys.
*Stock Advisor returns as of January 10, 2022
Daniel Foelber owns Starbucks and has the following options: long January 2024 $80 calls on Starbucks. Lee Samaha has no position in any of the stocks mentioned. Scott Levine has no position in any of the stocks mentioned. The Motley Fool owns and recommends Starbucks and Tesla. The Motley Fool recommends the following options: short January 2022 $115 calls on Starbucks. The Motley Fool has a disclosure policy.
Source