3 Reasons to Buy Micron While Everyone Else Is Selling
Micron Technology (NASDAQ: MU) held its fiscal third-quarter earnings call last week, with earnings per share (EPS) coming in ahead of expectations. Micron has been outperforming from an operating standpoint this year, but its stock has nevertheless declined 42%.
Unfortunately, the earnings call confirmed what investors had been fearing; demand has slowed considerably, especially in phones and PCs, which make up about half of Micron's revenue. Thus, management guided for a 17% revenue decline and 35% earnings decline for the current quarter.
The beginning of a downturn may seem like the time to dump Micron's stock; however, if history is any guide, investors should probably be adding, or dollar-cost-averaging, rather than dumping the stock today. Here are three reasons why.
1. Micron's stock tends to bottom before earnings do
The last memory bear market began in mid-2018 and carried through 2019, In that downturn, Micron's stock bottomed in late 2018, a few months after the peak in EPS. But Micron's earnings per share didn't bottom until late 2019; by that time, the stock was 70% higher!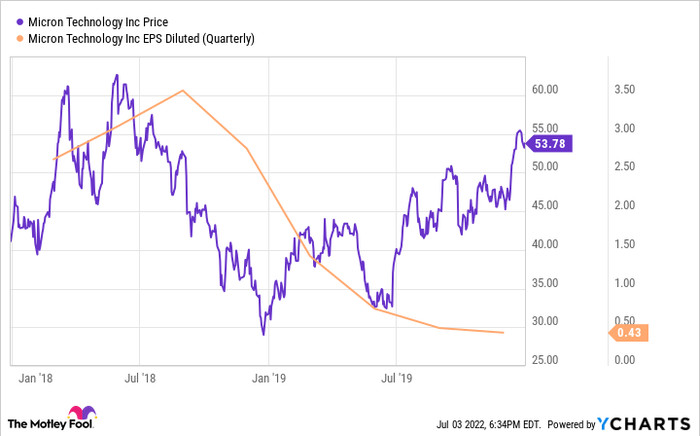 That's because the market is forward-looking. With the stock down 42% year to date in 2022, most analysts and investors have been predicting a downturn for quite a while. Analyst channel checks for consumer devices like phones and PCs have been very weak since April, after China locked down several huge cities, and Micron's stock has followed suit ever since. An exact duplicate of the 2018 experience would mean a bottom in the stock would occur later this summer, in August or September.
Of course, this downturn could be worse, but it could also be better. While the rest of the stock market boomed during 2020 and 2021, especially in sectors like software, the memory market actually had a bigger "boom" in 2017 and 2018, with all-time high margins and skyrocketing capital investments. The last couple of years have been strong, but not to the extent of 2017 and 2018. Therefore, the "bust" may be less severe than 2019, since the supply increase hasn't been as drastic.
As you'll notice in the chart above, Micron fell a tad more than 50% from peak to trough in 2018. As Micron's January 2022 high was $98.45, a similar drop would take the stock to about $49 per share -- less than 10% below today's share price. Of course, a bad recession could make the current bust worse, but most don't expect a 2008-type of crisis.
The point is, if you wait for Micron's earnings to begin turning up before buying, the stock is likely to be much higher by then.
2. Micron is close to a trough valuation
With Micron's earnings per share perpetually in flux, investors can't really rely on price-to-earnings multiples to tell whether Micron is "cheap" or "expensive." Instead, many look at Micron's stock as a multiple of book value per share. As a manufacturer, Micron's book value is tied up in its manufacturing and research facilities, working capital, and cash.
As you can see, based on that metric, Micron's stock is getting close to where it bottomed in past downturns.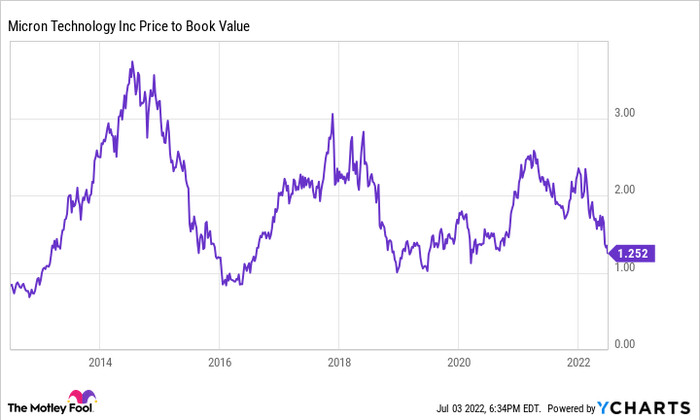 MU Price to Book Value data by YCharts
Of note, the current price-to-book value is even lower than the chart above, as YCharts has not yet updated its metric for the recent quarter reported last Friday. Based on that report, Micron's current book value per share is around $44.67, making the current price-to-book ratio closer to 1.2 than 1.25.
Back in late 2018, the stock bottomed around a price-to-book value of 1. However, that trough valuation was slightly higher than the trough in the prior downturn of 2016, which was slightly higher than the trough in 2012. If that trend persists, it's possible Micron's stock may not even reach book value this time.
3. Micron's operations are the best they've ever been
While the memory market is headed into a down cycle, Micron's competitive position has never been better. Under CEO Sanjay Mehrotra, who took over the job in 2017, Micron has gone from industry laggard to leader.
In the memory industry, the faster you can convert to the next-most advanced node, the more bits you can pack onto a wafer. That makes your cost-per-bit lower and your gross margin higher. Back in 2016, Micron's gross margin was 13% below the industry average. In 2018, Micron's gross margin was 6% below industry average. But by 2021, Micron's gross margin was 2% above industry average.
Micron also now has more long-term agreements with customers. Management recently announced its first new type of agreement with a top-10 customer that locks in pricing over three years. If Micron signs up more customers to this type of arrangement, there will be much less volatility in its results. That may also put a higher floor under its valuation.
Finally, unlike 2018, Micron now pays a quarterly dividend, which was introduced last year. Micron just raised its new payout from $0.40 to $0.46 annually, good for a 0.85% yield at today's stock price. The new dividend signals management's confidence in greater stability for the memory industry.
As the industry is now on the brink of a downturn, management's sunny outlook will be put to the test. Still, the new dividend may be another reason for investors to hold through this cycle.
The beginning of a memory downturn has usually been a buying opportunity for Micron investors in the past. While the future is inherently unpredictable, it's hard to see why this time should be any different.
10 stocks we like better than Micron Technology
When our award-winning analyst team has a stock tip, it can pay to listen. After all, the newsletter they have run for over a decade, Motley Fool Stock Advisor, has tripled the market.*
They just revealed what they believe are the ten best stocks for investors to buy right now... and Micron Technology wasn't one of them! That's right -- they think these 10 stocks are even better buys.
*Stock Advisor returns as of June 2, 2022
Billy Duberstein has positions in Micron Technology and has the following options: short January 2023 $160 calls on Micron Technology and short July 2022 $45 puts on Micron Technology. His clients may own shares of the companies mentioned. The Motley Fool has no position in any of the stocks mentioned. The Motley Fool has a disclosure policy.
Source