Is It Too Late to Buy Intuitive Surgical Stock?
In the past 20 years, Intuitive Surgical (NASDAQ: ISRG) has easily outperformed the market with its shares skyrocketing by more than 17,000%. Unless you have a time machine handy, it's too late to cash in on this rally.
But there might be some hope. If Intuitive Surgical can continue crushing the market from here on out, getting in on the action now might still be worthwhile. Does the medical devices giant have what it takes to keep handsomely rewarding its shareholders? Let's look at a few reasons why the answer to that question is a resounding yes.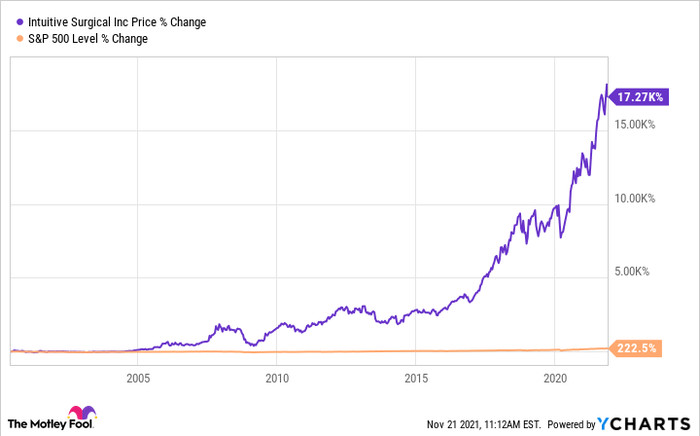 Multiple competitive advantages
The most successful and durable companies on the planet tend to have this one thing in common: a competitive edge over their peers. The maker of the da Vinci robotic surgical system has several. First, it benefits from intangible assets, most notably patents and copyrights. Intuitive Surgical has more than 4,000 patents in the U.S. and abroad, which help protect the company's inventions from the competition and safeguard its market share.
Second, Intuitive Surgical's business benefits from high switching costs. The company's da Vinci system typically sells for between $500,000 and $2.5 million, depending on several factors, such as location. For healthcare facilities, this isn't a small sum of money. But that's not all. It takes time to train medical staff on a particular surgical system. Healthcare facilities will be reluctant to jump ship after spending that much money and time on the da Vinci system.
Then there's the fact that it is difficult to break into this industry. Creating sophisticated devices that can rival the da Vinci Surgical systems is no small feat -- and newcomers will have to jump through regulatory hoops before being able to market their products. Intuitive Surgical is currently the undisputed leader in this space -- it held a 79.8% share of the market in 2020. And thanks to these competitive edges, the company is likely to retain its top spot for many years to come.
A long runway for growth
The da Vinci system allows physicians to perform various minimally invasive surgeries, which typically result in less bleeding, less scarring, shorter hospital stays, and faster recovery times for patients. But the robotic-assisted surgery (RAS) market remains severely underpenetrated. Medtronic, one of the largest medical-device companies in the world, estimates that only 3% of procedures in the world are performed robotically.
According to some estimates, the RAS market will expand at a compound annual growth rate of 21.6% through 2028 -- and it likely won't stop there. Here's what that means for Intuitive Surgical: Despite its terrific performance in the past 20 years, it has just barely scratched the surface of its market. And as it continues to make headway, the company will materially improve its revenue and earnings.
It's still early in the game
Every company has risks, no matter how strong its business seems. For Intuitive Surgical, one of the biggest is competition. Medtronic is throwing its hat into the RAS market with its Hugo system. Johnson & Johnson is another healthcare giant looking to make waves in this space. There are smaller companies in this field as well, including Stryker.
Then there's valuation. Intuitive Surgical is currently trading for 70 times forward earnings, which seems pretty high.
Further, Intuitive Surgical's business could suffer in the short run if another wave of COVID-19 cases sweeps through the country. Healthcare facilities postponed elective surgeries last year amid the pandemic, leading to lower sales for the company's instruments and accessories -- and that could potentially happen again.
However, I do not believe any of these risks warrant avoiding Intuitive Surgical. While competition will heat up, the company has built enough of a reputation and competitive edge to maintain a solid share of this market. And while its valuation metrics seem lofty, that is very typical of high-growth stocks. Risks related to a resurgence of coronavirus cases are only temporary.
Intuitive Surgical looks ideally positioned to crush the broader market in the long run, just as it has done in the past.
10 stocks we like better than Intuitive Surgical
When our award-winning analyst team has a stock tip, it can pay to listen. After all, the newsletter they have run for over a decade, Motley Fool Stock Advisor, has tripled the market.*
They just revealed what they believe are the ten best stocks for investors to buy right now... and Intuitive Surgical wasn't one of them! That's right -- they think these 10 stocks are even better buys.
*Stock Advisor returns as of November 10, 2021
Prosper Junior Bakiny owns shares of Intuitive Surgical and Johnson & Johnson. The Motley Fool owns shares of and recommends Intuitive Surgical. The Motley Fool recommends Johnson & Johnson and recommends the following options: long January 2022 $193.33 calls on Intuitive Surgical and short January 2022 $200 calls on Intuitive Surgical. The Motley Fool has a disclosure policy.
Source