3 Dividend-Paying Tech Stocks to Buy in December
Many of the best stocks of 2020 have been high-flying growth stocks in the technology sector. No surprise there, since COVID-19 has accelerated digital transformation. Unfortunately for many dividend seekers, most companies at the forefront of these digital trends are high-growth companies that reinvest all their earnings in further growth, not dividends.
Of course, not all top digital transformation companies are high-growth disruptors. In fact, several highly profitable, dividend-paying stocks are also riding this big technological wave. Here are three companies poised for continued growth over the next decade that will also pay dividends along the way.
Microsoft
Microsoft (NASDAQ: MSFT) is one of the three major U.S. cloud infrastructure companies. It's also one of the three major gaming console companies in the world. Despite excellent 38% gains year-to-date, Microsoft's stock has actually stagnated over the past few months as investors have turned their attention to smaller stocks and cyclical stocks. Now may be as good a chance as ever to get in on this blue chip.
Microsoft's Azure platform is the backbone of the company's next wave of growth. It's in a strong No. 2 position in the cloud race behind Amazon (NASDAQ: AMZN) Web Services. Impressively, Microsoft beat out AWS for the coveted $10 billion JEDI contract to support the Pentagon last year. That vote of confidence has spilled over into 2020, as Azure maintained a red-hot growth rate of 48% last quarter despite its already-massive scale.
Azure growth is so important because it pulls along Azure's suite of enterprise cloud software products, such as Office 365 and Dynamics 365. It also includes Microsoft Teams. This software combines video conferencing and messaging into a single product that has proven popular during the pandemic.
Microsoft is also the producer of the Xbox game console, which just launched its first new console in seven years. In fact, Microsoft launched two Xbox consoles, the powerful X and the digital-only S series. But Microsoft isn't just making new consoles. It's also expanding ways for consumers to play with Xbox Game Pass, a subscription service that gives access to over 250 games, as well as Project xCloud streaming on Android devices. Microsoft recently noted that the recent November Xbox launch was the most successful in its history. That success might stem partly from the pandemic, but it could also suggest that Microsoft has improved its technology and roster of games since the last generation. Microsoft has acquired a number of game studios since the last Xbox launch -- most recently ZeniMax, the parent of Bethesda Studios, in September.
Microsoft's Xbox segment should reaccelerate into next year. Its already-strong enterprise software and cloud businesses should also do well. Meanwhile, expect Microsoft's 1.05% dividend to continue rising every year. The company just boosted its payout by 10% in September. With its recent low-teens revenue growth and margin expansion, those dividend payouts should keep going up well into the future.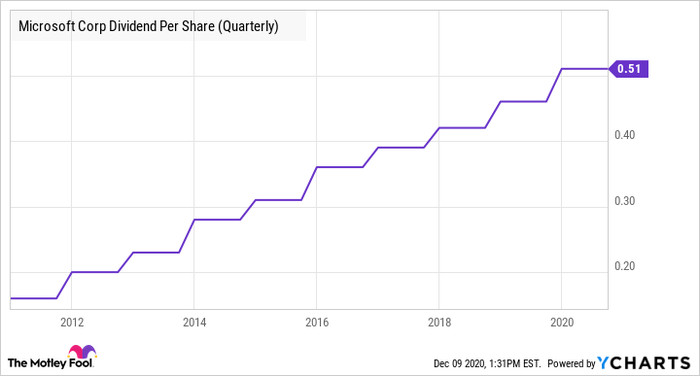 MSFT Dividend Per Share (Quarterly) data by YCharts
Applied Materials
One cyclical stock that has gotten a huge boost since the November election is Applied Materials (NASDAQ: AMAT). You haven't missed the boat; Applied seemed awfully undervalued for most of the year, and really the past two years since the start of the U.S.-China trade war. Despite its 61.8% gains over the past three months alone, Applied still trades at just 18 times next year's earnings estimates.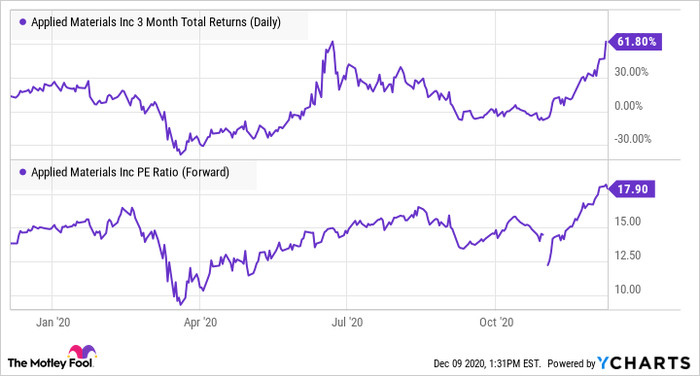 AMAT 3 Month Total Returns (Daily) data by YCharts
Applied Materials is the largest semiconductor equipment manufacturer by revenue. It should benefit from a cyclical upturn next year, as well as long-term trends such as artificial intelligence and 5G. As chips become smaller and more advanced, and as compute-intensive applications take hold over the next decade, chipmakers will need Applied Materials' machines and services more than ever.
While machine sales can be a bit lumpy year-to-year, the long-term trend is definitely up. Applied Materials also gets about 29.5% of its revenue from its services division, which is largely recurring based on the installed base.
While Applied Materials' dividend yields 1% today, the company's payout ratio is only 22%, meaning it has extra profits with which to grow that dividend and/or buy back stock. The company raised its payout this past March during the depths of the pandemic. I expect another raise in March 2021 as well.
Digital Realty Trust
Finally, Digital Realty Trust (NYSE: DLR) is a data center real estate investment trust that pays out a majority of its funds from operations as a dividend. Today, the company has over 280 data centers in its portfolio, 162,000 cross-connects, and over 4,000 customers globally.
The stock currently yields 3.3%, but Digital Realty has a long history of increases, which should continue in the future. Given the need for more and more data centers for cloud computing, edge computing, and more compute and storage in general, Digital Reality seems like a solid-yielding stock that should also have good growth going forward.
In fact, Digital Realty's dividend has increased every year since 2005, growing at an 11% average annual rate and increasing about 4.5 times over that time. Digital Realty has done this all while keeping an investment-grade credit rating and decent leverage ratios compared to peers.
The stock isn't exactly cheap in an absolute sense, but it's not egregiously expensive either. Management has guided to $6.00-$6.10 in funds from operations, meaning the stock trades at just 22 times that figure -- not bad in a low-rate environment. Meanwhile, the stock has pulled back nearly 20% from its all-time highs back in August, opening up a good potential entry point. Given its combination of a 3%+ dividend, double-digit growth, and the inevitable growth of data centers around the world, Digital Realty Trust seems like a REIT to get behind in 2021.
10 stocks we like better than Microsoft
When investing geniuses David and Tom Gardner have a stock tip, it can pay to listen. After all, the newsletter they have run for over a decade, Motley Fool Stock Advisor, has tripled the market.*
David and Tom just revealed what they believe are the ten best stocks for investors to buy right now... and Microsoft wasn't one of them! That's right -- they think these 10 stocks are even better buys.
*Stock Advisor returns as of November 20, 2020
John Mackey, CEO of Whole Foods Market, an Amazon subsidiary, is a member of The Motley Fool's board of directors. Teresa Kersten, an employee of LinkedIn, a Microsoft subsidiary, is a member of The Motley Fool's board of directors. Billy Duberstein owns shares of Amazon, Applied Materials, and Microsoft and has the following options: short December 2020 $160 puts on Microsoft, short January 2021 $160 puts on Microsoft, and short December 2020 $175 puts on Microsoft. His clients may own shares of the companies mentioned. The Motley Fool owns shares of and recommends Amazon, Digital Realty Trust, and Microsoft. The Motley Fool recommends Applied Materials and recommends the following options: short January 2022 $1940 calls on Amazon and long January 2022 $1920 calls on Amazon. The Motley Fool has a disclosure policy.
Source