Why Azul Shares Gained Altitude This Week
What happened
Brazilian airline Azul (NYSE: AZUL) saw an uptick in traffic in December, an encouraging sign for investors hoping the worst is over for the airline. The news helped spark a rally in Azul shares, with the stock up as much as 13.4% for the week as of close of trading Thursday.
So what
Airline stocks have been hit hard by the pandemic, and Latin American airlines have had more trouble than most. But Azul has held up better than some of its rivals that ended up in bankruptcy, and as the pandemic fades, the airline should have an opportunity to pick up market share.
The airline on Jan. 11 delivered positive news about traffic flows. Azul saw domestic passenger traffic up 20.9% compared to December 2019. For the full year, traffic increased by 2.8% over 2019. Factoring in international travel, which remains restricted, traffic fell 1.9% in December and 17% for the year compared to the same periods in 2019.
"Our December traffic results continued the momentum seen throughout the fourth quarter of 2021, with strong revenue performance from both leisure and corporate segments," CEO John Rodgerson said in a statement. "While it is early to determine the exact impact of the omicron variant in Brazil, these results give us confidence in the competitive advantages of our business model and our plans for 2022."
As Rodgerson notes, Azul is still dealing with omicron, and there remains reason for concern that other, future variants could delay a recovery. But for investors eager to see good news, the December traffic numbers topped off what was a surprisingly strong 2021 for Azul, and the stock shot higher as a result.
Now what
For investors willing to wait out what might be an uneven recovery and invest in the potential long-term growth in Latin American travel, Azul looks like the best choice out there. Azul has said it is hopeful about acquiring at least parts of some weaker rivals. The airline has been closely linked with a deal for the Brazilian operations of bankrupt LATAM Airlines Group, which would give it control of more than half of the domestic market and a real advantage over rival GOL Linhas Aereas Inteligentes (NYSE: GOL).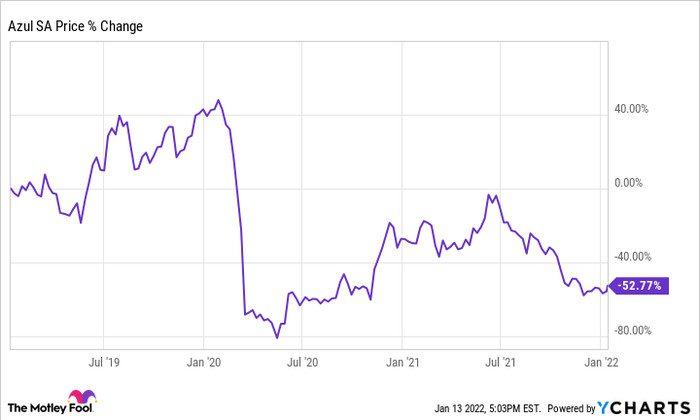 Even with this week's gains, Azul still trades well-below where it did prior to the pandemic. We're still a long way from normal, and it is tough to predict how long it will take for Azul to again fly high. But for those willing to stomach a little turbulence, there is good reason to be excited about Azul right now.
10 stocks we like better than Azul S.A. American Depositary Shares
When our award-winning analyst team has a stock tip, it can pay to listen. After all, the newsletter they have run for over a decade, Motley Fool Stock Advisor, has tripled the market.*
They just revealed what they believe are the ten best stocks for investors to buy right now... and Azul S.A. American Depositary Shares wasn't one of them! That's right -- they think these 10 stocks are even better buys.
*Stock Advisor returns as of January 10, 2022
Lou Whiteman has no position in any of the stocks mentioned. The Motley Fool has no position in any of the stocks mentioned. The Motley Fool has a disclosure policy.
Source