2 Top Video Game Stocks to Buy in July
A recent report from Deloitte Insights showed that playing video games ranks as the favorite entertainment option for Generation Z. The digital media survey found that 26% of Gen Z respondents preferred video games, followed by listening to music at 14%, browsing the internet at 12%, and engaging on social platforms at 11%.
The coming decade could be a particularly great period for gaming. The last decade saw the emergence of mobile gaming and cloud gaming subscription services, and these channels have made playing games more accessible. A market report from Newzoo estimates that the number of people playing games will grow 5% per year to reach 3 billion by 2023. That rising tide will benefit the leading interactive entertainment companies that have the resources to invest in AAA-big budget titles, as well as free-to-play offerings to attract the widest audience.
Two top video game companies that often get overlooked by investors in the U.S. are France-based Ubisoft Entertainment (OTC: UBSFF) (OTC: UBSFY) and the classic Japanese gaming brand Nintendo (OTC: NTDOY). Here's why both stocks look like excellent values right now.
1. Ubisoft
Ubisoft makes some of the biggest franchises in gaming, including Assassin's Creed, Tom Clancy's Rainbow Six, and Far Cry. Strong player engagement trends during the pandemic boosted Ubisoft's net bookings by 46% year over year in fiscal 2021. While management is forecasting growth to slow to single-digit percentages this year, its longer-term future looks bright, with some promising new releases in the pipeline.
Management is calling its fiscal 2022 lineup the "most diversified" in company history. Ubisoft has announced Avatar: Frontiers of Pandora coming in 2022 on next-gen consoles, in addition to a new Star Wars game in development in partnership with Walt Disney's (NYSE: DIS) Lucasfilm. Ubisoft also has a number of free-to-play titles on the horizon that should generate revenue long after their initial release with add-on content. Management expects these growth initiatives to generate "significant value" for investors over the long term.
Ubisoft is a highly profitable company, generating an adjusted operating margin of 21% in fiscal 2021. More players are buying content digitally, which is beneficial for margins. And with the upcoming new releases, management is aiming to use add-on content to grow its recurring player revenue much higher than the 35% of bookings achieved last year. Add-on content is typically in the form of in-game items that players have to purchase to unlock, such as weapons or cosmetic items, and these sales are very profitable.
With management expecting to deliver long-term growth to investors, this is a good time to consider buying shares. The stock trades at a price-to-sales ratio that is less than half that of its U.S.-based counterparts.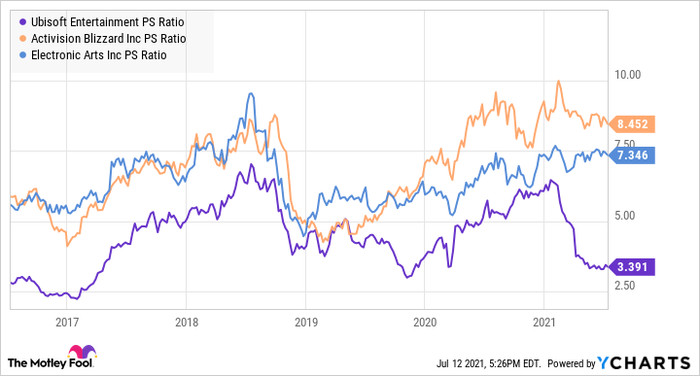 UBSFY PS Ratio data by YCharts
2. Nintendo
Nintendo has been delighting fans since the 1980s with its family-friendly game titles and user-friendly hardware. Its latest Switch game system has sold 84 million units, putting it on pace to surpass the Wii (2006) in total unit sales.
Most importantly, Nintendo had more than 200 million accounts worldwide as of September 2020, and this growth isn't over. Nintendo still sees strong demand for the Switch. In its fifth year since launch, management is guiding for another 25.5 million sold units in fiscal 2022. And this guidance was before the recent announcement of the new Switch OLED model launching this fall.
Nintendo makes a lower profit margin selling hardware than games, but the average Switch owner tends to buy multiple games. More Switch sales in fiscal 2022 should lead to a profit windfall over the next few years, especially with more players buying games digitally. In fiscal 2021, growth in digital sales helped boost Nintendo's operating profit by 82%, but the percentage of digital sales to Nintendo's total video game sales was only 42.8%. Comparing that to Ubisoft's 72% shows massive potential for Nintendo to keep growing digital game sales and juicing profit growth.
Like Ubisoft, Nintendo also looks like a relatively good value compared to other video game stocks. Nintendo currently trades at a modest forward price-to-earnings ratio of 15.1, when other leading game publishers sell for more than 20 times earnings estimates. Management's strategy to expand the audience for Nintendo's intellectual property goes beyond selling more game systems to also include merchandise, movies, and theme parks. It's evident Nintendo has the potential to grow into a larger entertainment company, which is why its relatively low valuation looks very attractive right now.
10 stocks we like better than Nintendo
When our award-winning analyst team has a stock tip, it can pay to listen. After all, the newsletter they have run for over a decade, Motley Fool Stock Advisor, has tripled the market.*
They just revealed what they believe are the ten best stocks for investors to buy right now... and Nintendo wasn't one of them! That's right -- they think these 10 stocks are even better buys.
*Stock Advisor returns as of June 7, 2021
John Ballard has no position in any of the stocks mentioned. The Motley Fool owns shares of and recommends Walt Disney. The Motley Fool recommends Nintendo and Ubisoft Entertainment. The Motley Fool has a disclosure policy.
Source