Here's Why Roblox Stock Was Up Almost 10% in June
What happened
Shares of video game platform provider Roblox (NYSE: RBLX) were up 9.75% in June, according to data provided by S&P Global Market Intelligence. This performance significantly outpaced the 8% decline of the S&P 500. And it all started when Roblox reported user metrics for May.
So what
Early in June, multiple analysts were lowering price targets for Roblox stock. For example, Goldman Sachs analyst Eric Sheridan recommended selling Roblox stock on June 9, simultaneously lowering the firm's price target from $39 to $28 per share, according to The Fly. Sheridan wasn't alone in downgrading the stock and the loss in confidence from the analyst community was a big reason why Roblox was performing as poorly as the market in the first half of June.
Fortunes for shareholders started changing when Roblox reported user metrics for May on June 15. However, the stock's performance could lead you to believe that user numbers were better than they actually were.
In reality, Roblox's May numbers weren't great. On a year-over-year basis, bookings (deposits that haven't been spent in the game yet) and bookings per daily active user were down. And compared to April, there were fewer daily active users on the platform and overall time spent on the platform also declined.
Roblox stock soared in the second half of June. But oddly enough, the analyst community noted the lackluster May report and many downgraded Roblox stock as a result. However, Needham analyst Bernie McTernan noted that the numbers were "better than feared," and I think this is the key to putting Roblox's performance in context.
At the end of the day, Roblox still has over 50 million daily active users who are spending their time and money on the platform. Growth may be slowing or even declining. But many investors were expecting a complete collapse in the business now that we're (hopefully) closer to the end of the COVID-19 pandemic. But Roblox is still doing better than skeptics thought, and that's helping the video game stock rebound somewhat after it had previously fallen more than 80% from its all-time high.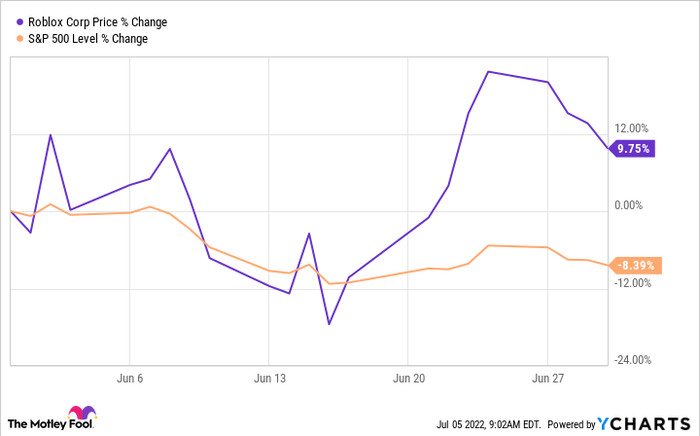 Now what
It's discouraging to see Roblox's user metrics in a slight state of decline. Long-term shareholders must be wondering how many daily active users the platform can support.
While user growth is a legitimate concern, Roblox shareholders still have hope because the company is early along in its monetization strategy. Specifically, management is experimenting more with advertising and user-generated content to increase avatar customization, among other things. Even if user growth has stalled out and people spend less time on Roblox going forward, these monetization efforts could help boost revenue and would likely have nice profit margins. It's certainly something to watch in the second half of 2022.
10 stocks we like better than Roblox Corporation
When our award-winning analyst team has a stock tip, it can pay to listen. After all, the newsletter they have run for over a decade, Motley Fool Stock Advisor, has tripled the market.*
They just revealed what they believe are the ten best stocks for investors to buy right now... and Roblox Corporation wasn't one of them! That's right -- they think these 10 stocks are even better buys.
*Stock Advisor returns as of June 2, 2022
Jon Quast has no position in any of the stocks mentioned. The Motley Fool has positions in and recommends Goldman Sachs and Roblox Corporation. The Motley Fool has a disclosure policy.
Source