Canopy Growth Stock Soars on Analyst Upgrade
Bank of America (NYSE: BAC) says it's time for investors to buy shares of Canopy Growth (NYSE: CGC). The investment bank upgraded Canopy to buy from neutral on Wednesday, prompting a 15% surge in the price of the popular cannabis stock.
Bank of America's previous call was on the money
Bank of America downgraded Canopy's shares two months ago. At the time, the bank's analysts were concerned that Wall Street's earnings estimates for the marijuana company were too high. They correctly predicted that a lack of retail stores and rising inventory levels would lead Canadian provinces to pull back on their cannabis orders, denting Canopy's results in the process.
Earlier this month, Canopy's fiscal 2020 second-quarter revenue and earnings fell well short of Wall Street's expectations. It produced net revenue of .8 million, down sharply from .3 million in the first quarter. That was significantly below consensus estimates, which had called for revenue of .4 million. Canopy also delivered a worse-than-expected net loss of 2.7 million, or $0.81.81 per share. Wall Street had anticipated a loss of only $0.31.31 per share.
"The last two quarters have been challenging for the Canadian cannabis sector as provinces have reduced purchases to lower inventory levels, retail store openings have fallen short of expectations, and Cannabis 2.0 products are yet to come to market," CEO Mark Zekulin said in a press release at the time.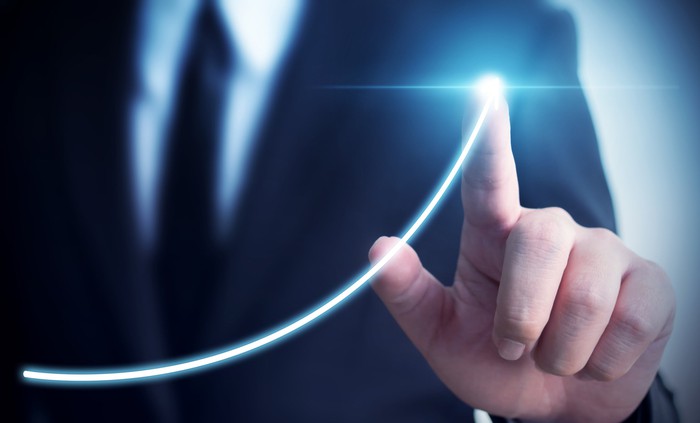 Canopy Growth's shares surged after Bank of America analysts upgraded its stock to buy. Image source: Getty Images.
Time for an upgrade
After correctly predicting that these challenges would result in an earnings shortfall for Canopy -- and downgrading the stock before a nearly 40% decline in its share price -- Bank of America currently believes that investors have sold off the cannabis giant's shares down to a point where they're now attractively valued.
The bank's analysts argue that with much of the negative factors affecting Canopy's growth now reflected in Wall Street's forward earnings projections, the cannabis leader is much more likely to meet and even exceed consensus estimates going forward. Moreover, Bank of America sees new retail store openings and improving inventory levels helping to fuel Canopy's growth in the coming quarters.
More ways investors can win
Better still, Canopy Growth has a stronger balance sheet than any of its competitors. Thanks to $4 billion in investments from alcoholic beverage titan Constellation Brands (NYSE: STZ), Canopy has more than billion in cash reserves that should allow it to weather the marijuana industry's present-day challenges better than its rivals. This war chest will also give Canopy the opportunity to scoop up the assets of failed cannabis companies on the cheap, should a wave of bankruptcies hit the industry as expected in the months ahead.
Additionally, Canopy has turned to Constellation Brands' executive ranks to solidify its own leadership team. Canopy recently named Constellation's chief financial officer, David Klein, as the new chairman of its board of directors. Klein is expected to bring on a new CEO that will help to instill greater financial discipline into Canopy's operations.
Here's The Marijuana Stock You've Been Waiting For
A little-known Canadian company just unlocked what some experts think could be the key to profiting off the coming marijuana boom.

And make no mistake – it is coming.
Cannabis legalization is sweeping over North America – 10 states plus Washington, D.C., have all legalized recreational marijuana over the last few years, and full legalization came to Canada in October 2018.
And one under-the-radar Canadian company is poised to explode from this coming marijuana revolution.
Because a game-changing deal just went down between the Ontario government and this powerhouse company...and you need to hear this story today if you have even considered investing in pot stocks.
Simply click here to get the full story now.
Joe Tenebruso has no position in any of the stocks mentioned. The Motley Fool recommends Constellation Brands. The Motley Fool has a disclosure policy.
Source