Watch Out Peloton! Nautilus Stock Soars After Earnings Crush Expectations
Nautilus (NYSE: NLS) reported strong results for the first quarter of calendar year 2021 after the market close on Monday, May 10. (The technology-driven fitness company is transitioning its fiscal-year calendar to run from April through March, so its next quarterly report will be for fiscal Q1 2022.)
Shares of Nautilus -- which owns the Bowflex, Schwinn Fitness, Nautilus, and JRNY brands -- soared 11.2% in Monday's after-hours trading session. The growth stock is up a whopping 192% over the one-year period through Monday's regular trading session. By comparison, shares of competitor Peloton Interactive (NASDAQ: PTON) are up 104% and the S&P 500 has returned 45% over this period.
The market's positive reaction is attributable to Nautilus' earnings and revenue for the reported period easily beating the Wall Street consensus estimates, revenue guidance for fiscal Q1 2022 also coming in much higher than analysts had been expecting, and the company's raising of its outlook for its long-term operating margin.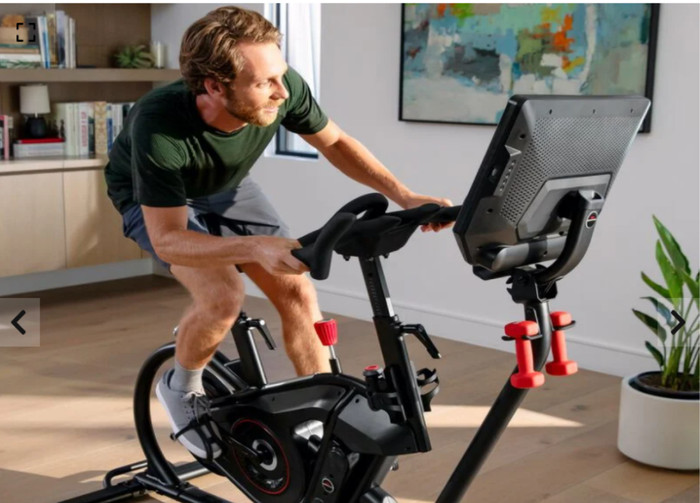 Nautilus' Bowflex VeloCore bike allows riders to lean when they'd like, such as when virtually turning a corner. Image source: Nautilus.
Nautilus' key numbers
| Metric | Calendar Year Q1 2021 | Calendar Year Q1 2020 | Change |
| --- | --- | --- | --- |
| Revenue | $206.1 million | $93.7 million | 120% |
| Operating income | $39.7 million | ($0.6 million) | N/A. Result flipped to positive from negative. |
| Net income | $30.4 million | $2.2 million | 1,282% |
| Earnings per share (EPS) | $0.93 | $0.07 | 1,229% |
Data source: Nautilus.
Organic revenue growth was 143% year over year. This number excludes sales related to Octane Fitness, the company's commercial occupancy-focused brand, which it sold in October 2020.
For context, for the same period, Peloton, the leader in the connected home-fitness space, posted revenue growth of 141% year over year. So the two companies had roughly the same organic revenue growth, but Peloton's revenue was about six times that of Nautilus.
Nautilus' revenue growth was driven primarily by continued strong demand for the company's connected fitness bikes and treadmills, like the Bowflex VeloCore bike and 22 Treadmill, and robust sales of SelectTech weights.
Gross margin was 38.4%, up slightly from 38% in the year-ago period. Nautilus is out in front of Peloton on this metric, as Peloton's gross margin for the same period was 35.2%.
Wall Street had been expecting Nautilus to post earnings per share of $0.52 on revenue of $159.2 million, so the company sprinted by both expectations.
The company's liquidity position is improving. It ended the period with $38.4 million in cash and cash equivalents, up from $23 million in the year-ago quarter. Adding in restricted cash and available-for-sale securities brings this total up $113.2 million. It ended the quarter with debt of $13.6 million compared to $28.4 million in the year-ago period.
Segment results
| Segment | Calendar Year Q1 2021 Revenue | Change (YOY) | Calendar Year Q1 2021 Gross Profit | Change (YOY) |
| --- | --- | --- | --- | --- |
| Direct sales | $101.5 million | 115% | $51.0 million | 110% |
| Retail | $103.4 million | 127% | $26.9 million | 161% |
| Royalty | $1.1 million | 14% | $1.1 million | 14% |
| Total | $206.1 million | 120% | $79.1 million | 122% |
Data source: Nautilus. YOY = year over year.
Considering these figures in another way, the direct and retail segments had gross margins (gross profit divided by revenue) of 50.3% and 26%, respectively.
What management had to say
Here's most of what CEO Jim Barr said in the earnings release:
Our team delivered its second consecutive quarter of record-breaking results and posted the highest quarterly revenue in our company's 35-year history. Net revenue of $206 million exceeded the high end of guidance, growing 120% versus last year, or 143% excluding the divested Octane business. [...] In addition, our international business experienced 340% growth excluding Octane, and we generated $39.7 million of operating income in the quarter.

As we enter this new fiscal year, our entire organization is focused on advancing North Star, our recently unveiled digital transformation plan. We are investing in increased marketing, expanded supply chain capabilities, and in continuing enhancements to our JRNY [digital-fitness] platform to meet our goal of 250,000 members by the end of fiscal year 2022.
Guidance
Fiscal first-quarter 2022 outlook better than expected
For fiscal Q1 2022 (which coincides with calendar Q2 2021), management guided for revenue to grow in the range of 40% to 50% year over year, or 51% to 62% when excluding the impact of Octane Fitness, which the company sold last October. Wall Street had only been modeling for revenue growth of about 21% year over year.
It also expects operating margin to be between 6.5% and 8%.
Full-year fiscal 2022 outlook reiterated
Management reiterated that it expects to reach 250,000 JRNY digital-fitness members by the end of the fiscal year.
2026 operating margin outlook raised
Management reiterated its target of about $1 billion in total revenue by fiscal year 2026, which would represent a five-year compound annual growth rate (CAGR) of 10%.
In addition, it raised its prior long-term operating margin target. It now expects this metric to be "well above" the 10% minimum and closer to 15%.
It also reiterated that it expects its digital subscription business to comprise about 20% of total revenue by 2026, and that it will have about 2 million members by that year.
A strong quarter
In short, Nautilus turned in a strong quarter. The company, which was already performing well, might be able to gain market share from Peloton following the latter's treadmill safety issues that recently exploded in the news.
Investors will want to see Nautilus further strengthen its liquidity position.
10 stocks we like better than Nautilus
When investing geniuses David and Tom Gardner have a stock tip, it can pay to listen. After all, the newsletter they have run for over a decade, Motley Fool Stock Advisor, has tripled the market.*
David and Tom just revealed what they believe are the ten best stocks for investors to buy right now... and Nautilus wasn't one of them! That's right -- they think these 10 stocks are even better buys.
*Stock Advisor returns as of February 24, 2021
Beth McKenna has no position in any of the stocks mentioned. The Motley Fool owns shares of and recommends Peloton Interactive. The Motley Fool has a disclosure policy.
Source