Got $1,000? Here Are 3 Video Game Stocks to Buy Right Now
Video games are one of the largest and fastest-growing industries in the world. Global spending on video games was estimated to be $156 billion in 2020 and is projected to grow to over $250 billion a year by 2025. That means there will be almost $100 billion in new consumer spending for companies to capture just within the next four years. Three stocks trading at reasonable valuations that can help you ride this video game wave are Electronic Arts (NASDAQ: EA), Nintendo (OTC: NTDOY), and Activision Blizzard (NASDAQ: ATVI).
If you have any spare savings, you should consider adding one or more of these stocks to your portfolio. Here's why.
1. Electronic Arts
Electronic Arts (EA) is one of the largest video game makers in North America. It is known for its EA Sports franchises like FIFA and Madden NFL, which release games every year and make up a lot of the company's sales. However, it also has other franchises like Battlefield, The Sims, and Star Wars Jedi: Fallen Order. One promising new franchise is Apex Legends, a battle royale game that has hit $1 billion in lifetime net bookings (the revenue equivalent for video games) since its launch two years ago.
EA recently acquired Glu Mobile for $2.1 billion to help bolster its struggling mobile games division, which does less than $1 billion in bookings a year. The acquisition brings in over 500 mobile developers and $500 million in trailing 12-month bookings, according to the merger presentation.
For this fiscal year, EA is expecting to hit $7.3 billion in net bookings, which would be an 18% improvement from the year prior. The stock trades at a discounted price-to-free-cash-flow (P/FCF) of 23.52 compared to the broader Nasdaq index, which currently trades at a P/FCF closer to 30.
With steady franchises and a strong industry tailwind to propel growth over the coming years, EA looks like a great buy at its current price.
2. Nintendo
Nintendo is one of the oldest video game companies in the world. The company behind Mario, Donkey Kong, and plenty of other famous entertainment characters has seen a resurgence over the last few years with the dominance of its new hybrid console/mobile gaming device, which is called the Switch. Released in 2017, the device has had a strong run of unit sales vs. other console competitors and was the top-selling console by unit sales through the first six months of 2021.
Currently, Nintendo trades at a discounted P/FCF of 11.35, and that is before taking out the over $10 billion in cash sitting on its balance sheet. Now, some investors get worried about the short-term cyclicality of video game consoles like the Switch, which may not hold its dominance for many more years (at least in its current form).
But if you are truly a long-term investor who thinks in decades, Nintendo could be an easily justified permanent holding in your portfolio. As long as you think families around the world will love playing with the Mario, Donkey Kong, and Zelda characters, there's no reason to think Nintendo will not be generating as much or more in profits five or ten years from now.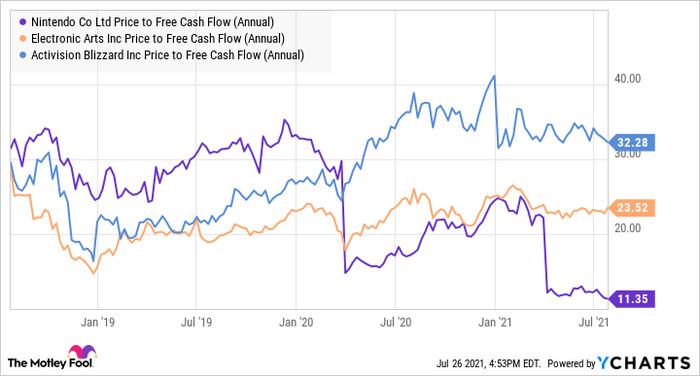 NTDOY Price to Free Cash Flow (Annual) data by YCharts
3. Activision Blizzard
Rounding out the list is Activision Blizzard, another large American game publisher, similar to EA, with popular console-focused franchises. The majority of its sales come from Call of Duty, one of the dominant gaming franchises of the last two decades. The Activision segment, where Call of Duty is housed, grew revenue 72% and operating income 100% year over year in the recent first quarter, leading to $442 million in operating income in the period.
Call of Duty has accelerated growth because of the launch of Call of Duty: Mobile and Warzone (a free-to-play battle royale game) within the past few years. According to management, Activision has tripled monthly active users (MAUs) over the last two years and now has 150 million MAUs as of the end of Q1.
Outside of Call of Duty, the company owns the Blizzard studio, which houses games like World of Warcraft, Overwatch, and Diablo. These games contribute a lot less in profits than Call of Duty, but should be consistent cash cows for the foreseeable future. In Q1, the studio generated $203 million in operating income.
Activision Blizzard also owns the King mobile game studio. King is the maker of the popular Candy Crush game. In Q1, King's operating income grew 30% year over year to $203 million. As Activision Blizzard as a whole pushes to bring all of its franchises to mobile devices and smartphones, King's expertise can be a great advantage over the next few years.
Activision Blizzard's stock trades at the highest earnings multiple of these three companies, with a P/FCF of 32.28. However, with the acceleration of Call of Duty and broad industry tailwinds, the company has a chance to compound free cash flow at high rates over the next few years, making it a great candidate for any investor's portfolio.
10 stocks we like better than Electronic Arts
When our award-winning analyst team has a stock tip, it can pay to listen. After all, the newsletter they have run for over a decade, Motley Fool Stock Advisor, has tripled the market.*
They just revealed what they believe are the ten best stocks for investors to buy right now... and Electronic Arts wasn't one of them! That's right -- they think these 10 stocks are even better buys.
*Stock Advisor returns as of June 7, 2021
Brett Schafer owns shares of Activision Blizzard, Electronic Arts, and Nintendo. The Motley Fool owns shares of and recommends Activision Blizzard. The Motley Fool recommends Electronic Arts and Nintendo. The Motley Fool has a disclosure policy.
Source