This Bank Stock Is Up Nearly 400% From Pandemic Lows and Still a Buy
Shares of Discover Financial Services (NYSE: DFS) sold off after the company's recent earnings report, but it's confusing as to why. The credit card company has always traded at a fairly cheap valuation, and does so today; the thinking goes, unsecured credit card balances are risky, so Discover's price-to-earnings multiple has traditionally been low.
The stock nose-dived during the onset of the COVID-19 pandemic, but has nearly quintupled off its pandemic lows, so perhaps those fortunate enough to buy near the bottom are cashing out profits.
However, given the strong household balance sheets from government stimulus and a lack of spending last year, credit card companies in general and Discover specifically look like a strong bet for 2022, as economic growth roars back.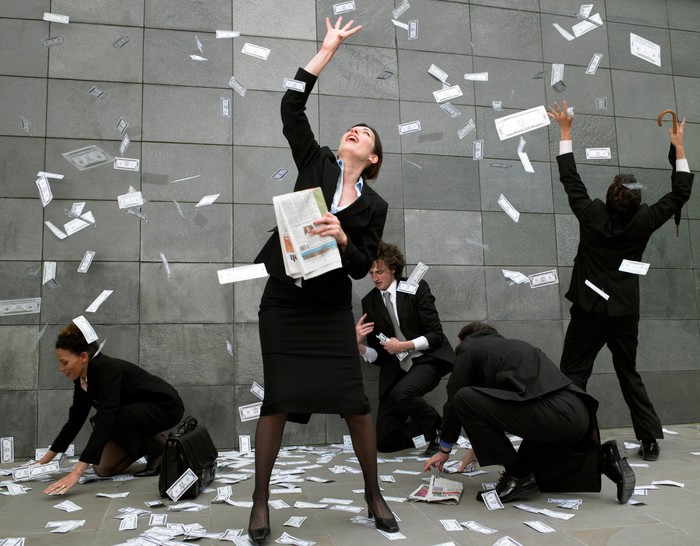 Discover is rewarding shareholders with huge buybacks and dividend increases. Image source: Getty Images.
Growth is muted for now, but set to gain next year
While Discover did beat earnings expectations, it slightly missed revenue expectations from analysts, which could explain the post-earnings sell-off. Yet the reasons for the headline revenue shortfall are deceiving, and growth is likely to pick up strongly into next year.
First, revenue was impacted by a $167 million unrealized loss on some investments. For some reason, that unrealized loss shows up in the headline revenue line for Discover, even though it's a non-operating item. Likely, that's a consequence of Discover's investment in recent fintech IPO Marqeta (NASDAQ: MQ), which saw its stock sell off by about a third in the September quarter.
Yet remember, these are unrealized losses, and Marqeta's stock has already bounced back some 25% since Oct. 1 on the heels of recently announced high-profile partnerships. At current prices, Discover's stake in Marqeta is worth about $750 million.
Without that loss, revenue would have been up 6% year over year, on overall loans that were up 1%. Some might have expected a bigger bounce back from a financial stock as the economy reopened. However, Discover makes most of its revenue from loans, not from fees or its payments network as rival American Express does.
Since consumers have generally been flush with cash coming out of the pandemic, the repayments on credit card loans have been high -- about 500 basis points higher than normal, according to management -- which has been holding back growth. Yet while management doesn't divulge the exact number of new customers, it did say that account acquisition was "really strong" last quarter on the conference call with analysts.
Customer cash balances won't be this high forever, so as the payment rate normalizes next year or in 2023, those new accounts should begin to revolve card balances, so credit card loans should grow next year -- potentially by double digits.
When loans do grow, Discover should see even better net interest margins than it has the past. That's because management has done a great job of increasing its low-cost deposits, which now make up 68% of its funding, up from 62% last year and just 48% in 2018. Those lower funding costs, combined with potentially higher interest rates as the economy normalizes, means profitable growth for the foreseeable future, barring any unforeseen financial shocks.
Bargain valuation, strong balance sheet, and bountiful shareholder returns
It's not just Discover's customers who are flush with cash; the company is, too! In fact, at the end of last quarter, Discover's Tier 1 equity ratio was a whopping 15.5%, well above the company's target of 10.5%. That means Discover has excess capital, with which it can either invest in its business, make acquisitions, or return money to shareholders.
Discover has mostly been returning that capital to shareholders, repurchasing $815 million worth of stock in the third quarter, retiring 2.1% of its shares in just one single quarter. A 14% hike in the company's quarterly dividend to $0.50 back in September, good for a 1.6% dividend yield at today's stock price, was also a welcome sign.
In spite of all this, Discover still trades at just 7.3 times this year's earnings estimates. Yes, 2021 earnings will be higher than normal, due to releases from last year's higher-than-normal credit reserves, but based on 2022 earnings estimates, Discover still trades at less than 10 times earnings.
Assuming the recovery from the pandemic continues into next year and customers begin to take on loans again, Discover looks like a great way for value investors to play the ongoing economic recovery.
10 stocks we like better than Discover Financial Services
When our award-winning analyst team has a stock tip, it can pay to listen. After all, the newsletter they have run for over a decade, Motley Fool Stock Advisor, has tripled the market.*
They just revealed what they believe are the ten best stocks for investors to buy right now... and Discover Financial Services wasn't one of them! That's right -- they think these 10 stocks are even better buys.
*Stock Advisor returns as of October 20, 2021
American Express is an advertising partner of The Ascent, a Motley Fool company. Discover Financial Services is an advertising partner of The Ascent, a Motley Fool company. Billy Duberstein owns shares of American Express, Discover Financial Services, and Marqeta, Inc. and has the following options: short January 2022 $100 puts on American Express, short January 2022 $90 puts on Discover Financial Services, and short January 2022 $95 puts on Discover Financial Services. His clients may own shares of the companies mentioned. The Motley Fool recommends Discover Financial Services. The Motley Fool has a disclosure policy.
Source