10 Reasons to Buy Amazon Stock — and Consider Never Selling
Amazon.com (NASDAQ: AMZN) stock has been a wonderful long-term performer. Over the 10-year period through March 31, it's gained 1,340% -- more than seven times the S&P 500's 176% return over this period.
Put another way, $1,000 invested in the e-commerce and cloud computing giant a decade ago would now be worth $14,400. That grand invested in the broader market has turned into $2,760.
Given the company's Amazonian size, it's natural for investors to wonder if it can keep on growing robustly and continue to handsomely reward shareholders.
Indeed it can, in my opinion. Here are 10 reasons to buy Amazon stock and consider holding on for the long run.
1. The stock is a short-term winner, too
While the Motley Fool's focus is on long-term investing, the long term is made up of many short-term periods. So it's good to see that a stock is a short-term outperformer.
In 2020, Amazon stock is up 5.5% through March 31, whereas the S&P 500 (including dividends) is down 19.6% over this period due to investors' concerns about the economic fallout from the coronavirus pandemic.
2. The pandemic should provide a big initial boost to Amazon's e-commerce revenue
The COVID-19 crisis is poised to provide a big boost to at least Amazon's first-quarter e-commerce revenue. More people in the United States and around the world are shopping online to limit their exposure to the virus. Moreover, many people are spending more money than they normally would on food and consumer staples (like toilet paper and paper towels) because they fear potential interruptions in supply chains. In addition, some consumers are purchasing products they don't usually buy, such as gloves and face masks to help lessen their risk of being infected.
In the second quarter, or at least some time this year, the net effect of the pandemic to Amazon's e-commerce revenue could be negative. Many consumers have probably already begun cutting back on discretionary spending due to economic uncertainty. At some point, this pare-back could be greater than the increased spending on necessities.
3. The pandemic should benefit Amazon over the long term
Regardless of how the short term plays out, Amazon should benefit from the crisis over the long term. Surely, many people who weren't members of Amazon's Prime loyalty program before the pandemic have become members in order to get free and faster delivery during the crisis. Long after it's over, some folks will likely continue to be heavier online shoppers than before the pandemic.
4. The company is run by a founder
Studies have shown that stocks of founder-led companies tend to outperform in the market. So it's a positive that Amazon is led by Jeff Bezos, who founded it in 1994.
He owned about 11.2% of the company, as of his most recently reported transaction (a stock gift) on March 1. His stock is worth more than $108 billion as of the market close on March 31. That stake should provide plenty of motivation for Bezos to run the company in such a way as to increase the stock's value over the long haul.
5. Amazon Prime membership is growing briskly
The total of Prime members has been growing at a nice clip. In January, Amazon announced there were more than 150 million Prime members worldwide. In 2018, the company said it had more than 100 million members globally.
This growth is important because Prime members have been found to spend more money than nonmembers on the company's site. One study has pegged the average member's annual spending at more than double that of the average nonmember.
About Prime: A standard membership in the U.S. costs $119 per year, or $12.99 per month. Last year, Amazon started upgrading Prime's standard free-delivery benefit from two days to one day. (Of course, delivery times have suffered recently due to the pandemic-driven surge in orders.) Members can also stream a wide range of free movies, TV shows, and music, among other benefits.
6. U.S. online sales continue to take market share from brick-and-mortar sales
Americans increasingly prefer to do their shopping online, which provides a tailwind for Amazon's domestic business. In the fourth quarter of 2019, e-commerce sales accounted for 11.4% of all U.S. retail sales, according to the Census Bureau. For full-year 2019, 11% of total retail sales were transacted online, up from 9.9% in 2018.
E-commerce sales will never come close to reaching 100% of all retail sales. But certainly, that 11.4% figure has a lot of room for growth.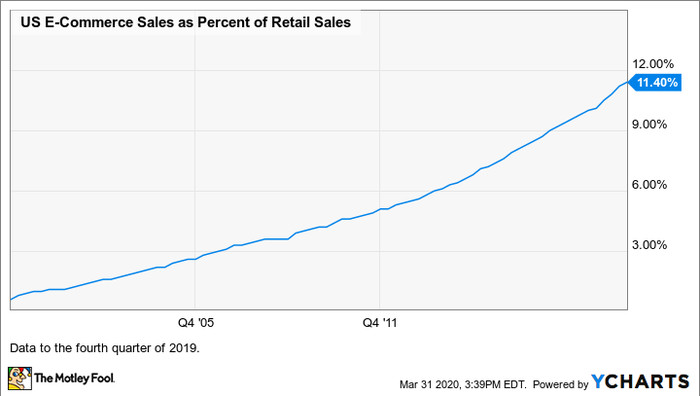 Data by YCharts.
7. Online shopping continues to grow in popularity around the world
Amazon's international business is also poised to keep benefiting from this global shift toward shopping online. In 2019, e-commerce sales accounted for 14.1% of all retail sales worldwide, up from 12.2% in 2018. This figure is expected to reach 22% in 2023.
8. Amazon's cloud computing service is a profit machine
Amazon Web Services (AWS) brings in most of the company's profits. In Q4 of 2019, AWS accounted for just over 11% of total revenue, yet 67% of total operating profits.
AWS, the market leader in the public cloud space, continues to grow at a fast pace, with Q4 revenue jumping 34% year over year. Growth should continue to be strong, since the cloud services infrastructure market is projected to grow 32% in 2020, according to Canalys.
9. Its e-commerce business will never be dethroned
Amazon is the largest online retailer in the U.S. and in the world. It's so far ahead in the U.S. market (and making good inroads abroad) and has such a mighty moat that it is highly unlikely that any competitor will dethrone it.
The company's main competitive advantage is Prime's free and fast delivery of a huge range of products. This core benefit is only possible because of Amazon's extensive network of highly efficient and massive fulfillment centers. It would cost a king's ransom to duplicate this network. And even if a competitor were successful in replicating the physical structures, it would probably take many years for it to achieve Amazon's level of efficiency.
The company currently has 170 fulfillment centers in the U.S., with plans for 51 more, according to logistics consultant MWPVL International. It has 188 such facilities outside this country. These numbers don't include delivery stations and various others types of facilities.
10. It has many more avenues for growth: smart home, healthcare, advertising, private-label goods
There are many other reasons to buy Amazon stock. These include the company's burgeoning smart-home business, centered on its artificial-intelligence-powered assistant Alexa, and its budding healthcare business, which includes its online pharmacy PillPack.
Moreover, in its e-commerce business, advertising revenue is increasing, and the company is expanding the number of private-label items it sells.
Find out why Amazon is one of the 10 best stocks to buy now
Motley Fool co-founders Tom and David Gardner have spent more than a decade beating the market. After all, the newsletter they have run for over a decade, Motley Fool Stock Advisor, has tripled the market.*
Tom and David just revealed their ten top stock picks for investors to buy right now. Amazon is on the list -- but there are nine others you may be overlooking.
Click here to get access to the full list!
*Stock Advisor returns as of March 18, 2020
John Mackey, CEO of Whole Foods Market, an Amazon subsidiary, is a member of The Motley Fool's board of directors. Beth McKenna has no position in any of the stocks mentioned. The Motley Fool owns shares of and recommends Amazon and recommends the following options: short January 2022 $1940 calls on Amazon and long January 2022 $1920 calls on Amazon. The Motley Fool has a disclosure policy.
Source