Why Tortoise Acquisition Stock Surged Today
What happened
Shares of Tortoise Acquisition (NYSE: SHLL) were trading higher on Tuesday afternoon. The special purpose acquisition company is set to merge with electric truck drivetrain maker Hyliion, and it confirmed on Tuesday that its shareholders will vote on the merger proposal on Sept. 28.
As of 2:45 p.m. EDT, Tortoise's shares were up about 13.7% from Monday's closing price.
So what
Tortoise said in a statement on Tuesday morning that it will hold a special meeting of shareholders on Monday, Sept. 28. At that meeting, its shareholders will vote on several proposals related to the plan to merge the company with Hyliion, including the merger itself.
Hyliion, founded a few years ago by Carnegie Mellon engineering grad and former auto racer Thomas Healy, is creating electric and hybrid powertrains that can be installed in most existing class 8 (tractor-trailer) trucks. The company has two product lines: An add-on system that converts existing diesel trucks to battery-electric hybrids and is in production now; and coming in a couple of years, a complete electric drivetrain that can be powered by a hydrogen fuel cell or a natural-gas-powered generator.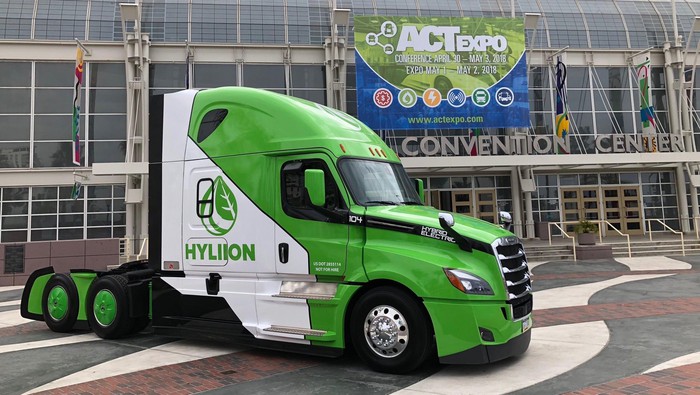 Hyliion has already begun shipping its first product, a system that turns diesel trucks into hybrids. Image source: Hyliion.
Hyliion has several key partnerships already in place, including one with giant auto industry supplier Dana (NYSE: DAN), which manufactures Hyliion's products and ships them directly to installers and truck manufacturers.
The post-merger company (which will be called Hyliion) will have a total of $560 million at the close of the deal. That's enough to get its second product to market without the need for additional cash, Healy said in an interview earlier this summer.
So why is the stock surging today? Because everything is in place to complete the merger by the end of September, as both Hyliion and Tortoise had promised.
Now what
Auto investors are now in sit-and-wait mode until Tortoise's shareholder meeting. Anyone who was holding Tortoise shares as of the record date, Aug. 24, is entitled to vote. The company said that it mailed proxies to all shareholders of record on Sept. 8.
The proposals are expected to pass.
10 stocks we like better than Tortoise Acquisition Corp.
When investing geniuses David and Tom Gardner have a stock tip, it can pay to listen. After all, the newsletter they have run for over a decade, Motley Fool Stock Advisor, has tripled the market.*
David and Tom just revealed what they believe are the ten best stocks for investors to buy right now... and Tortoise Acquisition Corp. wasn't one of them! That's right -- they think these 10 stocks are even better buys.
*Stock Advisor returns as of August 1, 2020
John Rosevear has no position in any of the stocks mentioned. The Motley Fool has no position in any of the stocks mentioned. The Motley Fool has a disclosure policy.
Source