Nikola Announces Much Smaller Deal With General Motors as Lockup Expiration Looms
Electric-truck start-up Nikola (NASDAQ: NKLA) announced Monday that it finally has reached a deal with General Motors (NYSE: GM). However, it's a much smaller deal than the one announced in September. Of note, the deal doesn't include Nikola's Badger pickup, which will not be built, Nikola said.
In a statement, Nikola said that the companies have signed a "non-binding Memorandum of Understanding" that outlines a deal in which Nikola would buy hydrogen fuel cells from GM for use in its electric heavy trucks. Nikola said that the companies have also agreed to "discuss" the possibility of using GM's Ultium electric-vehicle batteries in Nikola's trucks.
However, GM will not take an equity stake in Nikola, and it will not engineer and build the Badger electric pickup truck, a pet project of now-departed Nikola founder Trevor Milton. Nikola said that it will refund all of the deposits it had taken for the Badger.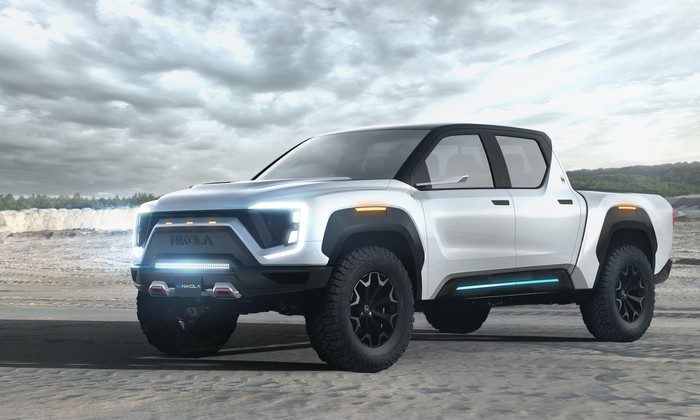 R.I.P.: The Badger pickup isn't happening, Nikola said. Customers' deposits on the truck will be refunded soon. Image source: Nikola.
The news comes just a day before the "lockup" on more than 160 million shares held by Nikola insiders expires. About 96 million of those shares, which can be sold starting on Dec. 1, are held by Milton.
In the original deal between Nikola and GM, announced in September, Nikola agreed to buy both batteries and fuel cells from GM, and GM agreed to engineer and build the Badger pickup, with GM taking a $2 billion stake in Nikola.
That deal was announced just a few days before short-seller Hindenburg Research released a scathing report, alleging that Nikola had misled investors about the state of its technology. Nikola's stock fell sharply in the wake of the report, and Milton left the company, throwing the valuation of GM's potential stake — and Nikola's future — into question.
10 stocks we like better than Nikola Corporation
When investing geniuses David and Tom Gardner have a stock tip, it can pay to listen. After all, the newsletter they have run for over a decade, Motley Fool Stock Advisor, has tripled the market.*
David and Tom just revealed what they believe are the ten best stocks for investors to buy right now... and Nikola Corporation wasn't one of them! That's right -- they think these 10 stocks are even better buys.
*Stock Advisor returns as of November 20, 2020
John Rosevear owns shares of General Motors. The Motley Fool has no position in any of the stocks mentioned. The Motley Fool has a disclosure policy.
Source