Why Many Cloud Computing Stocks Crashed Today
What happened
Many cloud computing companies that benefit from work-from-home policies enacted in the wake of the COVID-19 pandemic saw their share prices fall on Wednesday. Several states have started to reopen stores and send workers back to the office, undermining the remote-work trends that have been lifting a select handful of tech specialists over the past three months.
| Company | Business Focus | Steepest Drop Today | Return Since March 16, 2020 |
| --- | --- | --- | --- |
| Datadog (NASDAQ: DDOG) | Monitoring of cloud computing services | 12% | 125% |
| Appian (NASDAQ: APPN) | Cloud-based app development | 11.4% | 81% |
| Shopify (NYSE: SHOP) | Cloud-based e-commerce tools | 10.7% | 125% |
| Twilio (NYSE: TWLO) | Cloud-based communications | 9.7% | 162% |
| Okta (NASDAQ: OKTA) | Cloud-based sign-on and identity management | 9.5% | 83% |
Data sources: Google Finance and YCharts. As of May 27, 2020.
So what
JPMorgan CEO Jamie Dimon sparked a bullish market run on Wednesday morning by claiming that America has "some pretty good odds" of achieving a strong market recovery in the second half of 2020. Hands-on financial help from Congress and the Federal Reserve should be able to keep the market afloat until the health crisis ends, Dimon said.
"You could see a fairly rapid recovery," he stated at a remote industry conference. "I think that's got a good chance."
Now what
The cloud computing specialists listed above would perhaps prefer a slower return to business as usual. Meetings held over digital video connections -- such as the virtual fireside chat where Dimon made these observations -- play into the hands of each and every one of the services I mentioned. Okta manages login processes, Twilio sets up the actual voice and video streams, Appian can help your company build the custom applications that manage the whole process, and Datadog's monitoring tools can help you ensure that the presentation runs smoothly. If it's a premium event, Shopify would gladly handle the virtual ticket payments.
These companies aren't going away by any means, but investors are worried that the coronavirus-related boost from this spring might run out of rocket fuel in a quick recovery. It's no surprise to see their stocks falling when there are bullish rumblings around the COVID-19 situation. Don't cry for Datadog and Twilio investors, though -- the stocks above are still crushing the market in 2020, with year-to-date gains of at least 50%.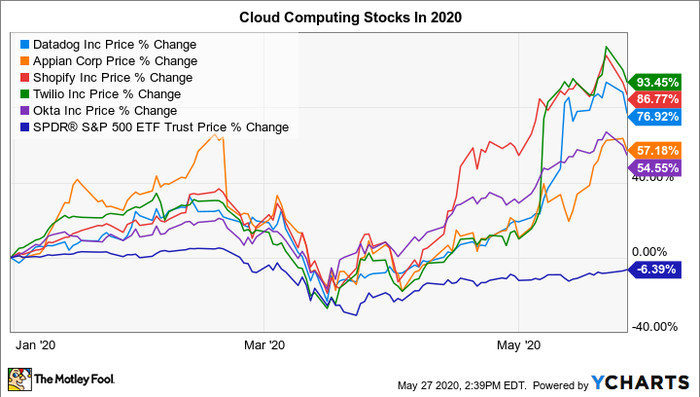 That being said, Dimon doesn't own a perfect crystal ball. America and the world may have to deal with the COVID-19 pandemic for a long time, putting more stress on the financial system and making it more difficult to power through the challenge via financial assistance alone. We ordinary investors should be prepared for another sharp correction if it turns out that the reopening process started too early, triggering a new wave of coronavirus infections.
10 stocks we like better than Shopify
When investing geniuses David and Tom Gardner have a stock tip, it can pay to listen. After all, the newsletter they have run for over a decade, Motley Fool Stock Advisor, has tripled the market.*
David and Tom just revealed what they believe are the ten best stocks for investors to buy right now... and Shopify wasn't one of them! That's right -- they think these 10 stocks are even better buys.
*Stock Advisor returns as of April 16, 2020
Anders Bylund owns shares of Twilio. The Motley Fool owns shares of and recommends Appian, Datadog, Okta, Shopify, and Twilio. The Motley Fool has a disclosure policy.
Source