What to Watch for When NIO Reports Earnings
Chinese electric-vehicle maker NIO (NYSE: NIO) is set to report its third-quarter earnings before the market opens on Tuesday.
The consensus view of Wall Street analysts polled by Thomson Reuters is that NIO will report a loss of $0.17 per share on revenue of $653.73 million. That would be a significant improvement over its results in the third quarter of 2019, when it lost $0.35 per share on revenue of just $257 million.
The high points of NIO's third quarter
NIO delivered 12,206 vehicles in the third quarter, up 154% from the third quarter of 2019.
Deliveries fell month-over-month in July due to parts shortages, but more than bounced back in August and jumped again in September.
NIO took advantage of its surging stock price to sell 88.5 million new shares in August, raising about $1.7 billion.
It used about $1.1 billion of the proceeds to buy back some of the equity it gave up as part of a bailout deal earlier in the year.

Leveraging its network of automated battery-swap stations, NIO launched a "batteries-as-a-service" program in August. Buyers can now buy a NIO vehicle with a subscription to the battery-swap service in lieu of a battery pack. That lowers the initial price for the consumer while creating an ongoing revenue stream for NIO.
The battery packs are bought from NIO and leased to customers by a joint-venture company that includes NIO, battery giant Contemporary Amperex Technology Limited (often known as CATL), and two financing companies.

Deliveries of NIO's newest model, a sporty crossover called the EC6, began in September as planned.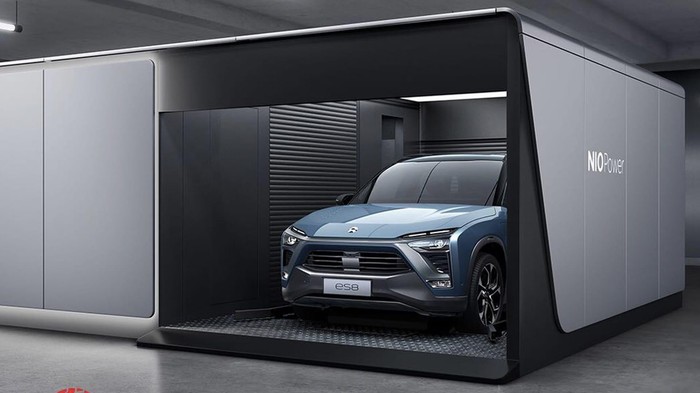 NIO launched a new batteries-as-a-service program in the third quarter. Expect an update on Tuesday. Image source: NIO.
Some key questions for NIO
While listening to NIO's earnings call, auto investors should keep a sharp ear out for information on these topics.
Costs. Production and deliveries have ramped up quite a bit over the last several months. Have costs kept pace, or is NIO finding some leverage at these production levels?
Batteries-as-a-service. Is it proving popular? How profitable is it for NIO given the joint-venture arrangement?

Cash. The automaker came close to going broke early this year, but was revived by a bailout put together by economic-investment authorities in China's industrial Anhui province. It should be in much better shape now -- it had $1.6 billion in cash at the end of June -- but how much was left as of Sept. 30, and what does it plan to spend that cash on over the next couple of quarters?

More new models? The company is expected to launch a sedan (probably called the ET7) early next year. Is that on track? Are there other new models in the works?
What to expect from NIO's earnings
NIO's stock has had a dramatic run since the company's brush with bankruptcy in early 2020. Its price might be due for a pullback -- but I don't think the earnings report will be the catalyst that triggers one. I expect a loss that's slightly better than Wall Street's forecast, revenue roughly in line with the estimate, some good news on costs, and no bad surprises. We'll find out on Tuesday.
10 stocks we like better than NIO Inc.
When investing geniuses David and Tom Gardner have a stock tip, it can pay to listen. After all, the newsletter they have run for over a decade, Motley Fool Stock Advisor, has tripled the market.*
David and Tom just revealed what they believe are the ten best stocks for investors to buy right now... and NIO Inc. wasn't one of them! That's right -- they think these 10 stocks are even better buys.
*Stock Advisor returns as of October 20, 2020
John Rosevear has no position in any of the stocks mentioned. The Motley Fool has no position in any of the stocks mentioned. The Motley Fool has a disclosure policy.
Source