3 Companies That Will Thrive Long Term
Equity markets continue to race higher, with new all-time highs being hit seemingly every week. It's both a great time to be an investor, and a scary time to be deploying new cash. No one wants to invest at the top, but predicting the future is hard and it is unclear when that top might be hit.
The best advice is to buy and hold good companies that are set up well for the long haul.
Here's why three Fools believe AerCap Holdings (NYSE: AER), Ford Motor (NYSE: F), and Microsoft (NASDAQ: MSFT) are set up well to thrive for years to come.
The top dog in a growing industry
Lou Whiteman (AerCap Holdings): AerCap Holdings flies under the radar for the most part, but the aircraft finance powerhouse is one of the best ways to invest in a post-pandemic aviation recovery -- and it's putting the pieces in place to be a dominant force for years to come.
AerCap buys planes directly from manufacturers including Boeing (NYSE: BA) and Airbus (OTC: EADSY), and leases them to airlines. Even prior to the pandemic, airlines were warming to that model as a way to keep the expense of buying new planes off of their balance sheets. In the current environment, after airlines took on billions in new debt to survive the crisis, leasing and not buying is likely to be the preferred method for airlines as they expand.
AerCap is already among the largest global names in leasing, and is in the process of buying its nearest rival. When its $30 billion deal for General Electric (NYSE: GE) subsidiary GECAS closes, AerCap will manage a fleet of more than 2,000 aircraft serving more than 200 customers worldwide.
The stock was hit hard last year as investors fretted AerCap would have trouble managing its own debt load if its airline customers fell into default. But AerCap showed its resiliency by flying through the pandemic, and said during its recent earnings call that demand now is the highest it has been in 18 months.
Airlines historically have been fickle investments, but it is hard not to be bullish on long-term growth in global travel demand. An investment in AerCap is a way to capitalize on that growing demand without picking winners and losers among airlines, buying into one of the most important suppliers to the global industry.
Why Ford's Stock Looks Especially Good Right now
John Rosevear (Ford Motor Company): I've been up and down on Ford over the last few years, but here are three things that I believe to be true right now.
First, Ford is on an upswing. While a global shortage of semiconductors might hold Ford's production down for the next several months, Ford's strong first-quarter results confirmed that CEO Jim Farley has the company on the right long-term path.
In a nutshell, Ford's first-quarter results showed auto investors that the company's newest products are commanding strong prices (and thus generating good profit margins), while its struggling operations in Europe and China now have costs under control and will soon have the revamped product lines they need for sustained profitability. The takeaway: Once we're past the chip shortage, Ford should be able to post nice bottom-line growth.
Second, we're seeing that Ford has made the right investments to thrive as the world transitions to connected, electric, and autonomous vehicles. The near-unanimous praise for Ford's electric Mustang Mach-E bodes well for upcoming battery-electric versions of the Ford Transit van and F-150 pickup, both due within a year, as well as other future battery-powered Fords and Lincolns.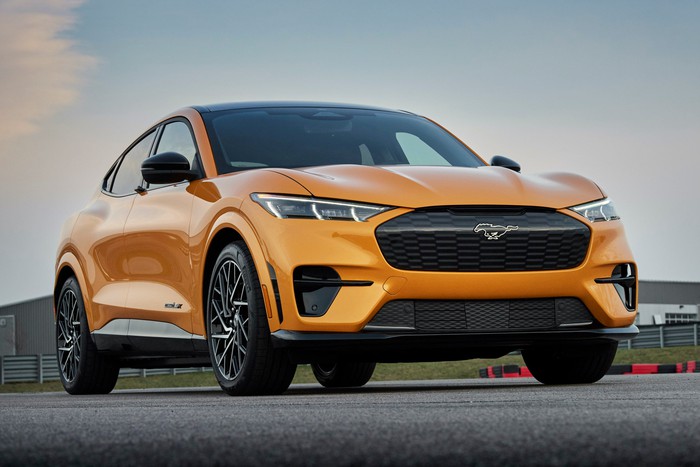 With the excellent Mustang Mach-E, Ford has erased doubts that it can build a competitive and fun electric vehicle. Image source: Ford Motor Company.
Meanwhile, Pittsburgh-based self-driving start-up Argo AI -- in which Ford has a significant stake -- once again ranked near the top of Navigant Research's influential report on the state of play in autonomous-vehicle development. When self-driving vehicles come to market in earnest, Ford will be a key player.
Finally, Ford's stock is looking like a pretty good buy right now at just 9.4 times its expected 2021 earnings. Ford's stock price was dented this week after the company said that it might have to cut its second-quarter production by half amid the global chip shortage. But that's a short-term issue, which might make it a very nice buying opportunity for long-term-minded investors.
This tech stock is simply irreplaceable
Rich Smith (Microsoft): When I think about companies that are guaranteed to "thrive" over the long term, I start thinking about substitution. If a company were to vanish tomorrow, would it be missed -- or could you easily find a substitute? Because if one company can be easily substituted with another, then chances are it's not as dominant as it may appear.
Examples? Netflix is the world's biggest streaming company, but over the past year or so, it feels like half the shows that used to make Netflix an essential subscription have already shifted to other streaming companies. The Office and Parks and Rec are on Peacock today, and Disney+ has reclaimed most of the Marvel universe. No one batted and eye. Sure, Netflix now produces some original shows of its own, but if Netflix vanished tomorrow, other streamers could easily step in and produce those shows, and distribute them, too.
Similarly, Google's great, but if Alphabet (NASDAQ: GOOGL) (NASDAQ: GOOG) got broken up tomorrow and Google stopped working, how long would it really take us to get used to using Bing for search?
Amazon.com (NASDAQ: AMZN)? It's a great service. But Walmart (NYSE: WMT) and Best Buy (NYSE: BBY) have got plenty of physical stores, and they've figured out the online shopping thing. The simple truth is that switching away from any of these companies to a competitor can be done today -- theoretically, at least -- with a few keystrokes, and the click of a mouse.
Honestly, casting my eye around the stock market, the one company I think we simply cannot do without -- and the one company that's guaranteed to thrive for years no matter what -- is Microsoft.
Seventy-five percent of the PCs in the world run on Windows software. That's more than 1 billion Microsoft machines. Apple's (NASDAQ: AAPL) runner-up OS X has barely 16.5% market share, and Chrome just 2%. Even if you could replace all those machines with PCs running a different operating system, it would take a very long time to accomplish. Years, certainly. Decades, perhaps.
Now, does all this mean that Microsoft stock is a good investment? At 35 times earnings valuation, and a 13% projected earnings growth rate, that's a harder case to make. But Microsoft the company is one that I expect will continue to thrive for a long time to come.
10 stocks we like better than Microsoft
When investing geniuses David and Tom Gardner have a stock tip, it can pay to listen. After all, the newsletter they have run for over a decade, Motley Fool Stock Advisor, has tripled the market.*
David and Tom just revealed what they believe are the ten best stocks for investors to buy right now... and Microsoft wasn't one of them! That's right -- they think these 10 stocks are even better buys.
*Stock Advisor returns as of February 24, 2021
Teresa Kersten, an employee of LinkedIn, a Microsoft subsidiary, is a member of The Motley Fool's board of directors. John Mackey, CEO of Whole Foods Market, an Amazon subsidiary, is a member of The Motley Fool's board of directors. Suzanne Frey, an executive at Alphabet, is a member of The Motley Fool's board of directors. John Rosevear owns shares of Amazon, Apple, and Ford. Lou Whiteman owns shares of AerCap Holdings, Ford, Microsoft, and Walmart Inc. Rich Smith has no position in any of the stocks mentioned. The Motley Fool owns shares of and recommends Alphabet (A shares), Alphabet (C shares), Amazon, Apple, and Microsoft. The Motley Fool recommends AerCap Holdings and recommends the following options: long January 2022 $1920.0 calls on Amazon, long March 2023 $120.0 calls on Apple, short January 2022 $1940.0 calls on Amazon, and short March 2023 $130.0 calls on Apple. The Motley Fool has a disclosure policy.
Source