Why Faraday Future Intelligent Electric Stock Fell Nearly 14% Today
What happened
Shares of Faraday Future Intelligent Electric (NASDAQ: FFIE) were down by 13.6% as of 1 p.m. ET Wednesday. That plunge followed a session that saw shares of the start-up electric vehicle (EV) maker surge by more than 50%, though there was no fresh news about it Tuesday. Apparently, the meme stock crowd has taken control of this stock.
So what
Upstart EV companies capitalized on the stock market boom of 2020 and 2021, but they have since fallen on hard times. Manufacturing vehicles is an incredibly capital-intensive business, and these companies have already burned through billions of dollars in their efforts to get their operations up and running at scale. Not all will succeed. For example, would-be electric truck maker Electric Last Mile Solutions filed for bankruptcy in June.
Some investors think Faraday Future is headed in that direction as well. As of the end of March, it was down to just $276 million in cash and short-term investments on the books after generating negative free cash flow of $167 million in the first quarter. With the first production models of its FF 91 not due to roll off the assembly line until the third quarter of this year, there's a possibility Faraday Future will run out of money sooner rather than later.
Nevertheless, Faraday Future could have some value if given enough time, and some investors are betting that the company could be thrown a lifeline. This could explain the big one-day bounce in its stock price after it slumped by more than 50% during the first half of 2022.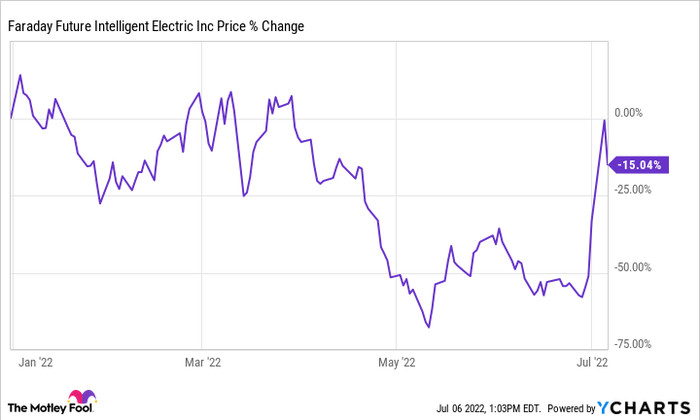 Data by YCharts
Now what
Faraday Future is a small start-up with an uncertain financial path forward. Expect its shares to remain highly volatile as the bulls and bears jockey for control over the stock. If you aren't a trader and are looking for a longer-term bet on the EV industry, give battery stocks or semiconductor stocks a look instead. Suppliers to the EV space can be winners regardless of which auto manufacturers win out in the end.
10 stocks we like better than Faraday Future Intelligent Electric Inc.
When our award-winning analyst team has a stock tip, it can pay to listen. After all, the newsletter they have run for over a decade, Motley Fool Stock Advisor, has tripled the market.*
They just revealed what they believe are the ten best stocks for investors to buy right now... and Faraday Future Intelligent Electric Inc. wasn't one of them! That's right -- they think these 10 stocks are even better buys.
*Stock Advisor returns as of June 2, 2022
Nicholas Rossolillo and his clients have no position in any of the stocks mentioned. The Motley Fool has no position in any of the stocks mentioned. The Motley Fool has a disclosure policy.
Source