Should You Buy Shopify Stock After the Split?
Shopify (NYSE: SHOP) has been getting a lot of attention lately after completing its 10-for-1 stock split on Wednesday, June 29. The e-commerce enabler thrived at the pandemic's onset as it helped thousands of businesses establish an online presence when brick-and-mortar shopping was crippled.
Still, the company was demonstrating remarkable growth even before the outbreak. Let's consider what the stock split means for investors and then determine if the stock is a buy right now.
Shopify's stock split doesn't change ownership
Significantly, when a company splits its stock, it doesn't change ownership percentages. If you owned 5% of the business before the 10-for-1 stock split, you would own 5% after the split. What a split does accomplish is to make each share of the stock more affordable to buy. Shopify is now trading at a price per share in the $30 range. Before the split, it was trading at over $300 per share.
Given that the stock split does little to change ownership percentages, the split itself is no reason to buy Shopify stock.
Shopify is benefiting from a powerful tailwind
That said, Shopify is an excellent business that has grown tremendously over the years. From 2014 to 2021, Shopify's revenue exploded from $105 million to $4.6 billion. At the same time, its gross profit surged from $62 million to $2.5 billion. Shopify benefits from the long-running tailwind of consumers spending more of their money online. The pandemic put fuel on that fire, accelerating e-commerce spending.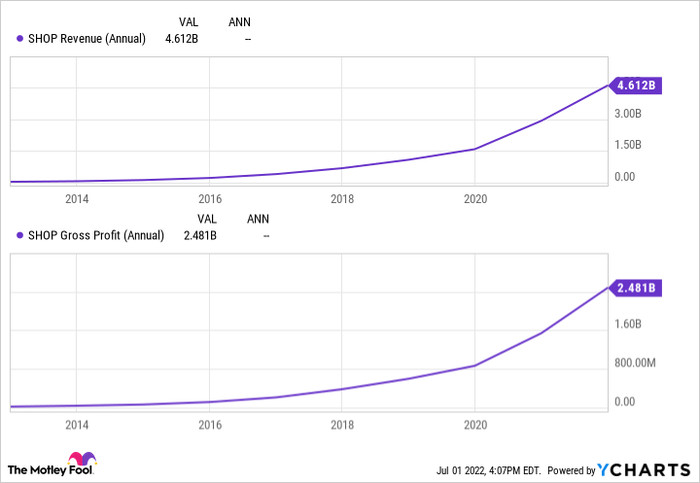 SHOP Revenue (Annual) data by YCharts
Businesses that wanted to keep making sales needed to establish an online presence when they were forced to close their brick-and-mortar stores temporarily. That created a rush of website creation and new account signups for Shopify. In addition to a monthly fee for establishing a website that can take payments, Shopify earns a percentage of sales on its platform.
Despite the surge during the pandemic, e-commerce spending as a percentage of overall retail spending was 14% in the U.S. in 2020. According to Statista, that is expected to rise to 22% by 2025. Of course, it will never reach 100%, but a figure closer to 50% seems plausible in the long run, given all the advantages of online over brick-and-mortar retail.
Shopify's stock is as cheap as it's ever been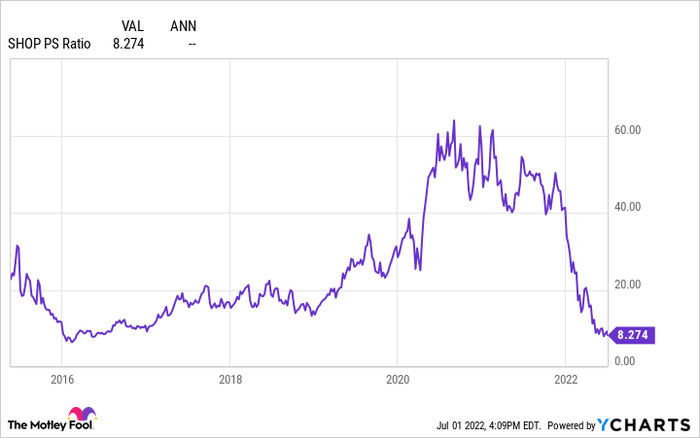 SHOP PS Ratio data by YCharts
Shopify is trading at a price-to-sales ratio of 8.3, which is about as cheap as it has been in the last decade. However, note the lower price following the stock split is not what makes the stock cheap. That lowers the nominal price per share while ownership remains unchanged. Instead, what has made Shopify cheap is the falling market capitalization combined with continued revenue growth.
The excellent performance, combined with a favorable valuation, makes it an ideal time for long-term investors to buy Shopify stock.
10 stocks we like better than Shopify
When our award-winning analyst team has a stock tip, it can pay to listen. After all, the newsletter they have run for over a decade, Motley Fool Stock Advisor, has tripled the market.*
They just revealed what they believe are the ten best stocks for investors to buy right now... and Shopify wasn't one of them! That's right -- they think these 10 stocks are even better buys.
*Stock Advisor returns as of June 2, 2022
Parkev Tatevosian has positions in Shopify. The Motley Fool has positions in and recommends Shopify. The Motley Fool has a disclosure policy.
Source