3 Stocks That Are Fantastic Deals Right Now
When a whole market sector takes a dive, serious investors go to work. The recent retreat from exciting but risky growth stocks has opened up a lot of tempting buy-in windows. The three following stocks strike me as fantastic deals at these bargain-bin prices.
Fiverr's staying power is underestimated
Freelance services marketplace Fiverr International (NYSE: FVRR) offers a deeply discounted stock along with great business prospects.
This stock soared to the moon during the lockdown phase of the COVID-19 pandemic. One year ago, the stock had surged 891% higher in 52 weeks -- nearly a ten-bagger. That jump was unsustainable in the long run and Fiverr's stock has dropped 70% from that point. In the last 30 days alone, investors have taken a 30% haircut.
The driving force behind Fiverr's retreat is the idea that the coronavirus boost will fade out in a hurry. Both the demand for freelancers and the supply of people with extra time on their hands should dry up as vaccines, social distancing, and time let us put this health crisis behind us. Right?
Well, not so fast. The so-called gig economy looks like it's here to stay. And Fiverr's growth in sales and cash flows has indeed slowed down from the COVID-19 peak, but there's still plenty of fuel left in the company's tank. This chart doesn't even remind me of a growth stock slamming into a brick wall: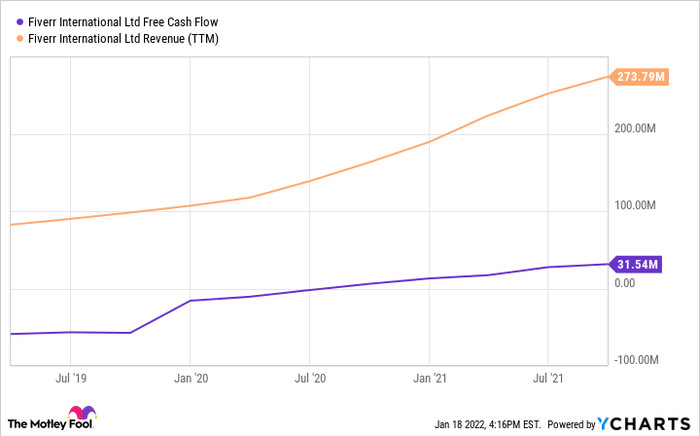 FVRR Free Cash Flow data by YCharts
Yet, that's precisely how the market is treating Fiverr these days. That puts a big, red clearance-sale price tag on the stock, and I'm seriously tempted to add a few shares to my personal Fiverr position.
Coinbase's business is misunderstood
Shares of cryptocurrency trading service Coinbase Global (NASDAQ: COIN) have fallen 11% over the last month and 48% from the all-time highs of mid-November. This particular slump sort of makes sense at first glance, since nearly every major cryptocurrency has experienced a similar drop in each of these periods.
That makes sense if you think that the winter's cryptocurrency slowdown is the beginning of the end for the newfangled digital assets. Otherwise, the correction should actually drive more business to Coinbase, not less. The company pockets trading fees whether cryptocurrency buyers are driving prices up in jubilation or way down in a panic. Coinbase doesn't hold a ton of cryptocurrencies on its balance sheet, which insulates its financial results from price swings in the market.
And did I mention that Coinbase is an incredible cash machine? The skyrocketing value of Coinbase customers' cryptocurrency holdings accounted for the bulk of the company's cash flows in the first three quarters of 2021. But even if we ignore that $4.9 billion windfall, which was generated on behalf of customers and not shareholders, the company still produced $1.6 billion of cash from operations from a tax-burdened net income of $146 million.
So this looks like a mistaken market reaction, punishing Coinbase even though all signs point to strong fourth-quarter results. That report is due in February. Until then, Coinbase stock looks like an incredible buy. In fact, I feel so strongly about this opportunity that I picked up a few Coinbase shares just before the holidays. The stock is another 12% cheaper now, giving you an ever more inviting point of entry here.
Duolingo's ambition is breathtaking
Continuing on the topic of stocks I bought fairly recently and would buy again in a heartbeat, the next name is language tutoring specialist Duolingo (NASDAQ: DUOL). The stock is trading 58% below last summer's all-time highs with a 9% drop in the last four weeks,
This company has crushed Wall Street's expectations in both of the earnings reports delivered since Duolingo went public in July 2021. The company is growing its daily and monthly active users at double-digit percentages, while paid subscriptions rose 49% year over year in the third quarter. In other words, Duolingo is grabbing lots of ad-supported service users, but paid subscription sales are rising even faster. The monetization game is strong with this one.
And that's not the end of the story. Duolingo is known for language studies now, but its founders want to expand this easily digested learning system into other fields of study. The company's mission is to "develop the best education in the world and make it universally available." That goal reaches far beyond the minuscule language-learning segment. The next expansion should involve mathematics plus grammar and spelling lessons in the learner's first language. Going from there, the sky is the limit.
Investors grabbing Duolingo shares at today's low prices are getting in on the ground floor of an inspiring long-term growth story. Time, patience, and a solid business should add up to wealth-building gains in the long run. Like Coinbase and Fiverr, Duolingo can get you there.
10 stocks we like better than Fiverr International
When our award-winning analyst team has a stock tip, it can pay to listen. After all, the newsletter they have run for over a decade, Motley Fool Stock Advisor, has tripled the market.*
They just revealed what they believe are the ten best stocks for investors to buy right now... and Fiverr International wasn't one of them! That's right -- they think these 10 stocks are even better buys.
*Stock Advisor returns as of January 10, 2022
Anders Bylund owns Coinbase Global, Inc., Duolingo, Inc., and Fiverr International. The Motley Fool owns and recommends Coinbase Global, Inc. and Fiverr International. The Motley Fool has a disclosure policy.
Source