This Biotech Stock Is Up 884% In 2021, But It Could Go Even Higher
When a biotech stock heads to the moon after releasing data on one of its drug programs, sometimes the party is just getting started.
And that might be exactly the case for Annovis Bio (NYSEMKT: ANVS), a biotech that's trying to tackle Alzheimer's disease and other neurodegenerative disorders. It's no secret that Alzheimer's is among the most challenging conditions to make drugs for. So, when the company let the world know that its lead program was showing convincing signs of being effective, the market rejoiced. Many others have failed where Annovis now intends to succeed -- but are things different this time, and can new investors benefit?
Annovis could grow even more
The first thing to understand about Annovis is that it's taking a new scientific approach. The company's lead Alzheimer's project, ANVS401, is notable because it targets three different neurotoxic proteins in the brain rather than just one. All of these proteins are associated with Alzheimer's, and two of them are associated with Parkinson's. While it's too early to say whether this strategy is effective, previous efforts by other developers have shown it isn't enough to target just one of the three neurotoxic proteins. Hitting three birds with one stone might bring different results.
When the company reported in late May that its small phase 2 clinical trial of ANVS401 had preliminarily shown that the treatment could improve the cognition of patients with Alzheimer's, the stock jumped from around $26 to nearly $91. The same study also showed that ANVS401 was helpful for improving the motor coordination of patients with Parkinson's disease. In a nutshell, the preliminary results are just as positive as the market's bombastic reaction. On one measure of cognitive functioning, patients treated with ANVS401 experienced an improvement of 30% relative to their baseline.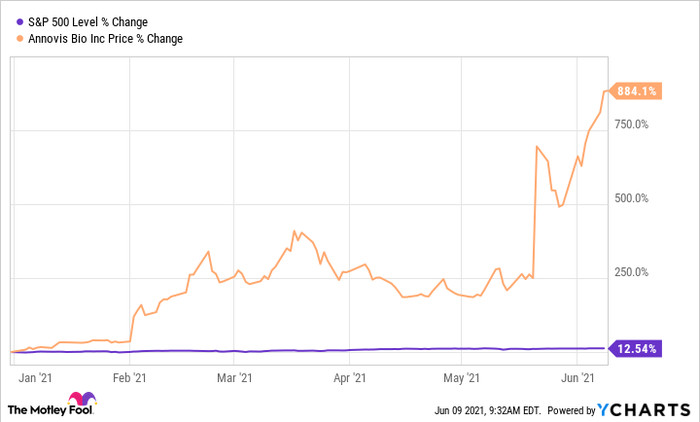 Annovis has also secured an orphan drug designation for ANVS401 from the U.S. Food and Drug Administration (FDA) to treat Alzheimer's disease in people living with Down Syndrome. That's quite favorable, because the designation means that it can keep its intellectual property (IP) protections for a longer period while also getting tax credits worth up to 50% of research and development (R&D) costs. But the project is still in phase 1, so it's a bit behind the lead program.
It's still a risky investment
For all the company's merits, it's important for potential investors to understand that Annovis doesn't have any revenue right now. There's no dressing up that it's a pre-product biotech stock. And despite the promising phase 2 data, Annovis has a long way to go before ANVS401 could start to make money.
To address this, on May 27 it closed a public offering worth $50 million, which is more than enough to cover its 2020 operating expenses of $5.48 million for quite some time. But, there's still a chance that the company will need more money before it has a chance to commercialize its drugs, especially if it hits any setbacks in the clinic. That means it might need to issue more stock. So, people who buy the stock right now risk dilution of their equity down the line.
Plus, the company faces the standard roster of drug development risks during the clinical trials process. For central nervous system drug programs like Alzheimer's disease, only 15% of projects make it through the clinical trials process to reach commercialization. If its programs don't show substantial benefits to patients, shareholders might see the stock plummet when the news comes out.
On the other hand, if Annovis can close the loop on ANVS401 by showing conclusively that it is beneficial for both Alzheimer's and Parkinson's, it'll be the first company ever to do so. The upside to shareholders would be absolutely tremendous. Before it has a chance to reach that distant goal, however, investors can look forward to more intermediate data readouts. On June 8, Annovis reported that a preclinical study had shown that ANVS401 stopped certain types of neurons from dying when exposed to the harmful bacteria porphyromonas gingivalis. That's a promising development, but it still needs to be proven with real patients.
The entire ANVS401 trial concludes in August, but as soon as June or July there could be a readout that elaborates on the drug's potential efficacy, so be sure to stay tuned.
10 stocks we like better than Annovis Bio, Inc.
When investing geniuses David and Tom Gardner have a stock tip, it can pay to listen. After all, the newsletter they have run for over a decade, Motley Fool Stock Advisor, has tripled the market.*
David and Tom just revealed what they believe are the ten best stocks for investors to buy right now... and Annovis Bio, Inc. wasn't one of them! That's right -- they think these 10 stocks are even better buys.
*Stock Advisor returns as of May 11, 2021
Alex Carchidi has no position in any of the stocks mentioned. The Motley Fool has no position in any of the stocks mentioned. The Motley Fool has a disclosure policy.
Source