Why ExxonMobil Stock Jumped Nearly 2% Today
What happened
Shares of energy giant ExxonMobil (NYSE: XOM) were up 1.9% today as of 2:55 p.m. ET. For comparison, the S&P 500 index was sporting a 1.3% decline. Oil and energy stocks in general were beating the market thanks to a nearly 2% jump in oil prices on the day.
So what
Typically sleepy ExxonMobil has turned into a hot stock in the last year as energy prices surge due to a reopening global economy. Shares of the integrated oil major are up nearly 50% so far in 2022 and have been more or less trading in tandem with oil prices in the last year. With the cost of energy on the rise again as the busy summer travel season begins, ExxonMobil and other energy stocks have been offering some reprieve from an otherwise tumultuous year for the stock market overall.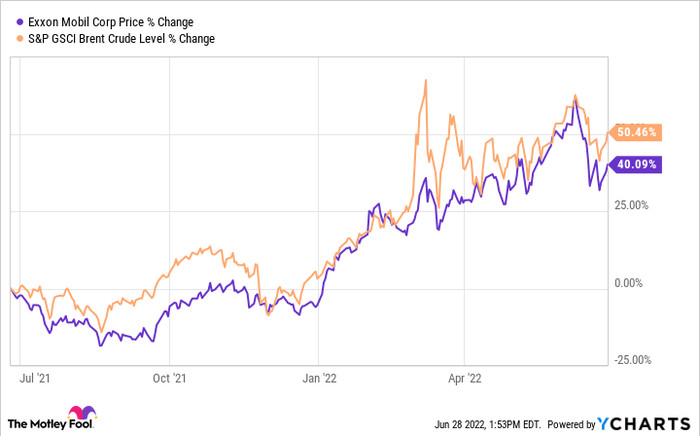 Data by YCharts.
Now what
Expect this story to continue. Massive and lumbering ExxonMobil is making serious hay right now from the jump in oil price (it reported operating cash flow of $14.8 billion in the first quarter of 2022, up 60% year over year). As long as oil stays elevated, this bodes well for ExxonMobil.
Of course, the U.S. Federal Reserve is aggressively raising interest rates in an attempt to tame inflation, and its action could push the economy into a recession. Usually when that occurs, there's lowered demand from the cyclical energy industry. However, while the Fed's plan is worth monitoring, Russia's war on Ukraine and ensuing sanctions from nations in Europe could offset any of these effects as the world tries to work out sourcing of oil and gas from elsewhere.
ExxonMobil CEO Darren Woods said in an interview he thinks electric vehicles will replace the internal combustion engine by 2040. It's a bold prediction, but the power to charge up those EVs will still need to come from somewhere. Flush with fresh cash, ExxonMobil has the capital it needs to begin gradually updating its business model for the future -- including renewable energy sources.
10 stocks we like better than ExxonMobil
When our award-winning analyst team has a stock tip, it can pay to listen. After all, the newsletter they have run for over a decade, Motley Fool Stock Advisor, has tripled the market.*
They just revealed what they believe are the ten best stocks for investors to buy right now... and ExxonMobil wasn't one of them! That's right -- they think these 10 stocks are even better buys.
*Stock Advisor returns as of June 2, 2022
Nicholas Rossolillo and his clients have no position in any of the stocks mentioned. The Motley Fool has no position in any of the stocks mentioned. The Motley Fool has a disclosure policy.
Source