Why Dutch Bros Stock Lost 31% in November
What happened
Shares of Dutch Bros (NYSE: BROS) took a dive last month, as a solid third-quarter earnings report wasn't enough to counteract a widespread sell-off in growth stocks. According to data from S&P Global Market Intelligence, the stock finished November down 31%.
The stock declined steadily over the course of the month, as investors rotated out of growth stocks because of fears over tightening monetary policy and rising interest rates.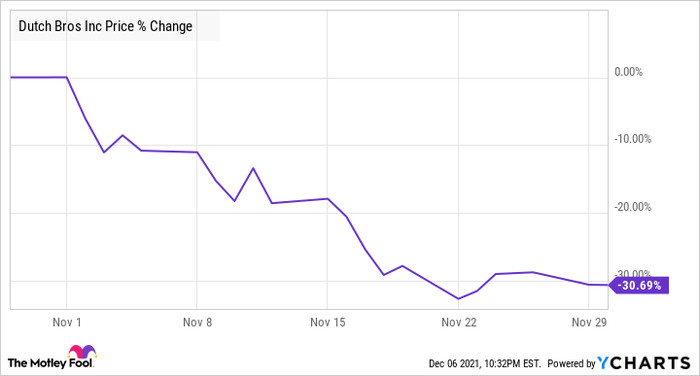 So what
Shares of Dutch Bros, an Oregon-based drive-through coffee chain, had soared following its IPO in September, but shifting investor sentiment seemed to kill that rally last month as small-cap growth stocks fell broadly with the Vanguard Small-Cap Growth ETF down 6% last month.
That pullback came in spite of a better-than-expected third-quarter earnings report, its first as a publicly traded company.
In the quarter, the company opened its 500th store and posted a 7.3% increase in same-store sales. Overall revenue was up 50% to $129.8 million as the company continues to aggressively expand company-owned stores, with a goal of opening at least 4,000 stores across the country. That figure beat estimates at $124.9 million.
On the bottom line, the company reported adjusted earnings per share of $0.23, well ahead of estimates at a per-share loss of $0.30, even as adjusted net income fell.
Though the stock gained 6% on the earnings report, it gave those gains back up the following day and continued to slide because of the broader sell-off in growth stocks.
Now what
Looking ahead to the fourth quarter, Dutch Bros said it expected to open at least 30 more stores in the quarter and called for revenue of $125 million to $128 million, a slight decline from the third quarter as the company experiences some seasonality with the colder weather. Still, that was better than the analyst consensus at $121.2 million. It also called for a mid-single-digit increase in comparable sales.
Despite Dutch Bros' slide last month, analysts responded favorably to the results, with several raising their price targets and reiterating their buy ratings. While the stock is likely to remain volatile, Dutch Bros appears to have a bright future ahead of it, with plans to grow its store base by a multiple of at least 8, and strong average unit volumes at close to $2 million. Shares have fallen another 10% in the beginning of December, potentially setting up a buying opportunity for this unique growth stock.
10 stocks we like better than Dutch Bros
When our award-winning analyst team has a stock tip, it can pay to listen. After all, the newsletter they have run for over a decade, Motley Fool Stock Advisor, has tripled the market.*
They just revealed what they believe are the ten best stocks for investors to buy right now... and Dutch Bros wasn't one of them! That's right -- they think these 10 stocks are even better buys.
*Stock Advisor returns as of November 10, 2021
Jeremy Bowman has no position in any of the stocks mentioned. The Motley Fool owns shares of and recommends Vanguard Small-Cap Growth ETF. The Motley Fool has a disclosure policy.
Source