3 Reasons to Watch Constellation Brands Stock This Week
Constellation Brands (NYSE: STZ) stock is due for a bumpy trading week ahead. The owner of popular U.S. imported beer brands, including Corona and Modelo, will announce its latest earnings results before the market opens on Thursday, and expectations are running high heading into that report.
Sure, growth is slowing in several of its niches, including hard seltzer. And Constellation is likely facing increased costs that will pressure earnings. However, the broader growth and earnings outlook is bright. Management might even have some good things to say about its capital spending plans as well as potential stock buybacks or dividend increases ahead.
Let's take a closer look at why this stock is worth watching right now.
1. Market share wins
The market hasn't been kind to less-diverse alcoholic beverage giants. Boston Beer stock is down nearly 70% in the past year, in fact, as the company struggled with a quick demand shift away from the hard seltzer products that had been more popular in earlier phases of the pandemic.
Constellation Brands has its own product in that category, Corona hard seltzer. But its growth has been more balanced lately thanks to the popularity of the broader Corona franchise and other brands, including Modelo. Beer depletions, a measure of consumer sales, rose 8% last quarter.
Look for a similar level of growth in beer sales this quarter, while the smaller wine and spirits segment continues working toward more stable gains.
2. Profit margins
Many investors have moved away from consumer-facing stocks in recent weeks as they worry about the combination of slowing demand, rising costs, and increased sensitivity to prices. Profitability might plunge in a scenario like that, driving earnings lower.
Yet Constellation Brands is faring better than its peers in this area. Profitability rose last quarter, in fact, as the company squeezed more efficiency from its vertically integrated supply chain. Its ownership of key parts of that network, including breweries and glass manufacturing plants, insulates it from some of the surprise earnings hits that rivals have seen.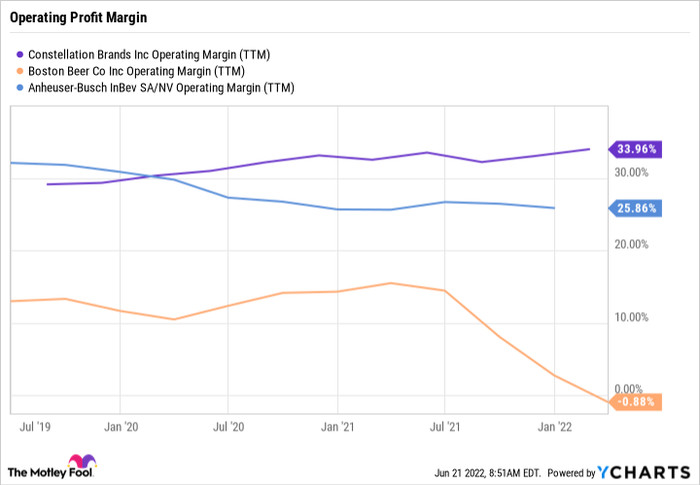 STZ Operating Margin (TTM) data by YCharts.
Still, it's worth following gross and operating profit margins on Thursday for signs that Constellation Brands is still finding room to keep prices well above total costs.
3. Cash returns
The big question heading into the report is whether CEO Bill Newlands and his team will issue an optimistic outlook for the rest of fiscal 2023. Executives said back in early April that the beer business was on track to hit their general goal of between 7% and 9% annual sales gains. The wine segment isn't expanding as quickly, but margins are improving and are expected to move much higher over the next several years.
Looking further out, shareholders should see solid returns from Constellation's bold bets in areas like recreational marijuana and a fully upgraded Mexican brewery network. The company's gushing cash flow in recent years has allowed management to make aggressive investments in these attractive areas, even as the company returns cash to shareholders through dividends and stock buyback spending.
It is that balance between growth, profitability gains, and direct shareholder returns that makes Constellation Brands such a compelling stock to consider owning as part of a diverse portfolio of well-run businesses.
10 stocks we like better than Constellation Brands
When our award-winning analyst team has a stock tip, it can pay to listen. After all, the newsletter they have run for over a decade, Motley Fool Stock Advisor, has tripled the market.*
They just revealed what they believe are the ten best stocks for investors to buy right now... and Constellation Brands wasn't one of them! That's right -- they think these 10 stocks are even better buys.
*Stock Advisor returns as of June 2, 2022
Demitri Kalogeropoulos has no position in any of the stocks mentioned. The Motley Fool has positions in and recommends Constellation Brands. The Motley Fool recommends Anheuser-Busch InBev NV and Boston Beer. The Motley Fool has a disclosure policy.
Source