Got $500? Here Are 2 Stocks to Buy
You don't have to have thousands of dollars to start growing your future wealth. A much smaller amount today (say, $500) can make a big difference down the road. With just $500, you can buy shares of one of the companies I'll talk about below -- or both.
These consumer-goods players climbed over the past two years, but inflationary pressures and the general market downturn have weighed on them since the start of this year. That doesn't mean you should avoid these once-favored stocks. Let's take a closer look at the players that may bring you a long-term win.
1. Target
Rising inflation and supply chain issues represent big headwinds for Target (NYSE: TGT) right now. Higher transportation costs hurt the retailer during the first quarter. And changes in consumer spending habits resulted in Target getting stuck with too much inventory. Today, Target's making a big effort to control as much of the situation as possible. The company set in motion a variety of efforts to bring inventory back to its sweet spot. These include markdowns, and the addition of holding areas close to U.S. ports.
Target's plan should pay off later on in the year, when the company predicts an operating margin of 6%, higher than the same period pre-pandemic. All of this sets it up for better days down the road, especially since Target already offers a lot to like.
Despite the challenges, the company still grew revenue in the first quarter. In fact, Target boasts 20 straight quarters of sales growth. Sales of food, beverages, and essentials remain strong. And Target's pickup and delivery options continue to bring in customers.
Now let's look at Target shares. They've lost about 40% since the start of the year, which leaves them trading at about 11 times trailing-12-month earnings. The last time valuation was that low, annual revenue was much lower than it is today: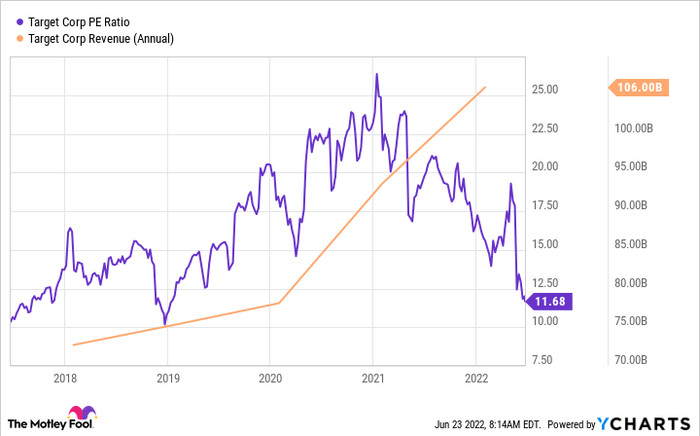 TGT PE Ratio data by YCharts.
All of this means that considering future prospects, Target is pretty cheap right now.
2. Etsy
Etsy (NASDAQ: ETSY) is an online marketplace that brings together sellers and buyers of handmade items. The bad news: Shoppers probably will favor buying essentials over discretionary items amid today's rising inflation. But here's some good news: Etsy's sellers are small businesses. They don't transport huge quantities of supplies across long distances or hold a lot of inventory, so rising inflation and supply chain issues may not greatly hamper sales on Etsy's platform.
Of course, these external problems are temporary; it's important to look beyond them and into the future. And there, things look bright. First, Etsy already has a track record of revenue and profit growth.
Second, Etsy continues to increase its number of sellers and buyers. This should drive growth over the long term. In the first quarter, Etsy added 7 million new buyers; that's higher than in pre-pandemic days. And buyers tend to stick with Etsy -- it currently has more than 35 million repeat buyers. Etsy's also investing to keep its platform attractive for both buyers and sellers. For example, the company improved its search and discovery tools for buyers. And it's making it easier for sellers to better manage order fulfillment.
What about the stock? Etsy shares have lost more than 60% so far this year. They're trading at 24 times trailing-12-month earnings; that's a record low for Etsy. At the same time, revenue is close to its highest ever. This makes the stock look like a bargain, considering revenue today -- and the potential for earnings growth well into the future.
10 stocks we like better than Target
When our award-winning analyst team has a stock tip, it can pay to listen. After all, the newsletter they have run for over a decade, Motley Fool Stock Advisor, has tripled the market.*
They just revealed what they believe are the ten best stocks for investors to buy right now... and Target wasn't one of them! That's right -- they think these 10 stocks are even better buys.
*Stock Advisor returns as of June 2, 2022
Adria Cimino has positions in Target. The Motley Fool has positions in and recommends Etsy and Target. The Motley Fool has a disclosure policy.
Source