Are Canadian Pot Stocks Headed for Another Crash?
The Horizons Marijuana Life Sciences ETF has risen more than 70% over the past year, soaring past the S&P 500 and its 45% gains during that time. The bullishness in the cannabis sector of late is due to the burgeoning legal marijuana movement in the U.S., where multiple states have recently assed legislation to permit recreational marijuana, including New York, New Mexico, and Virginia.
Canadian pot stocks are soaring on all this excitement, even though these recent developments don't immediately improve their prospects for expansion into the U.S. Federal legalization is what needs to happen for that to be the case, and that is anything but a guarantee at this point. Should investors holding these stocks be worried about a crash?
The pot market in Canada is slowing down
The Canadian cannabis industry performed well during the coronavirus pandemic. Retail sales in December 2020 reached a peak of 299.7 million Canadian dollars -- nearly double the CA$154.1 million that Statistics Canada reported for January of that year. But in the first month of 2021, sales fell 5.6% from those highs to CA$282.8 million. And while it's tempting to say that is just a one-month decline, some larger cannabis producers in Canada have been struggling to grow their sales of late.
In its third-quarter results for fiscal 2021, released April 12, Aphria (NASDAQ: APHA) reported CA$153.6 million in net sales for the quarter, which ended Feb. 28. That was just 6.4% higher than the CA$144.4 million the company reported a year ago, and it was down 4.3% from the previous quarter. Although the company reported its eighth straight quarter of positive adjusted EBITDA, investors primarily look to cannabis for its growth opportunities, which are lacking in Canada right now.
A day later, OrganiGram (NASDAQ: OGI) reported its second-quarter results, which were even more abysmal. Net revenue of CA$14.6 million through the end of February was down 37% year over year. The company faced challenges due to COVID-19 and had to shut down its facility in Moncton, New Brunswick, after several positive cases were reported there. Even in the previous quarter, though, OrganiGram didn't fare a whole lot better. Its net sales for the period ending Nov. 30 totaled CA$19.3 million, down 23% year over year.
The cannabis industry in Canada is well past its infancy, and it is much more difficult for companies to generate organic growth amid increasing competition. South of the border, however, is a whole different story.
U.S. pot stocks are doing much better
Unlike in Canada, where marijuana has been legal nationwide since October 2018, new markets are continuing to pop up in the U.S., and that is making it easier for cannabis companies to expand and boost their top lines.
Multistate operator Trulieve Cannabis (OTC: TCNNF) is coming off an impressive 2020 in which its revenue of $521.5 million grew 106%. And the company is still expanding into new markets, including Massachusetts, where it recently obtained approval to begin growing plants at its facility in Holyoke.
Another company, Green Thumb Industries (OTC: GTBIF), reported even better numbers, with sales last year coming in at $556.6 million, up increasing by more than 157% year over year. And with a presence in both New York and New Jersey, two of the biggest markets to recently legalize marijuana, it too has some exciting growth opportunities ahead.
Research company BDSA projects that in Canada, the pot market will be worth just $6.1 billion by 2025. That pales in comparison to the $34.5 billion expected for the U.S. market by then.
For growth investors, there is a wide discrepancy between Canadian and U.S. pot stocks both now and over the long term, with the latter holding a significant advantage.
Is a sell-off overdue?
It can be hard to assess the value of a fast-growing pot stock, but looking at its forward price-to-sales ratio can be a helpful way to compare it against its peers. And on that metric, Canadian pot stocks don't compare well against two of the top U.S.-based producers: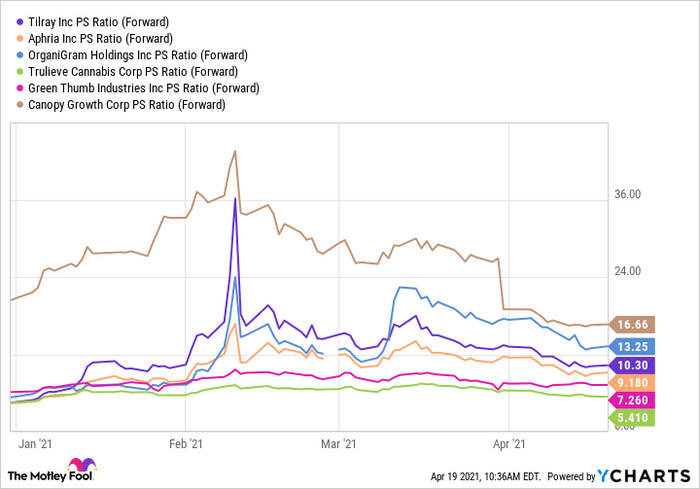 TLRY PS Ratio (Forward) data by YCharts
Canopy Growth is the most popular Canadian pot stock, and investors are paying a hefty premium for it. And while Aphria will get larger by merging with Tilray, neither stock is cheap.
Given their higher valuations and lackluster sales numbers -- not to mention the more attractive investment opportunities south of the border -- it wouldn't be surprising to see Canadian pot stocks give back some of the gains they have amassed over the past 12 months. Aphria has soared by about 300%, and even OrganiGram has climbed more than 60% despite some uninspiring performances. Investors interested in this sector are better off looking toward the growth potential in the U.S.
Here's The Marijuana Stock You've Been Waiting For
A little-known Canadian company just unlocked what some experts think could be the key to profiting off the coming marijuana boom.

And make no mistake – it is coming.
Cannabis legalization is sweeping over North America – 15 states plus Washington, D.C., have all legalized recreational marijuana over the last few years, and full legalization came to Canada in October 2018.
And one under-the-radar Canadian company is poised to explode from this coming marijuana revolution.
Because a game-changing deal just went down between the Ontario government and this powerhouse company...and you need to hear this story today if you have even considered investing in pot stocks.
Simply click here to get the full story now.
David Jagielski has no position in any of the stocks mentioned. The Motley Fool owns shares of and recommends Green Thumb Industries, OrganiGram Holdings, and Trulieve Cannabis Corp. The Motley Fool has a disclosure policy.
Source